If you have a new Team Member joining you and you'd like for them to take a "Team Member" spot within your account, here's how to

What is the benefit of having Team Members over Co-planners?
YouLi is an itinerary management software that can be used by solo trip planners and teams alike!
When you add a Team Member to your YouLi account they automatically get added as a contact on every trip, however, you can adjust their visibility within the trip. Co-Planners will need to be added to each trip individually and they cannot edit anything under the PRICING tab, for your trips (think packages, instalments, payment methods, etc.). That said, a Team Member can do a lot more on a team's behalf!
How can I add/remove a Team Member?
You can simply do this yourself!
From within your ACCOUNT, just enter into the TEAM MEMBERS tab.


Simply remove the old team member


Then click to + User to add the new team member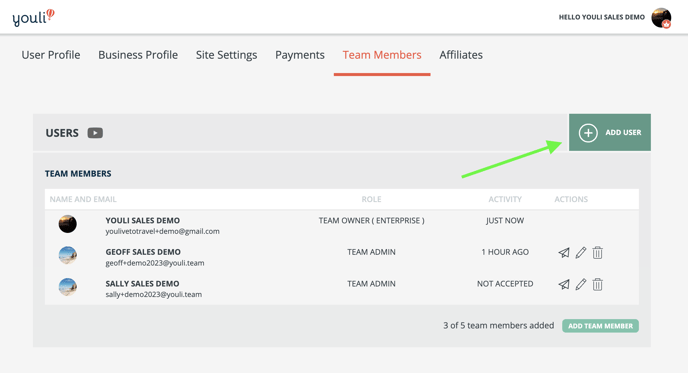 Existing Users
You can only add existing Users to your team if they are on the Explorer plan.
You cannot change the email address of an existing user to another existing user.
NOTE: Unable to add a Team Member? Reach out to support@youli.io or message us in the HELP box, within YouLi.
Our Explorer plan does not include additional Team Members, just you, so you will need to upgrade in order to add more Team Members.
---
Need more help?
For more tips on pre-trip customer support join the YouLi community of travel professionals with monthly LIVE webinars and Q&A sessions.