YouLi doesn't provide a chat function since there are so many good chat options out there that your travelers already use. So link to the one that works for you from the Trip Page Menu
COMING SOON: the ability to link to any facebook group, group chat app, or help center or portal.
Example: Add a Whatsapp Group Link
To do this, you'll want to find the "Social Link" option under Trip Page Menu Labels:

From your trip:
Click to Update Trip -> SETTINGS you'll see a new Menu Label option called "Social Link".
It defaults to Facebook, but you can now change it to any platform you prefer. Just change the label and paste in the link.
For example, if you use a Whatsapp group, simply change the label to "Whatsapp" and paste in the link from your Whatsapp group to allow your guests to join the group.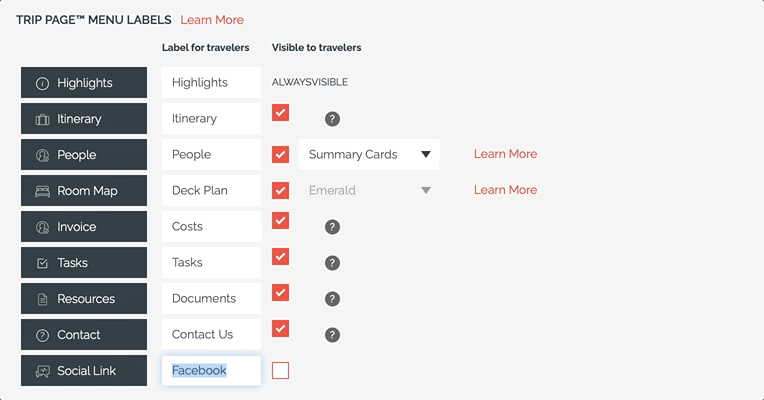 When the option is checked and a link is provided, it will appear on the menu like this: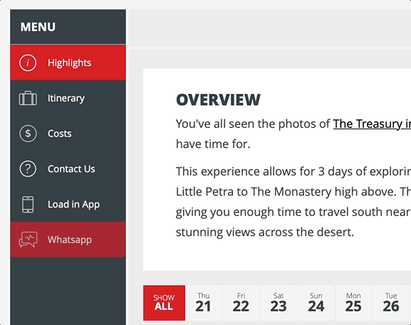 Other ideas for the Social Link
This link is meant to provide a way for your travelers to connect with either your company or other members of the group. Be creative!
You can link to things like:
Facebook Group
Facebook Page
Whatsapp Group
Telegram Chat
Tiktok profile
Instagram profile
Help Center with a chat for travelers to ask questions
When does this link appear?
This page is visible for all visitors to the Trip Page, that includes public (or anonymous) visitors. So if you won't want this link to appear until the trip is departing, simply uncheck the option until you've closed registrations.

Trip Page Menu Labels

Learn more about customizing other Trip Page Menu Labels
Troubleshooting
Q: What happened to my FACEBOOK PAGE OR GROUP link?
A: The original feature was to link to a Facebook Page or Group from the menu, it was configured on the Update Trip -> Overview like this:

That has now moved, so you'll see this message instead: