How-to: Archive a Trip
Fortunately, a trip that has dates in the past will automatically move to the PAST tab of your TRIP DASHBOARD. But if you want to remove a trip from your ACTIVE trips, it's easy to archive it in your TRIP DASHBOARD!
How to archive a trip
From your TRIP DASHBOARD, view the TRIPS I'M PLANNING tab
Click into your ACTIVE trips

Then click the cog (round icon) to expand the menu

Choose ARCHIVE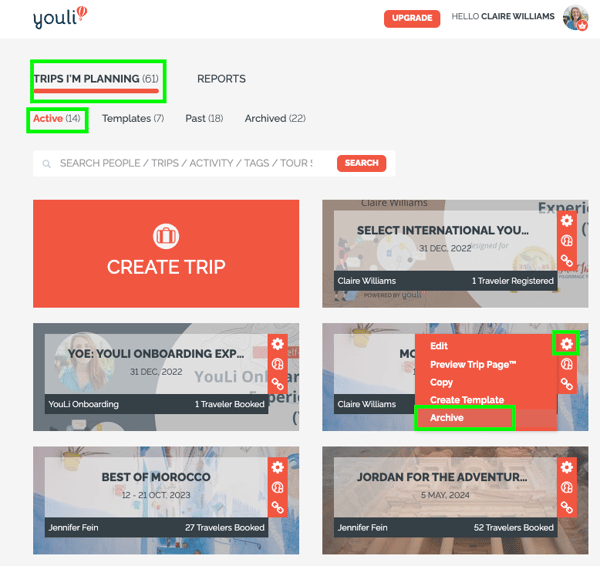 How to restore an active trip
1. Click into your ARCHIVED trips, from the TRIPS I'M PLANNING tab (again, within your TRIP DASHBOARD)
2. Then find the trip you want to restore and click the cog icon
3. Select RESTORE -- ta-da! Your newly restored trip will now live under the ACTIVE tab. 🎩🐇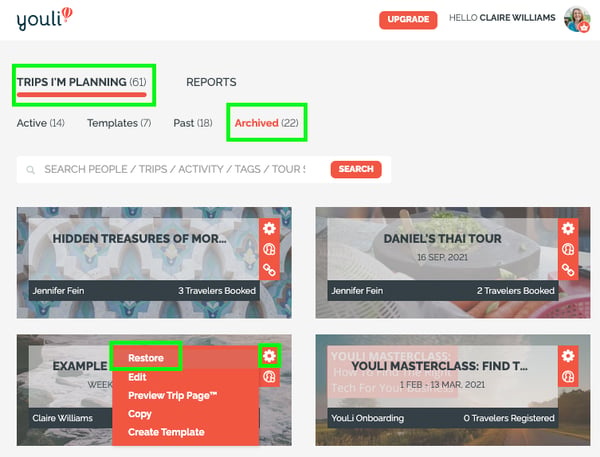 ---
Need more help?
For more tips on pre-trip customer support join the YouLi community of travel professionals with monthly LIVE webinars and Q&A sessions.