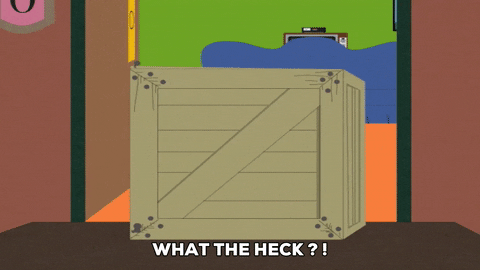 We have an exciting update for you this release!
Did you know we regularly put out new releases? Discover them all here. Read on for the new features in this release:
+SOCIAL DISTANCING:
We are taking social distancing seriously here at YouLive to Travel. So much so that we've made more room in our Update Trip forms: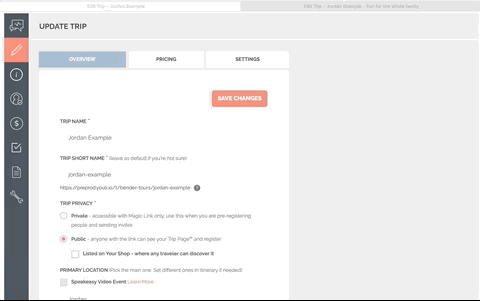 J/K - we just needed to make more space for our new awesome feature.....
+ALL-IN-ONE PLACE:
📦📦📦 PACKAGES! (First version)
It's finally here guys. We built-out packages! This means you can now have multiple price options for your travelers to choose from. Read all about packages in our dedicated help doc.
You'll now see all of your trips show a "Standard Package" when you click to the PRICING tab.
#️⃣#️⃣#️⃣ Reference Code (for Bookings)
Now you have a way to ask your traveler for their unique code in case they forgot their email or the name of their trip. Ask them to send you the reference code from their payment confirmation or Trip Page and look it up using Search on your dashboard.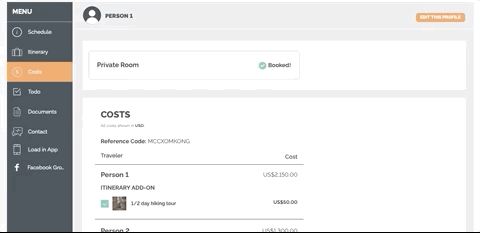 🔢🔢🔢 Max Bookings (Inventory) - Coming next release...
This is another big one! Now you can put inventory on your trips. This means that you will be able to limit the number of bookings you can take on a trip and per package.
Come back mid-October to check it out!
🔴🔴🔴 Automatic Notification of Spots Left
We will also make it so your travelers can see how many spots are left on in your trip. This is going to be great for you to push those travelers who feel no rush to secure their spot. Can you say sales, bookings, and more bookings!


💰💳💵 A new Payment Gateway: Cybersource by Visa
If you are VENTURE or ENTERPRISE, we now offer an integration option with Cybersource. This is a great option if you have a reputation with them and can't switch to Stripe, or if you need to take payments in more countries.

+EASY TO USE:
🌅🌅🌅 Brochure Mode vs. Bookings Mode
With the creation of packages we have clarified what it means to be in BROCHURE MODE vs. BOOKINGS MODE. We used to call these "Estimated Price" and "Finalized Price".
If you are not familiar with BROCHURE MODE, it allows you to collect expressions of interest on your Trip Page. It's free forever and available on all our subscriptions.

BOOKINGS MODE allows you to take payments, just like the old "Finalized Price"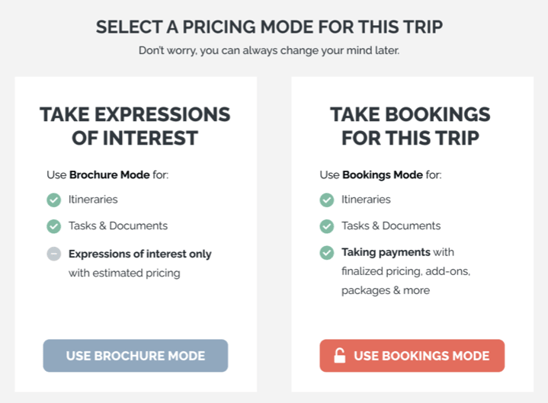 Learn more about the difference between brochure mode and bookings mode in our dedicated help doc.
Only have one package available? Upgrade to CREW to unlock multiple packages. With full Stripe and Square integration payments are easy. There are no booking fees, and we never hold your money. YouLi powers you up.
---
Need more help?
Reach out to the YouLi support team via a chat box at the bottom of your screen or submit a ticket request. If you need more advanced support, schedule a 1:1 Consulting session with one of our experts, as we will walk you through the features and best practices.