Sometimes you have an idea but the trip dates aren't locked in yet. But you still want to promote it. This is especially true during the covid recovery period.
You can use
YouLi Trip Pages
to collect expressions of interest and even deposits before you lock the dates in as Set Departures. Then when you're ready, you can change to Set Departure dates and the itinerary will automatically update to match the dates you enter. Too Easy!
Setup Estimated Dates
When editing your trip (Click the pencil menu link to Update Trip)

1. Scroll to the Trip Dates

2. Click "Don't know dates yet?" to change to Estimated Dates with two input boxes:
Then you can enter any text you want to express the estimated dates. You can enter both or either or neither.
NOTE: This will disable Automated reminders. Reminders are only sent for trips with Set Departure dates. Learn More
3. Click "Save" and agree to change your Itinerary Items to DAY 1, DAY 2, etc
If you have itinerary items with Set Dates, then you'll be prompted to agree to switch them to "relative days".
This will lose time, but keep the relative order of itinerary items so that they can be automatically set to new dates in the future.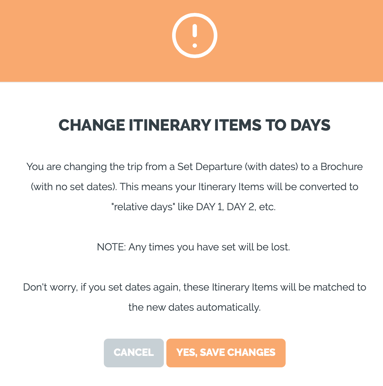 4. Click "Preview" in the header to see how the change looks
These will appear on your Trip Page like this: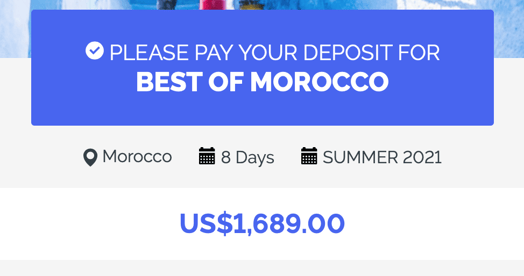 Set Your Price : Brochure or Bookings
You are going to want to choose brochure mode if you are just looking to collect interest on the trip, However, if you know the price and are ready to accept payments, choose bookings mode and watch those sales role in!
To update your Price, click on the price in the Planner Header:

Create a brochure mode trip to collect interest, but NOT payments: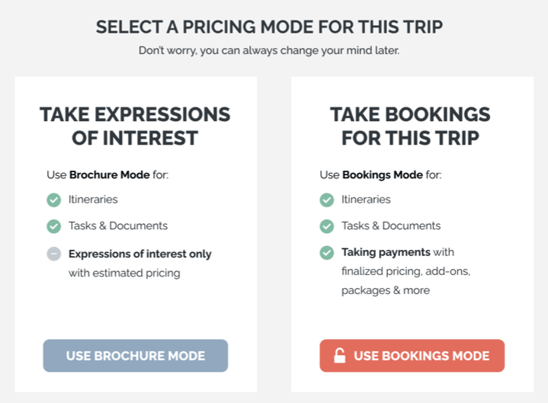 NOTE: You cannot do Itinerary Add-ons unless the price is finalized.
Set The Right Expectations
Click to Update Trip -> Settings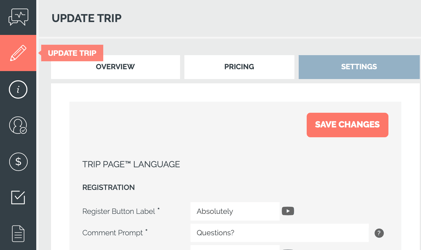 1. Change the prompts
Review all your content to indicate whether deposits are expected or will be prompted when dates are set.
Especially:
Register Button Label - if it says Book Now, change to "Express Interest" or similar. WATCH HELP VIDEO
Public Trip Registration Prompt - if it refers to payments, adjust the text appropriately
Label above Trip Name - if it refers to deposit or payments, adjust as needed

Message emailed after Registration - if it refers to next steps, ensure they are accurate
2. Disable Menus that don't apply
If you aren't taking payments and don't need to provide inclusion/exclusion explanations, simply turn off the Invoice menu.
3. Save Changes and Preview
TIP: If you click the "Share Link" button in the header you can copy and open a "Private" or "Incognito" window to see how an anonymous visitor would see the Public version of the page.

Start Promoting the Trip!
Once you're happy, grab that Share Link and post to your website, your socials and include in your email promotions.
If you haven't already, setup you Google Analytics so you can track what sources perform the best.
Set Your Dates and Start Collecting Payments
Once you know your dates and you are ready to collect payments, reverse the steps above and send a message to all your registered travelers to send them back to their personalized Trip Page where they will be shown the new dates and be prompted to pay.
Deliver an Amazing Trip!
We know you've got this part, so we'll leave that to you. Be sure your tasks are sorted and your travelers have completed everything pre-trip by checking the Task Analytics so your liability is managed and you can have a less stressful trip.