Why Is My Trip Activity Feed Showing That My Traveler Sent Themself a Message?
Are you confused because it looks as though a Traveler sent themself a message, when viewing your Activity Feed (see images below)? Don't worry! There's a reason for it.
There are two reasons you may see this happen
Find My Trip link
Are you seeing this in your ACTIVITY FEED? See the bullets below for an explanation.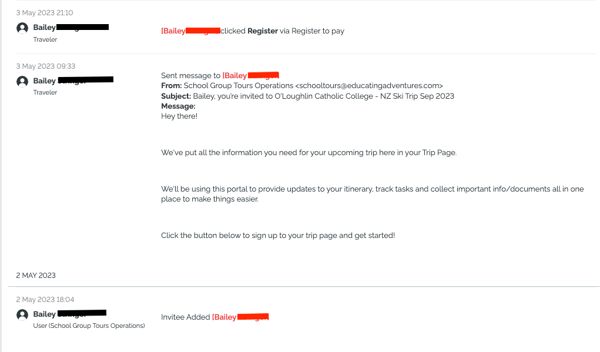 When a Traveler clicks on the "FIND MY TRIP" link and enters their email address, they are triggering an INVITE to any TRIPS they have been registered for or invited to (with that specific email address).
They receive the INVITE MESSAGE, so this is why you're seeing it the way it's displayed in your ACTIVITY FEED.
Downloading the YouLi Trip (Mobile) App
What about this one?

When a Traveler downloads YouLi's Trip App, this is another situation where your ACTIVITY FEED will display to you that your Traveler sent themself a message. See the image for the message you'll see, as a Planner.
---
Need more help?
For more tips on pre-trip customer support join the YouLi community of travel professionals with monthly LIVE webinars and Q&A sessions.