YouLi connects to Stripe. We do NOT hold your money. We connect to YOUR Stripe account, which means we can support many of the methods Stripe allows.
AVAILABLE PLANS: Explorer, PRO, Crew, Venture, and Enterprise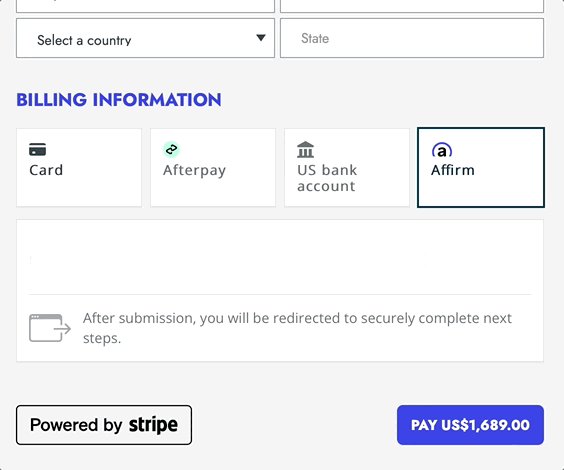 Example: Charging in USD with 5 methods
In the screenshot below, you can see 5 methods available via Stripe. But you don't have to have all these - in fact, we recommend you only enable one or two!
Credit Card
Afterpay
US bank account (ACH)
Google Pay (wallet)
Affirm (hiding at the end)

YouLi Pre-requisite
Billing address must be collected to enable other payment methods via Stripe besides Credit Card.

You can tell this isn't enabled if you see this when clicking PAY NOW on your trip pages (note the lack of billing address fields)


Click to ACCOUNT -> PAYMENTS
Check the box next to "Require billing address for Stripe payment"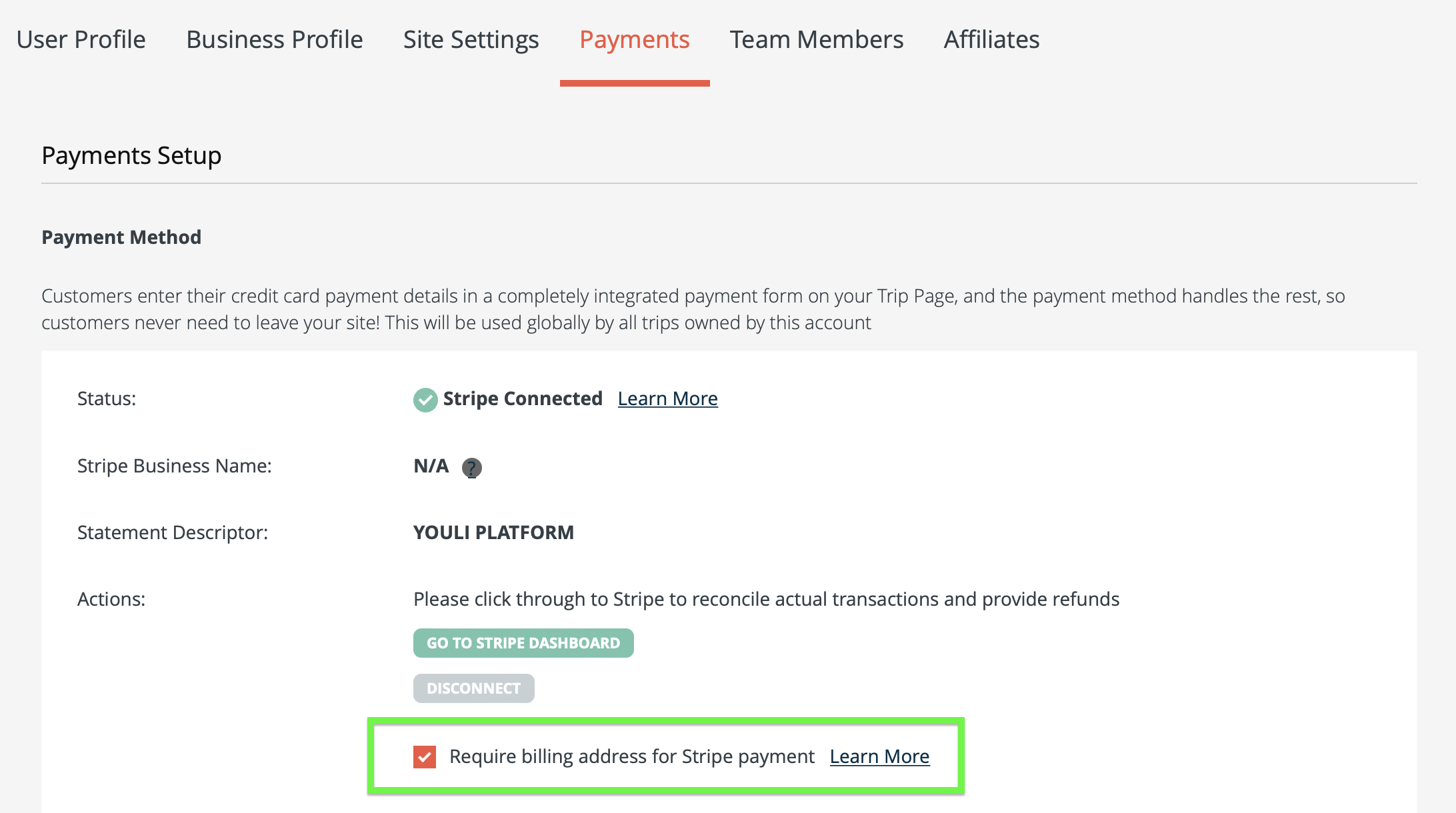 Once complete it will look like this:

Here are the ones we have verified ...
We have confirmed support for the following methods. If you're interested in one we haven't mentioned, let us know and we'll see if we can support it.
CAUTION: We do not necessarily advise the use of any of these payment methods - if you choose to use a buy now, pay later option or other payment provider, you will be bound by their terms. It is your responsibility to ensure those are acceptable before requesting the option via YouLi.
Afterpay (Buy Now, Pay Later), aka Clearpay
Supported countries:

US-Based Stripe Account Only:
NOTE: Sorry y'all, accepting USD is not the same as having a US Stripe account. You have to have a US company to set up a US Stripe account and accept ACH and other US only payment methods.
AU-Based Stripe Account Only
NZ-Based Stripe Account
NOTE: These payment methods do incur:
Basic Onboarding - in 3 Steps
NOTE: After you follow these steps, this may take some time to show up for you. If it's still not showing up for you after 24 hours, open a Support Ticket and we'll see what is visible on our end.
We may need to have to check with Stripe - sometimes they need extra info for other payment methods.
These features can be enabled via Stripe without an onboarding call with YouLi, just follow these 3 steps:
STRIPE: You need to enable the payment method on your Stripe Dashboard

We recommend recording this process with Loom or another tool to share with YouLi support in case of issues.
Choose "YouLi" from the "Select your platform" drop-down as shown below:
Click the [TURN ON] button on the right near the method you want



Example:


Follow the prompts to complete the necessary information
Click "Turn on anyway" if prompted about Webhooks (that's what YouLi does for you!)
Confirm it is now ON!

YOULI: You MUST require billing address on Stripe payments
TEST: Create a test trip in YouLi with an amount due larger than 100
Add a test person as REGISTERED
Click to their invoice and choose "Credit Card" and PAY NOW
Confirm the payment option you have enabled appears in the popup

Watch this video to see how to confirm it's working:

Basic Off-boarding (turn it off)
Follow the directions above to turn it on, and expand the payment to find the [TURN OFF] button

Click that and follow any instructions.
✅ It will be OFF when the button that shows is [TURN ON]

This will remove the option from your Trip Page


Troubleshooting
WARNING: Some of these methods appear "magically" based on a lot of things being just right - because Stripe is being smart and only showing the options that will work for that transaction for that person at that time.
This is GREAT when it works, and very annoying when it doesn't :D
So if you don't see it in the payment popup, it's probably because of one or a few of these reasons:
YOULI+STRIPE: You don't have Stripe connected to YouLi - connect Stripe
STRIPE: You need to enable the payment method on your Stripe Dashboard
STRIPE: You haven't verified required info after enabling the option - go to your dashboard to see what is required.

YOULI: You MUST require billing address on payment

YOULI TRIP: The payment amount is over the maximum or under the minimum

See links above for details on different methods which includes their min and max amounts

TRAVELER: The device you are on does not support it (usually for wallets like Google Pay, Alipay)

TRAVELER: The country they are in doesn't support the payment method


YOULI TRIP: The currency you're charging in does not support the method you want to use

Wait - sometimes new methods take time to flow through to YouLi, if you have confirmed everything above, then check back tomorrow


Need More Help?
Stripe has extensive documentation on supported payment methods that we strongly recommend you take advantage of. Many of the issues you might have can be resolved by the Stripe team.
You can contact us to book in a consulting call if you want to understand your Stripe payment options in more detail or need help troubleshooting.
Watch this webinar we did to understand payment methods and how to lower your transaction fees: