Have you avoided Checkout Flow because it appears BEFORE the Itinerary? Now you can change that!
☕️ YouLi Cafe - Join our Facebook Group to Watch!
You can now click to our FB Group from the login screen. You'll want to jump in to see our preview of some of the features we are working on. Early adopters who have paid for priority are getting access this week.
Go to Facebook Group (find the most recent pinned post of the YouLi Cafe)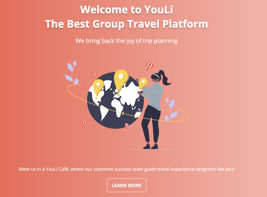 🌎 Group Demos - Not Sure What YouLi can do for you?
Join one of our weekly group demos (in your timezone) to be wow'd by everything we make possible: It's free to join!
🐢Oops, YouLi slowed down so ✈️ We responded
Travel is bouncing back for real this year and we are excited to be powering so many more trips. With that extra load, we had a bit of a slowdown last week. Obviously we don't think that is acceptable, so we scrambled to address the issues and ensure we won't have that slowdown again.
In response:
We have increased our server capacity

We have optimized the way we send our email reminders
This is the beauty of being on a platform, this extra capacity and focus from our team comes at no extra cost to you!
⁉️ Checkout Flow BEFORE or AFTER? That is the question.
So you love the LOOK of Checkout Flow, but you want your Travelers to see the Highlights and Itinerary before they go to pay? Then you need...
Checkout Flow AFTER Trip Page
Learn more about Checkout Flow and choosing your Booking Style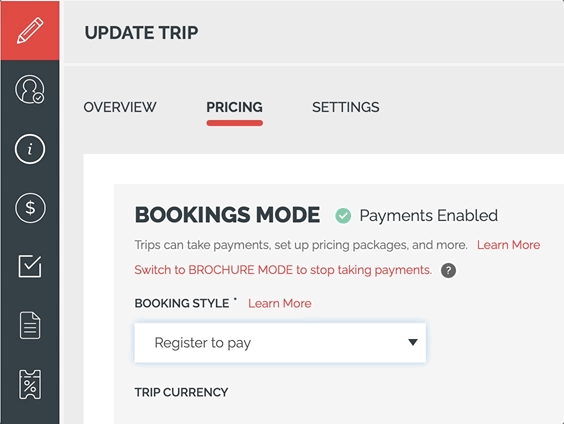 👇Pricing Packages are Changing (getting better!)
So what is changing?

1. When a booking is made with more than one person
YouLi will now send a copy of the payment confirmation to everyone with an email address entered on the booking.
2. When you are editing your Packages, you'll notice that:
DON'T PANIC: This change does not impact behavior, we have just changed the form to make the options clearer and prepare for the new options that are coming. Your Packages will continue to work the way you are familiar with.
The field BOOKING SIZE (ROOM CAPACITY) has moved up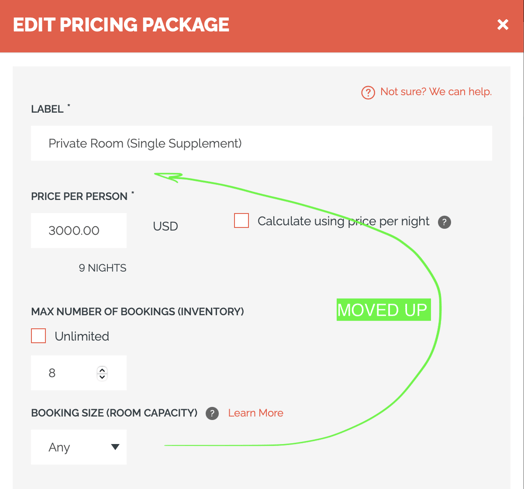 The field's name has also changed to MIN OCCUPANCY PER ROOM / BOOKING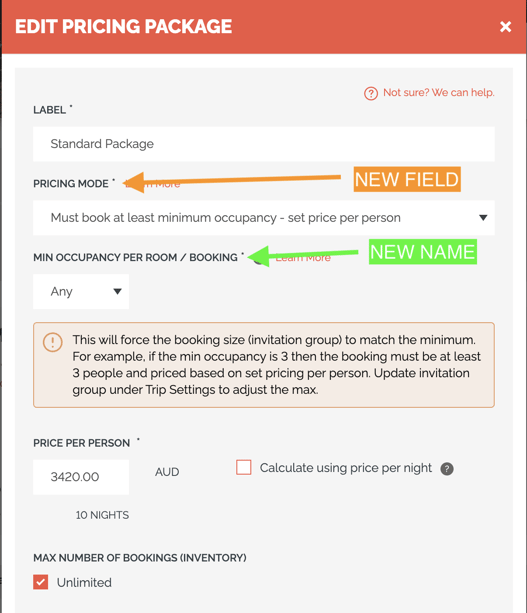 Above it is a new field PRICING MODE. For most users, the only option (for now) is:

"Must book at least minimum occupancy - set price per person"
This should make it clearer what the MIN OCCUPANCY value does. It forces the person booking to pay for at least that many people when picking that Package.
In the future, there will be more options! See below.
⚡️ Set Category on AddRegistration (via Zapier)
If you have Traveler Categories enabled, you can now set Category when automating AddRegistration via Zapier.
This works great when you have Custom Profiles per Category and want to be sure they see the right Profile Form when they visit their Trip Page.
Advanced Features for Roommates & More ...
LIMITED RELEASE: These features are currently being rolled out for clients who have paid for early access.
🤩 Variable Pricing based on Occupancy
Do you have a set inventory of rooms, for example 12 standard rooms, and you're willing to let people occupy them as single supplement or double occupancy? Then this feature is what you've been waiting for.
This new option is why the PRICING MODE field has been introduced. For those with this feature enabled, the option to provide a price for each level of occupancy is now shown.
When the PRICING MODE is set to
"Choose occupancy upon booking - priced based on occupancy"
The MAX OCCUPANCY PER ROOM / BOOKING appears
This allows you to specify the max number of people that can select this Package
Your Travelers can then select which occupancy they prefer
You can then specify the pricing for each occupancy (per person)
Example (Double Occupancy)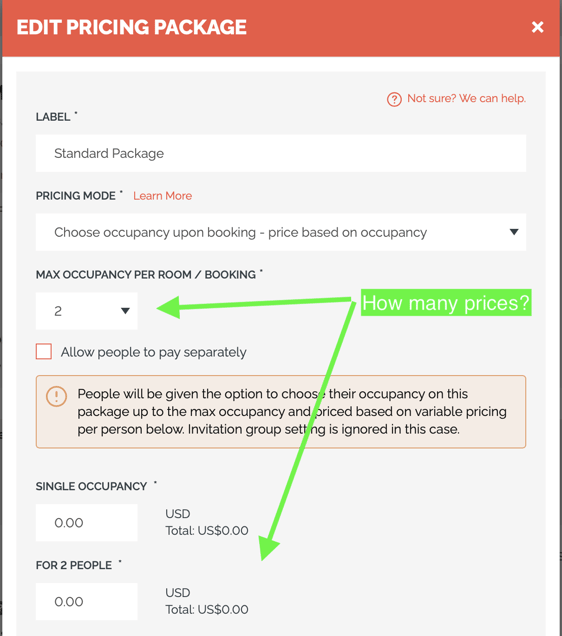 How it appears on Checkout Flow:
Traveler can select from Single or Double Occupancy and the price adjust automatically.

Example (Quad Room)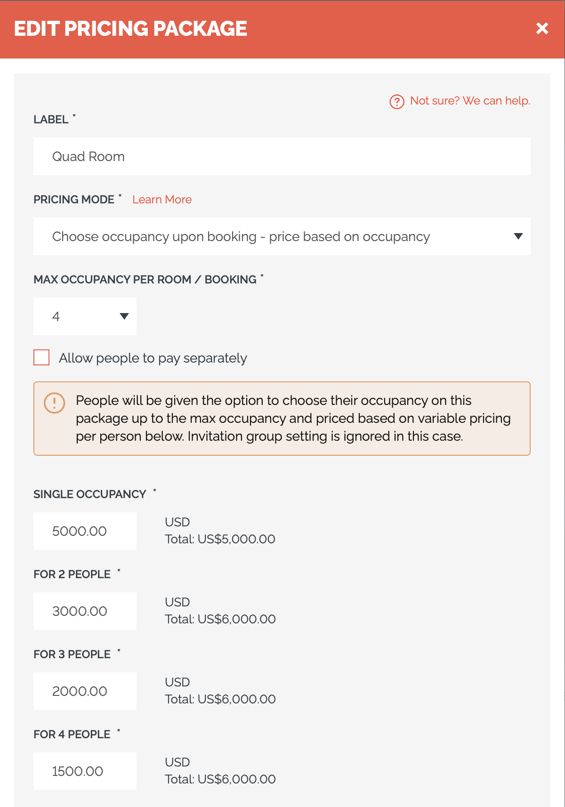 👯 Option to 'Pay together' or 'Pay Separately' (Checkout Flow only)
This advanced feature will allow you to configure a Package to let one person book a room, specify the names and emails of the other people

and then opt to pay separately

.
YouLi will then hold the room and notify the friends they need to pay their deposits.
TIP: Works well with variable occupancy. If a roommate doesn't pay, remove them from the group and the remaining members will have their prices updated to reflect the new per-person rate.
Book together, pay separately!
In the example below the configurable labels are:
SPLIT PAYMENT OPTIONS
Pay together - shared invoice and profiles
Pay separately - individual invoices, payment link will be sent to other people
When you are onboarded onto this feature - be sure to tell us what labels you prefer to ensure you travelers understand the option.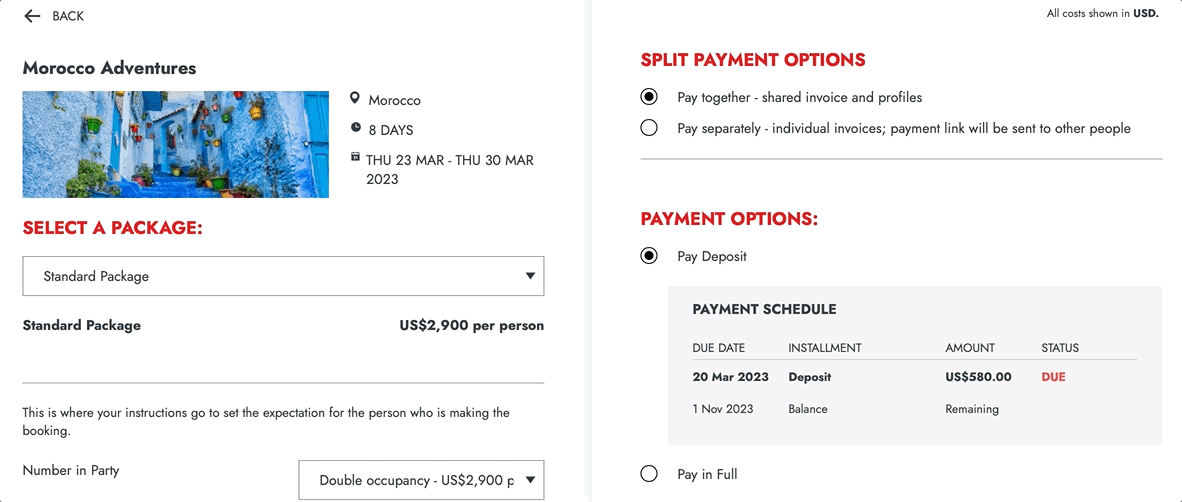 CAUTION: Once a group is "Paying separately" they cannot then pay together. They will have to switch to each invoice to make separate payments.
COMING SOON: More control over these invitation groups and Group Payment Options
Bug Fixes & Enhancements
🐞 7651 - If the Date Of Birth profile field is required but not included in the registration form, that task will be incomplete after registration/booking. So the Traveler is prompted to complete it and sent reminders. (Requires custom registration form)
🐞 7769 - Optional file upload using new custom field of type "File Upload" was blocking task completion - FIXED
🐞 7344 - Custom Trip Reports did not include bookings with pending payments - FIXED
🐞 7474 - The ... menu on an uploaded document would not display on all browsers - FIXED



🐞 7723 - International country code +213 added
7654 - External links on Tasks now open in a new tab. Thanks to Best Life Adventures for the suggestion.
7597 - Booked meetings now link to the profiles of the people who have booked them from traveler profile. Learn more about Meeting Blocks for your conferences & events
7502 - View Item event now tracked as part of GA4 ecommerce tracking to provide complete reporting
7735 - Searching for other Travelers on Trip Page with categories now returns the search when selecting a category without having to hit SEARCH again.
7748 - Resize images (instead of cropping) shown on profiles and show side by side. Learn more about Full Profiles



---
Need more help?
Reach out to the YouLi Support Team via the chat box at the bottom of your screen or submit a Support Ticket request. If you need more advanced support, schedule a 1:1 Consulting session with one of our experts, and we will walk through Traveler flow options & best practices.