Google Analytics is your friend, be sure your GA4 is connected and consider enabling ecommerce tracking to learn more about who is booking your trips. Book in consulting if you need help getting there.
😫 Google Analytics change got you confused?
Have you been seeing this when you go to your analytics dashboard?

Not sure what this means or how to ensure your analytics continue to work after July 1, 2023?
We got you covered, just start a chat with our support team to book in your paid consulting call and we'll make sure you've got GA4 set up AND connected properly to your YouLi account so all your Trip Page activity is being tracked alongside your website.
TIP: Once you have this in place, you can purchase the ecommerce tracking add-on to see which acquisition channels produce the most bookings. A key add-on if you're using paid ads or multi-channel marketing.
WHAT YouLi DELIVERED THIS UPDATE
🎈 Performance Improvements...up, up and away
Things have been getting busy! We are seeing 20% more activity than just 3 months ago.

It's great to see so many trips launching and we are responding to the increased load with more server capacity and performance optimizations.

Thanks for your patience as we grow together!
🤩 Building Community on your events just got searchable (BETA)
This feature is shiny new, so there may be some corner cases that aren't perfect, please let us know what you think.
Searching and filtering are now available on your People tab.
If the People tab on the Trip Page is shown and you are using the new Profile & Registration Form... you will now see search and potential filters.
In the example below, I'm searching for Teachers who are named "Arthur."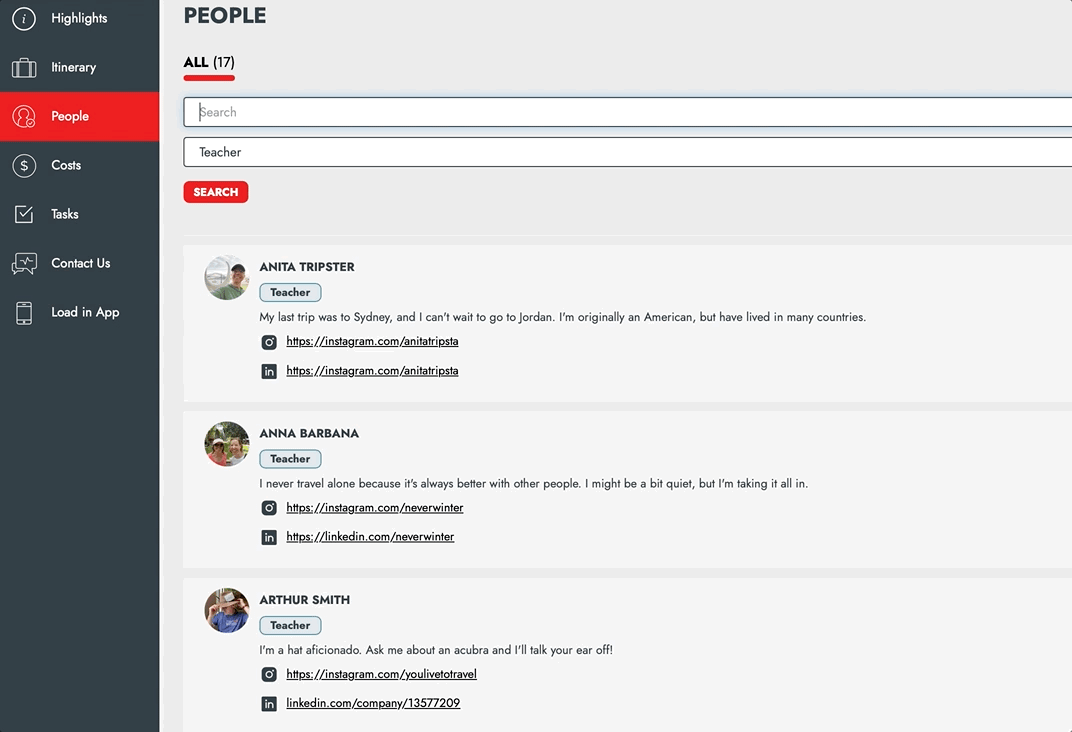 Search will match against any Profile Form fields that are:
Single or multi-line text, most commonly:


First name
Last name
Mini bio

Rich text fields are NOT searched as they cannot be shown on summary cards
Filter fields are shown for:
the first 3 profile fields that are marked as "required"
AND set to show on "Full Profile & Summary"
AND which are of the type "Select all that apply" or "Select only one"
🎛️ Toggle whether people can view Full Profiles
When you check the box next to People under Update Trip -> Settings
You'll now have the option to select whether they see "Full Profiles" or just the "Summary Cards".

Use this in conjunction with the Profile & Registration Form Task & Who Can See This Data
NOTE: This is a great feature for events and any trip where you want people to get to know each other before and during the event. Use the "Social Media" field type on the form to allow people to specify how they want to be contacted.
✅ Ecommerce tracking in Google Analytics 4 (GA4) -
Register to Pay only
Sure, you can see how much money you've made in Manage Payments, but how do you know where those people came from?
A: Google Analytics with Ecommerce tracking enabled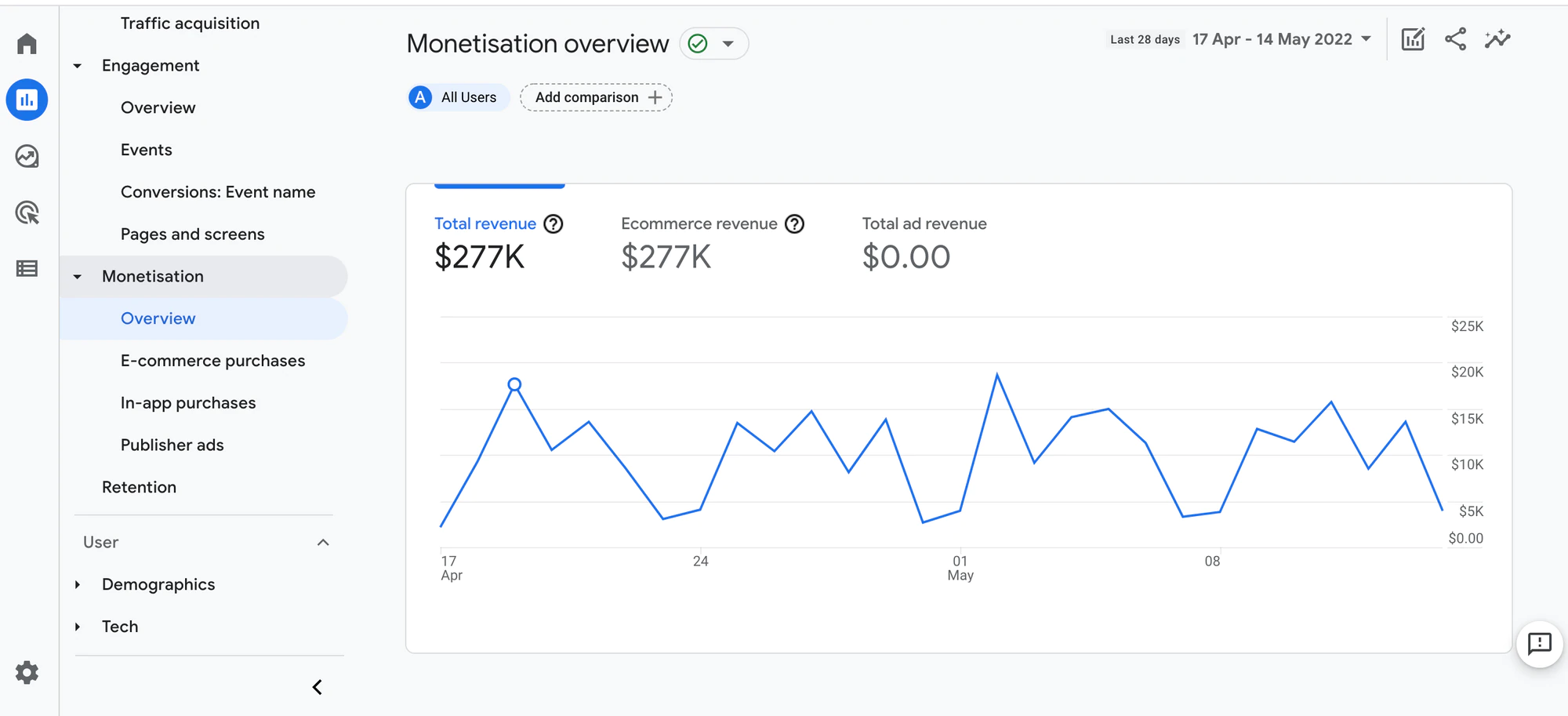 🤩 Upload multiple images/PDFs in a custom form
Prompt your travelers to upload up to a certain number of images or PDFs, and make that field required.
This should be used instead of "Enable optional document upload" and it means you can place the field where you want on the form.
New field type for you: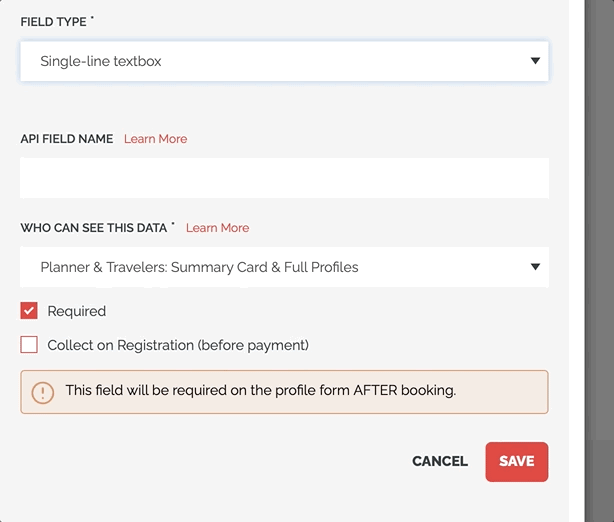 What your traveler will see on the form: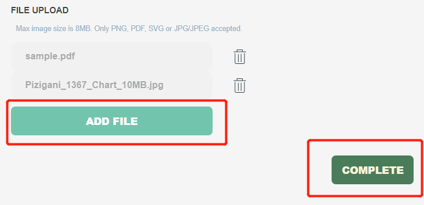 What your traveler will see on the Full Profile (see above to enable):
This is an example if they upload images. If they just upload PDF files, they will be linked for download.
If the files are set to "Planner Only", then they will not be shown on the profile.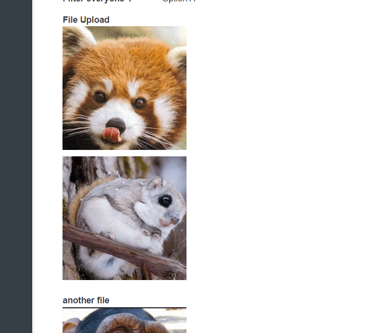 👉 Encourage your Travelers to Make Accounts
We are seeing more travelers create YouLi accounts so they can quickly access all their trips on their dashboard.
We have also seen them picking the wrong persona - so we clarified the text between 'Individual' and 'Traveler.' We expect this will help them choose 'Traveler' when signing up.
If they choose 'Traveler,' we do not market to them.
If they choose 'Individual' or 'Business' then we send them information on how to make trips on YouLi.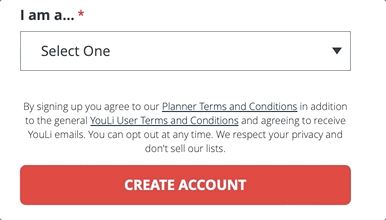 TIP: White Label Domain customers will also have their logo shown on the sign-up page so their customers know they are in the right place. Interested in white label domain? Open up a chat!
Bug Fixes & Enhancements
🐞 7688 - Editing people while viewing ALL on Trip CRM on a trip with more than 500 people caused a timeout error. FIXED (thanks for Verso for finding)
🐞 7514 - Optimizing createTrip API to reduce timeouts. (thanks to Diversity for assisting in debugging)
7677 - send email alert with error when create trip API fails
7715 - fix icon missing files to reduce 404 load - performance enhancement
7719 - Default travel insurance task has been updated to the latest World Nomad links. This only impacts the default content, for trips where the task content has been changed - this fix does not apply.
7533 - add contact icons to People Summary Cards for advanced profiles
7540 - checkout flow now uses our international phone number drop down picker for country code
7634 - activity feed log records will now distinguish between 'Register to Pay' and 'Checkout flow' registration methods so we can know how they registered on the trip. More information allows you and our support team to understand any issues reported.
7710 - fixed missing link for opening a ticket to request White Label Domain on Site Settings.
7648 - fixed width of videos on profiles
---
Need more help?
Reach out to the YouLi Support Team via the chat box at the bottom of your screen or submit a Support Ticket request. If you need more advanced support, schedule a 1:1 Consulting session with one of our experts, and we will walk through Traveler flow options & best practices.