Zap that task! Brand color your links & customize your Registration Forms. Also: Sales Page logo + date bar. Traveler Categories just got better & Meeting Blocks are HERE!
WHICH EVENTS YouLi IS ATTENDING THIS YEAR
New year, new event schedule!
Jen contemplates what conferences and events are worth the investment of time, money and carbon: Are conferences still worth it?
WHAT YouLi DELIVERED THIS UPDATE
🧾 Custom Registration Forms
We believe the less data required before being able to pay, the better! Which is why we default to just first name and email required on the Registration Form.

But we know that sometimes you need more, so now you can change the fields collected on registration! Learn More
Works for both Booking Styles
Register to Pay - Registration Form must be completed first, then they can pay (can collect contact info for abandoned cart offers)
Checkout Flow - registration and payment happens in one form (no abandoned cart capability)
LIMITED RELEASE: This is still a feature upon request because you might need to do a migration of your existing Trips. Open a chat to request enablement on any premium account. Learn More
✅ Zapier Integration - Task Responses
You can now take action based on a Task Response Event!
TIP: Need to create Planner Tasks for your staff? Use Zaps to create Tasks for your team, suppliers, and yourself in whatever productivity platform you use, based on Travelers completing Tasks or payments in YouLi.
Example Use Case
That means, for example, you can set up an automation using Zapier that creates a task for your staff in Monday.com to set up an airport transfer based on the completion of a Task in YouLi, asking whether the customer needs an airport transfer. It can make the task in Monday.com under the parameter that the Traveler has responded YES (they need the transfer).
Wondering what Actions and Events we support? Learn More about Zapier + YouLi
✅ New Registration (via Zapier & Webhooks) for Checkout Flow
Now your team can expect to receive a trigger for a new registration as well as a payment trigger when the customer uses Checkout Flow. Thanks to Insider Expeditions for highlighting this need!
🔗 Change your link styles: branded color + underline
Feel like black just isn't your color? Fair enough!
Now you can set your links to be your brand color

and also

decide whether to apply an underline.
Were you looking for links to the Trip Page that include your domain? You need White Label Domain.
NOTE: You can still override the color per description in the rich text editor.
👇Check out the new option under Account > Site Settings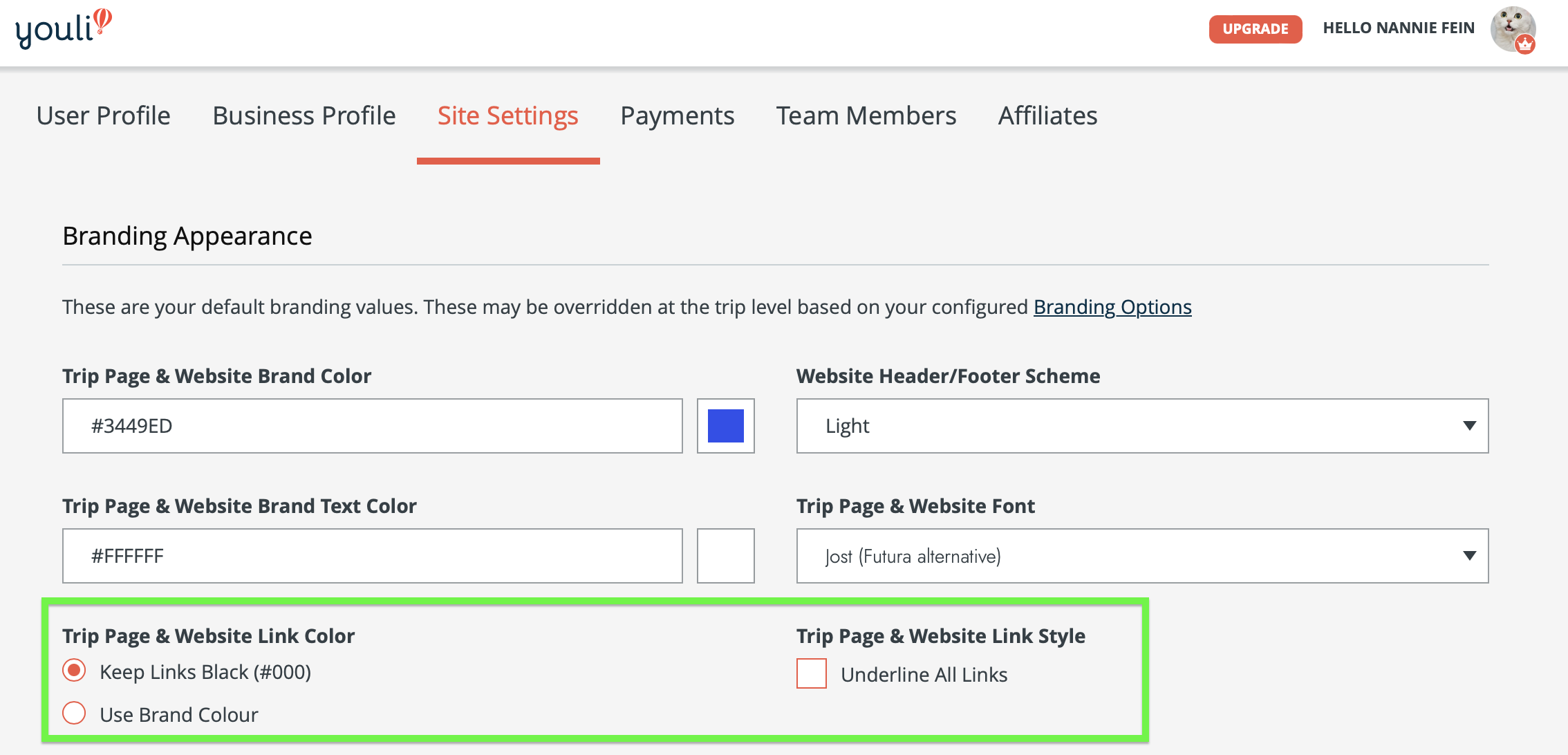 👇Default: black links with underline

👇New option: Brand color links without underline
🧳 Sales Page - now with Logo Included!
Do you use the Sales Page style from Wanderlust Entrepreneur? Now your logo will appear on the left, just like it does on the default style.
It will link back to your homepage for enhanced SEO.

🧳 Sales Page - now with Itinerary date bar
Sometimes minimalism goes too far - and in this case, that meant we didn't include the date bar on the Sales Page style to browse through each day on the Trip.
Now It is visible, just like on the default style. When there is nothing on that day, the user is encouraged to click to ALL.

🤩 Filter Trip CRM by Traveler Categories
If you have Traveler Categories enabled, then you can now filter your Trip CRM by those categories, so you can export or send special messages just to those sub-groups.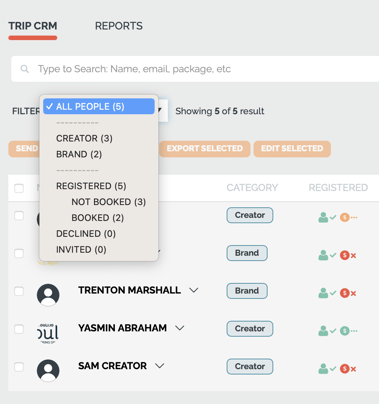 🏠 NEW! Custom Profiles (on request)
Profiles are changing...
They used to look like this (and only visible to the person who owns the profile):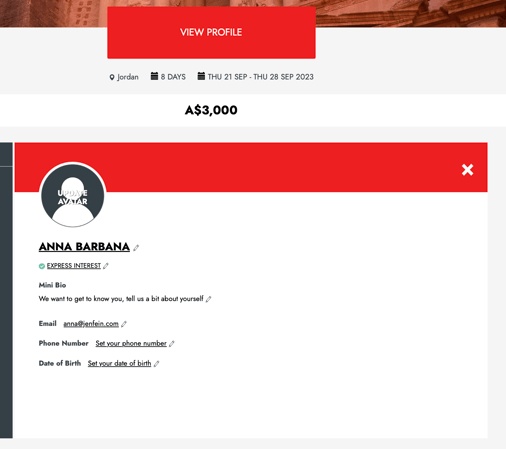 Now, you can define what is included in their profile (
and

optionally, show it to others on the Trip)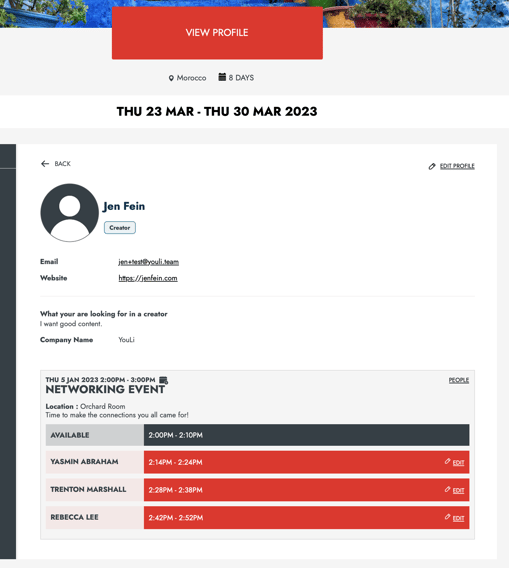 Worried about privacy? Read more
LIMITED RELEASE: (Same feature as Custom Registration Form) This is still a feature upon request because you might need to do a migration of your existing Trips.
Open a chat to request on any premium account. Learn More
Product Preview - Not yet widely released, but on the horizon!🌅
📆 Meeting Block - Networking Events
AVAILABLE PLANS: Enterprise Events only
Wondering what that networking event in the screenshot above is?
Do you run events with attendees that need to book meetings with each other?
Then you need "Meeting Blocks", a way to publish a time on the schedule that your attendees can self-schedule networking meetings based on their category.
For example:
Travel Agents can book with Tour Operators
Travel Creators can book with Brands who want to work with them
Students can book with Mentors
Interested? Get in touch to Learn More
Bug Fixes & Enhancements
🐞 7543 - When a Team Member created a template - it would generate an error when attempting to use it. FIXED
🐞 7556 - API Field names are NOW guaranteed to be case-insensitive
🐞 7242 - Avatar upload in new Profile Task now shows progress correctly
More security has been added around YouLi traveler cookies to access trip pages.
---
Need more help?
Reach out to the YouLi Support Team via the chat box at the bottom of your screen or submit a Support Ticket request. If you need more advanced support, schedule a 1:1 Consulting session with one of our experts, and we will walk through Traveler flow options & best practices.