Last release of the year. During 2022, YouLi built many new features - and we are cooking up even more for 2023. This update contains a few stocking stuffers and the beginning of a big new feature: Meeting Blocks for networking events.
WHAT YouLi DELIVERED THIS UPDATE
🧹 Cleaned up the Highlights & Itinerary Add/Edit
Same great capabilities, just a slightly new layout.
Old layout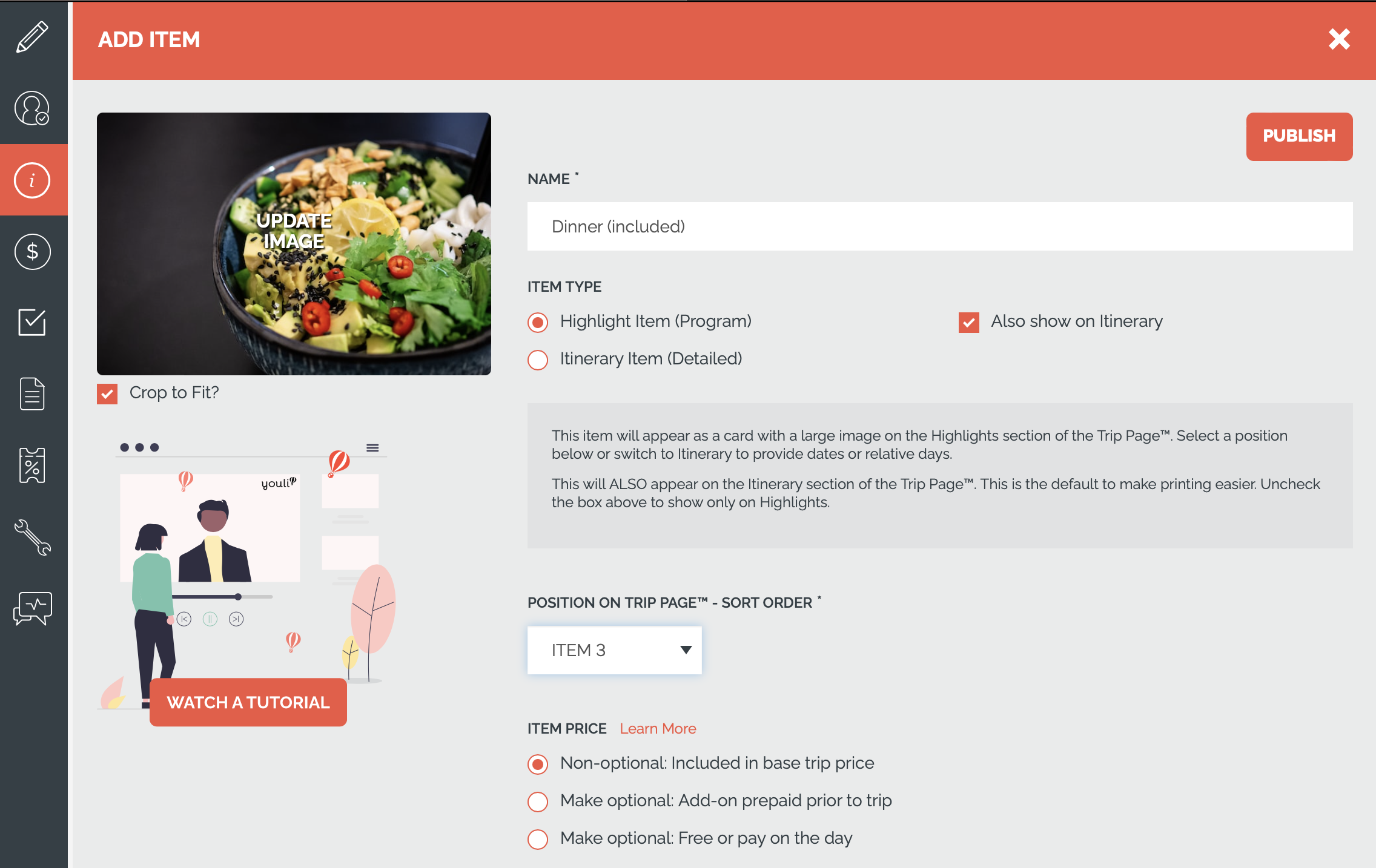 New layout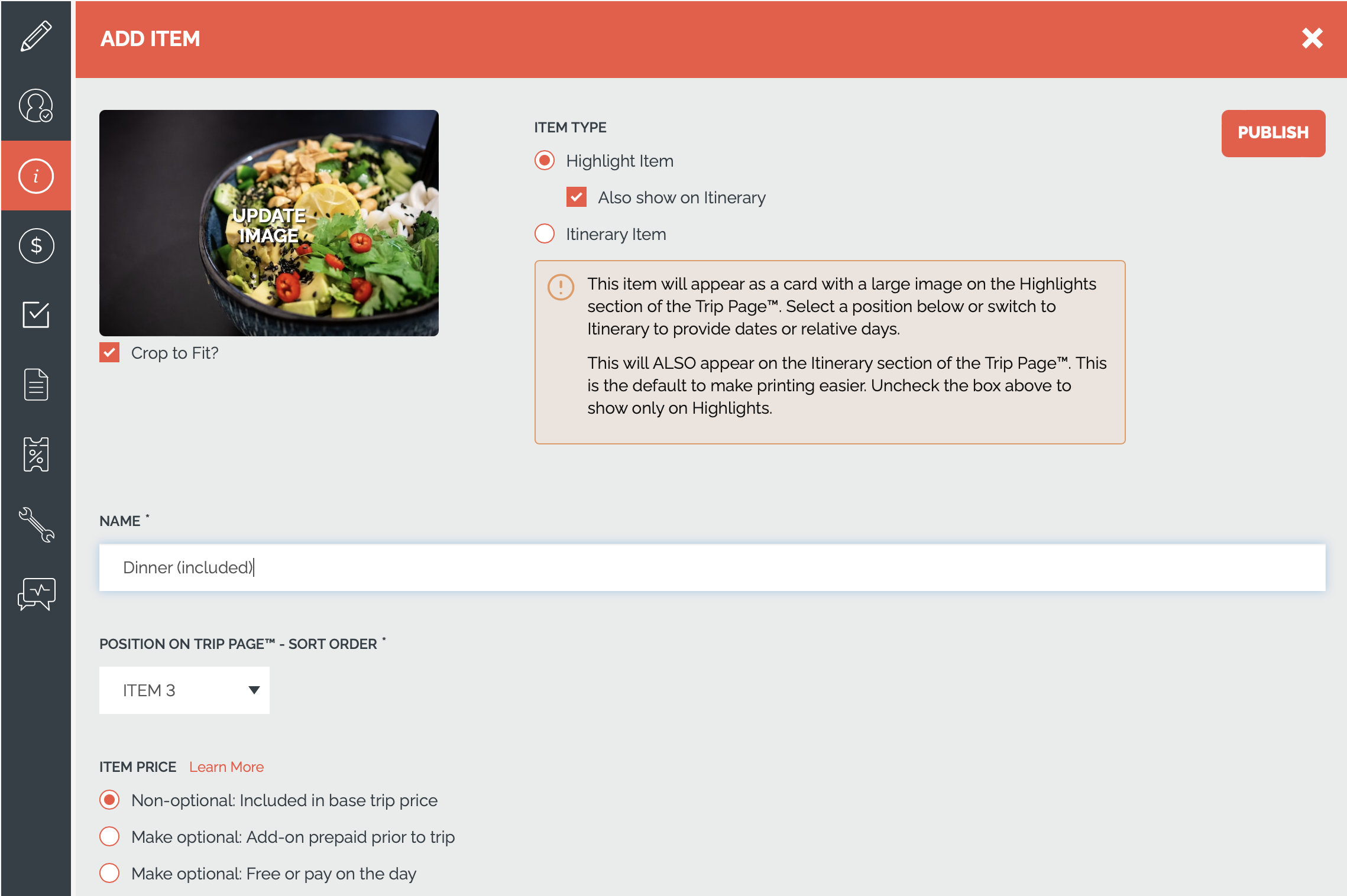 🌎 Itinerary item Location not on a map? Unlink it!
Thanks to Marissa from Wanderful for suggesting this.

By default Highlight and Itinerary items are linked out to Google Maps like this on the Trip Page:





Now, if you check "Don't show on TripPage Map"

The item will NOT appear on the map
AND the item will NOT be linked out to Google maps like this:




TIP: Don't see the checkbox? You probably have Maps turned off for the trip. Learn More

HACK: If you have maps off and want the location to NOT link, turn the map on, set the items to "Don't show on Map" and THEN turn the map back off on the trip.
💰 MISS THIS? Stripe ONLY: Ready to take ACH (USD), BECS (AUD) or Buy Now, Pay Later?
AVAILABLE PLANS: Premium plans only - PRO, Crew, Venture, and Enterprise
YouLi connects to Stripe for most of our clients' traveler credit card transactions. When you have Stripe connected, we connect to YOUR Stripe account, which means we can support many of the methods that Stripe makes available in your country, explore those here.
In this update we have confirmed support for the following methods. If you're interested in one we haven't mentioned, let us know and we'll see if we can support it.
🏠 Require Billing Address on Stripe payments
Thanks to Solo Female Travelers for requesting this.

This setting is required if you enable local payment methods via Stripe. Now you can enable yourself - no need to open a ticket anymore!
To find, click to:
Account
Payments
Connect Stripe
Check box labeled "Require billing address for Stripe payment"
This address will be sent to Stripe as the Billing address AND the Shipping address for the customer.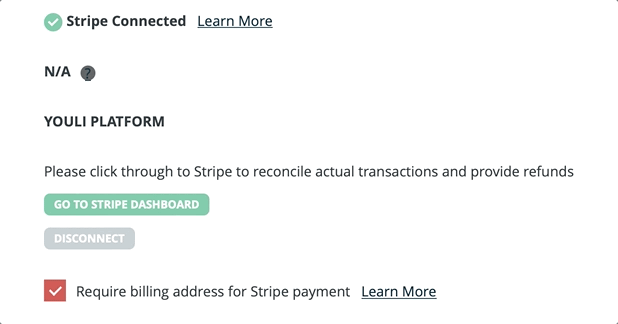 👉 Change the prompt for payments from 'Credit Card'
If you've turned on any of these local payment methods enabled by Stripe, you might want to change the payment prompt from "Credit Card" to ...
Credit Card or Buy Now, Pay Later
Credit Card or ACH
Pay with credit card, ACH or Afterpay
etc.
If you are using Authorize.net and restrict the cards you accept, you might want to change to:
Pay with Mastercard or Visa
Credit Card (MC, Visa, Amex)
etc.
Example

🤩 Shortcodes now work in message shown on Invoice/Popup with "Register to Pay"
These always worked in the email, but did NOT work on the Trip Page. Now we support the following short codes:
[TripName]
[InviteeFullName]
[InviteeFirstName]
[InviteeLastName]
If Bookings Mode enabled:
[AmountDueWithCurrency]
[TotalTripPrePayWithCurrency]
[DueDate]

To use them:
As a Planner, click into your Trip
Click to Update Trip
Click to Settings
Scroll down to "Message emailed after registration"
Use your Shortcodes in the text and see them appear in the popup/invoice
🤖 Pre-fill API for Checkout Flow
AVAILABLE PLANS: Enterprise only
Do you manage your own community or have data on your customers that you'd like pre-filled on the Checkout Flow to make the trip booking process faster?
Then you need to work with your developer to call our new Pre-fill API.
Get in touch to learn more.
📆 Meeting Block - Networking Events - Feature coming soon
Do you run events with attendees that need to book meetings with each other?
Then you need "Meeting Blocks", a way to publish a time on the schedule that your attendees can self-schedule networking meetings based on their category.
For example:
Travel Agents can book with Tour Operators
Travel Creators can book with Brands who want to work with them
Students can book with Mentors
Interested? Get in touch to Learn More
Preview of the feature
Planner can create the "Meeting Block" and set:
Start & End Time
Meeting slot duration
Transition duration
YouLi will generate the necessary meeting slots to meet those requirements.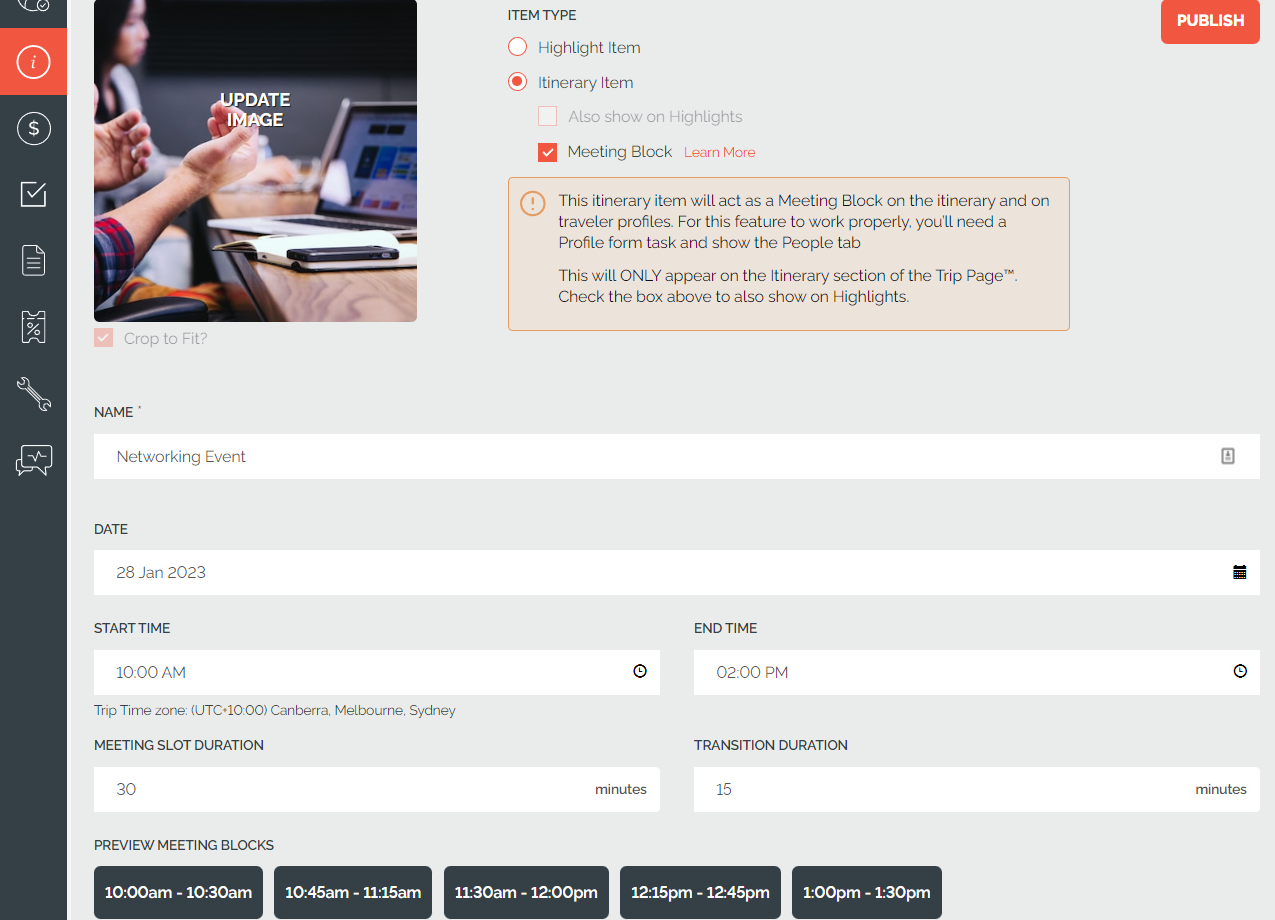 Those meeting slots will then appear on the Itinerary and Profile for attendees and indicate which slots are available and which have been booked (and with whom).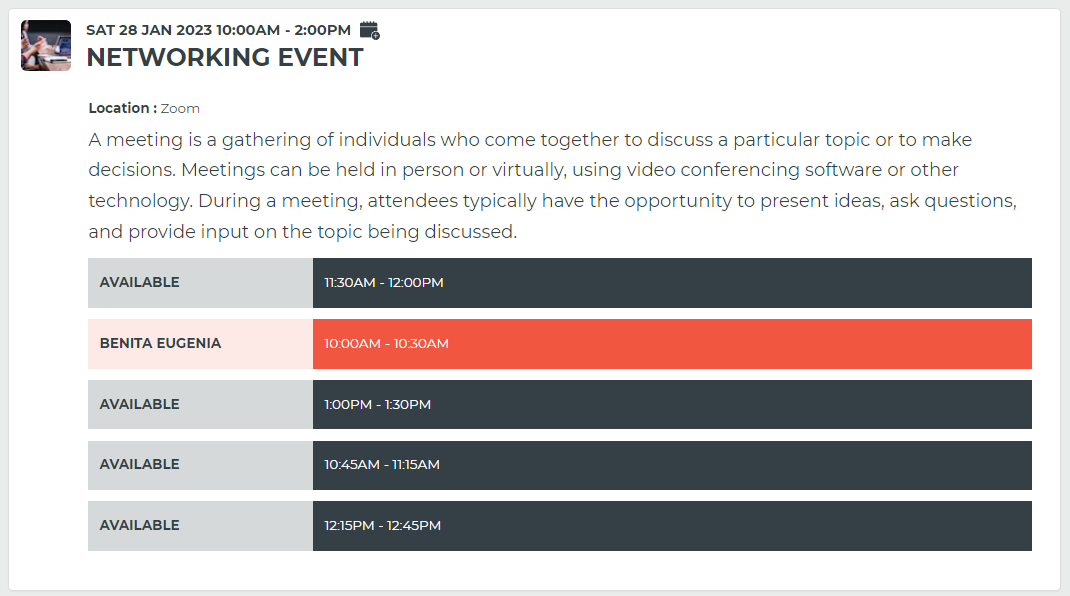 Bug Fixes & Enhancements
🐞 Task Responses - declined traveler responses were included in the total on the Task list - FIXED (7437)
What does the Highlight/Itinerary item TAG do? NOTHING... so we removed it. This is what it used to look like when adding/editing Highlight or Itinerary items.
TTC Community Perks updated. Join the Transformational Travel Council to access your perks
🐞 API endpoint /api/gettrips was returning the page size rather than the total number of trips - FIXED (6639)
🐞 Link to learn more about Trip Coordinators and Co-Planners was broken - FIXED

🐞 Sales Page: Fixed the Highlight display on mobile so the images are always under the item title - FIXED (6940)
🐞 Task Response Expand /Collapse option no longer appears when there isn't anything to expand/collapse