You're growing - so we are giving you better tools to manage your demand, find members of your community, and retain formatting in your description copy+paste

Starting in December, the NO-FEE options will only be available only in our Venture and Enterprise plans.
😍 Already upgraded? Don't worry, you keep all of your features!
---

WHAT YouLi DELIVERED THIS UPDATE
🔐 Securing your data - requiring more frequent login (authentication)
You might have noticed you were logged out of YouLi today. Not to worry - that's all part of our effort to improve the security of YouLi.
I know we always hear about "data breaches" and it's hard to know if you are "safe". That's why you partner with platforms like YouLi. We spend time thinking about your data security.
As part of a recent review, we decided to reduce the duration of your login token - that also means we had to log everyone off today. This means that you'll have to log in each day (whereas before you might have noticed you were only prompted to log in every few weeks).

Why does this matter?
This means that if you leave your laptop logged into YouLi somewhere (maybe some awesome cafe in Bali) and someone steals it, they will be FAR less likely to be able to get into your YouLi account and therefore be able to steal your customer data.
To further protect the security of your account, we recommend a password keeper, like LastPass or 1Password or Apple Keychain.

This is just ONE step we are taking
You'll see more security features rolling out in the coming months, including two factor authentication (2FA). If you have questions about how we secure your data, be sure to Read More and contact our team if you need more detailed information.
🤩 Search & Filter your Community to find the best partners
We are so proud of our partner, Transformational Travel Council (TTC), their membership is growing, so as the tech powering their community, we've released new features for our COMMUNITY product to make it easier to find the right partners.
These search and filter options are available in: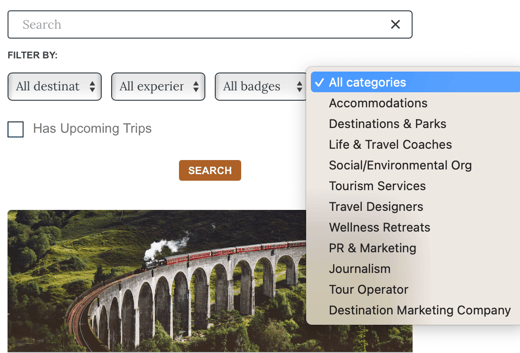 Watch a video showing how to maximize this feature.
☑️ Maximum capacity on optional + add-ons 🙌
Wow, this has suddenly become the most requested feature. Thanks to Rockstar Adventures for helping us get this feature right (and delivered before the end of the year!).
In the screenshot below, we show three cases:
Typer 1: "POOL ACCESS": Add-on with NO maximum - shows how many people have responded YES
Type 2: "WATERMELON FESTIVAL": Add-on with a maximum that is FULL - shows that it is full

Planners & Travelers see that the item is FULL

Type 3: "DURIAN LOVER": Add-on with a maximum that is NOT full - shows how many have said YES out of the max (5, in this case)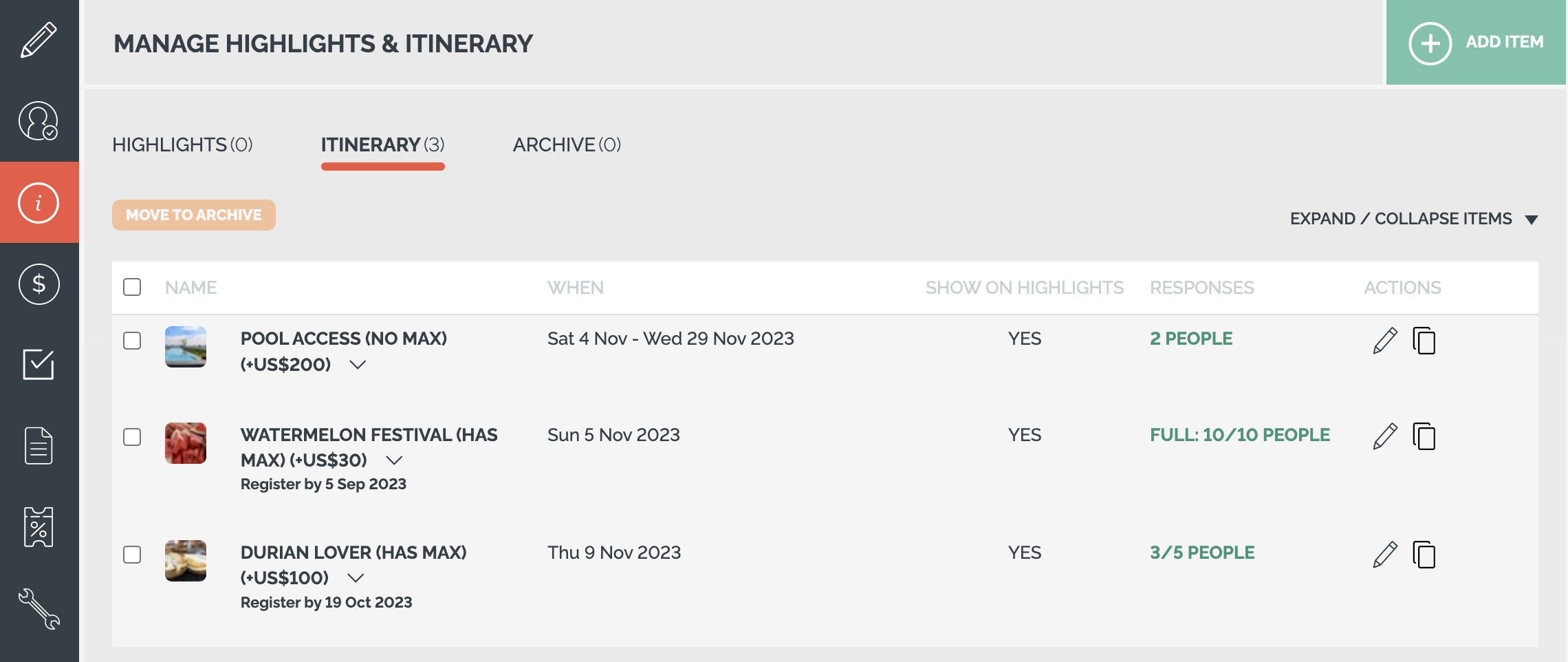 Ready to enable your add-ons with a maximum capacity?
Enter into your TRIP PAGE
Click to MANAGE HIGHLIGHTS & ITINERARY
Click to ADD or EDIT an item
Scroll to ITEM PRICE
Switch to MAKE OPTIONAL
✅ UNCHECK the "UNLIMITED" box
Enter your maximum capacity
Click SAVE!
Log off and have confidence that you're add-on WON'T be oversold!✌️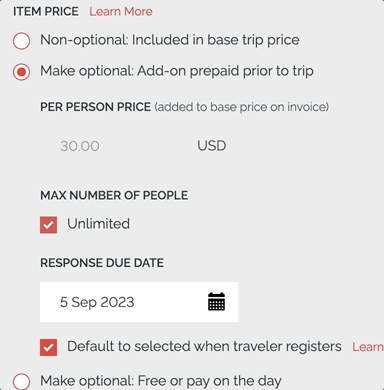 TIP: Use the maximum together with the "register before" date so that once that date passes, travelers cannot remove the item from their itinerary.
You can always move that date once the item is full to ensure people can't cancel via Trip Page once they have selected it.
🆒 Paste with Formatting
Who doesn't love COPY & PASTE! Best feature on a computer, I say!
Now you can copy and paste your formatted content from your rich text description boxes on YouLi
Between ITINERARY ITEM DESCRIPTIONS
From AUTOMATED TASK INSTRUCTIONS
From Word or other websites
Anywhere you have a rich text input box, just COPY and then PASTE
👈👉Profile Fields on the Left on TripBoard
We are improving the way that PROFILES are created and displayed for Planners and Travelers. This update, we moved all "Profile" fields to the left on the TripBoard and everything else to the right
Only profile fields that have been completed will appear

In this example, there are a bunch of customized fields like "Country" that are not part of the standard profile. This is part of a new feature we are testing with select clients.
Do you need customizable profiles and registration forms? Contact us.

Fields on the right include source tracking, package selection, etc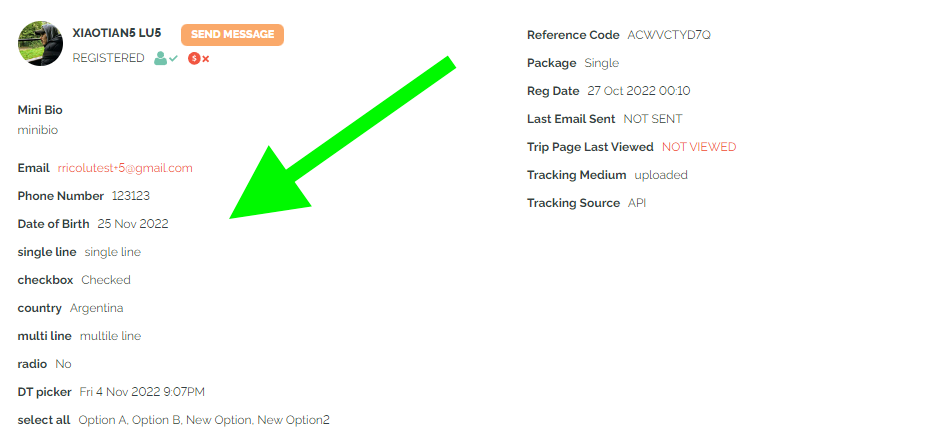 👀 Looking for the feature we called "Custom Payments"? Start looking forward to "Chip Away Payments"
Bug Fixes & Enhancements
Use Checkout Flow? Now your booking confirmations will include your per Trip configured "message entered after registration" that you set up under Trip -> Update Trip -> Settings
BUG FIXED: Affiliate report generated error for travelers copied between trips
BUG FIXED: Headers and Instructions for custom forms no longer show on Task Responses - thanks to CompassionUK for reporting
BUG FIXED: Incorrect data being pulled into Custom Trip Reports
Be more efficient: Search for Tour Series and Trip Short Name from the Dashboard
BUG FIXED: Document - share document link popup - link was missing
Glass half full: We changed "NO" to "No Response" on optional items. It's not that they have said "NO" it's just that they haven't said "YES" yet! Learn More about managing optional item responses


BUG FIXED: The hover over label for the menu items was showing as YouLi branding. In this example "ITINERARY" was showing as YouLi brand color, now shows in yours, even if you have chosen unfortunate colors like our example (no judgment 😆).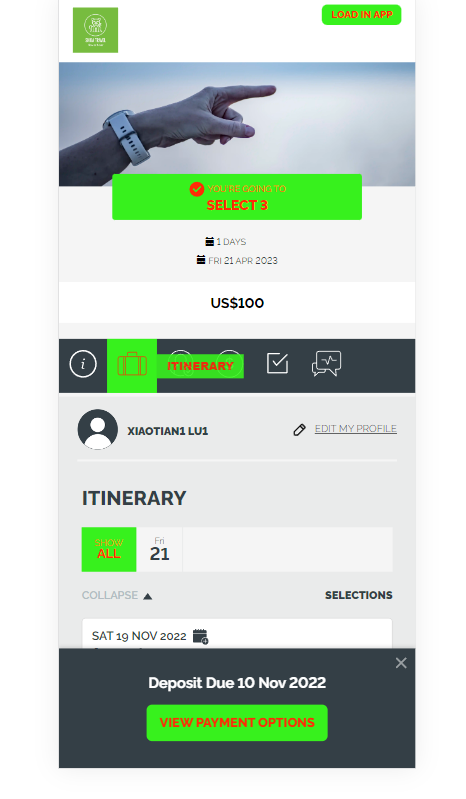 Did you miss our live Webinar? That's ok, catch it on REPLAY
We'll be doing a Webinar with Chris Torres of Tourism Marketing Agency to learn more about why this feature matters. REGISTER to watch the replay.
Configure this feature NOW in YouLi
Ready to improve your ad tracking, add your redirect URL today.
---
Loving YouLi? UPGRADE TO PRO
Find out what's included in each of our plans.
Not sure how to navigate SEO, website integration, Tour Series, Xero integration, etc?
Grab your 1:1 session starting at US$80.