Do you prefer to have your Travelers pay their deposit immediately before being distracted by the trip details? Then Checkout Flow is the Booking Style for you! Perfect for a CTA on a Landing Page or email marketing.
PLANS: Included in our PRO, Venture, and Enterprise plans.
Compare Plans
Choosing a Booking Style
Register to Pay is good for:

Capture leads and be able to followup to convert
Keen leads can pay immediately
Planners get an email when a registration is completed so you can action immediately
Good option if you have an application process

Checkout Flow BEFORE Trip Page

Single page checkout experience
Ecommerce style provides clean customer experience
Don't clutter your Trip CRM with people who aren't ready to book

Checkout Flow AFTER Trip Page

Watch a video walkthrough of Checkout Flow BEFORE Trip Page [8-min]
Checkout flow BEFORE Trip Page is designed to work with existing landing/trip/sales pages on external websites - so that travelers do not see the YouLi Trip Page content until AFTER they have booked.
You may prefer the Register to Pay option if you are using the Trip Page to market the itinerary
OR Checkout flow AFTER Trip Page to get the best of both worlds
What Checkout Flow looks like for your Travelers
All in one page with only the essential details that you configure as the Planner.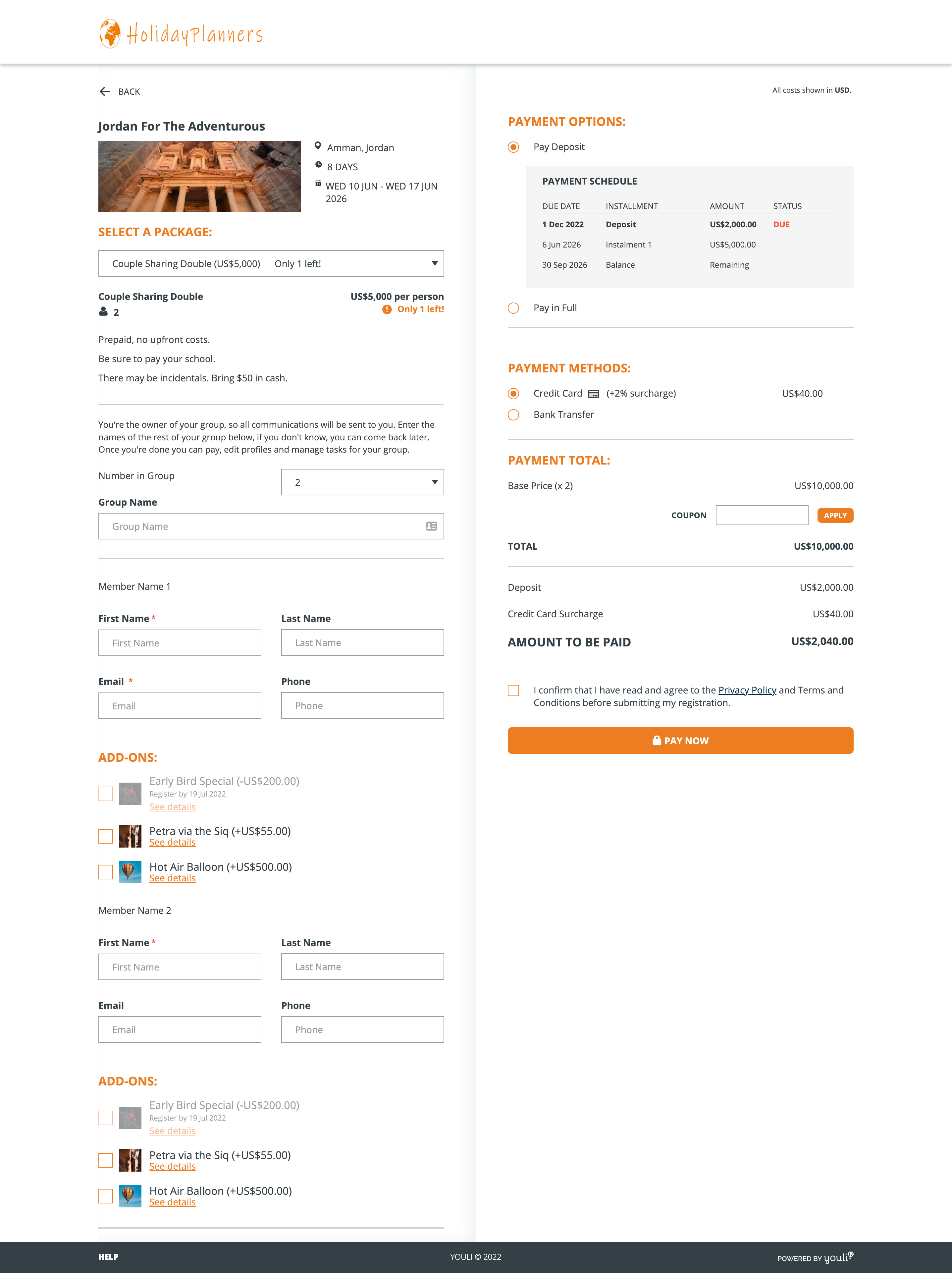 Checkout Flow Features
Travelers can register and pay in one step before showing the Trip Page

Travelers cannot just express interest using this flow (they must actually pay their deposit)
Great for eager travelers who don't need the Trip Page itinerary before booking

Accept Stripe payments (other gateways coming soon) & no-fee payment methods
Collect email & phone number from extra travelers
Select optional add-ons per Traveler
Selected packages pre-select the right number of travelers based on the minimum for the room
Headings use your primary brand color
Integrates with external deck plan selection
If you have this feature enabled, look for the Booking Style to select this flow
TIP: Checkout Flow can be set as the default during integration and changed per Trip. We recommend trying out each Booking Style to see which is best for your ideal customer experience.
How to change your Booking Style
From your TRIP PAGE MENU, click on UPDATE TRIP > PRICING
Make sure your TRIP is in BOOKINGS MODE
Find the BOOKING STYLE (see below) and select the best option for you from the dropdown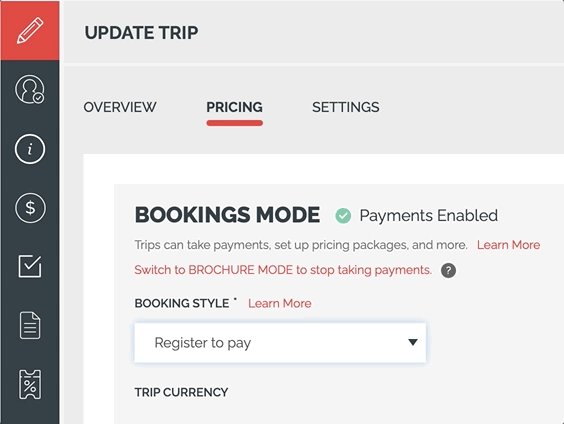 4. Click SAVE CHANGES
Configure as Default Booking Style
Check under ACCOUNT -> SITE SETTINGS to set the default for all your new trips.
WARNING: This does NOT change the setting on existing trips.
Watch the full webinar [40 min]


Troubleshooting
Why is the standard "Register to Pay" Registration Form showing up for me, when I have Checkout Flow enabled?
"Checkout Flow BEFORE/AFTER Trip Page" is only available from the public SHARE TRIP LINK.

If you have your Trip in Checkout Flow and add a Traveler in the Trip CRM then send an invitation to your Trip. when they click the CTA BUTTON in their invite email, it will open the standard "REGISTER TO PAY" form.
---
Need more help?
Join our open Community webinars or watch replays for a detailed overview of the features, LIVE discussion with the experts, and Q&A.