YouLi allows certain plans to connect Square to their YouLi Trips for credit card payments.
WARNING: Square doesn't prompt you to pick which account to use, like Stripe does. So if you have more than one Square account, be sure you are logged into the right one before connecting.
Read First: Square Gateway Connection Process
Whether you are connecting at the account level or the trip level, these elements are the same.
Request access to the Square gateway feature

Not all plans allow connection to Square, submit a ticket request if you don't see the option.

Make sure you are logged into https://youli.io when connecting a gateway

You may be logged into your WHITE LABEL DOMAIN (which is normally fine), but you need to be using the youli.io domain to properly connect a new gateway. Once connected, you can go back to using your White Label Domain if desired.

Be sure you are logged out of other Square accounts

The best way to be sure you are connecting the right Square account is to log out of Square before proceeding.

Click to "Connect Square" and follow the prompts
Connecting for all Trips (Account level)
Go to ACCOUNT from your YouLi navigation menu, then click to PAYMENTS
NOTE: You must be a Team Owner or Admin to connect a gateway to your account.
If you have already connected Stripe, then you'll need to disconnect that account first. Simply click the "DISCONNECT" button (see image).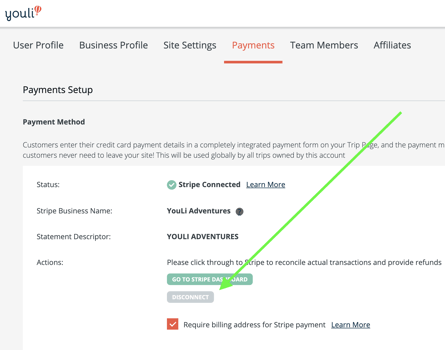 Once Stripe is disconnected, if you have access, you'll see the button to "CONNECT TO SQUARE."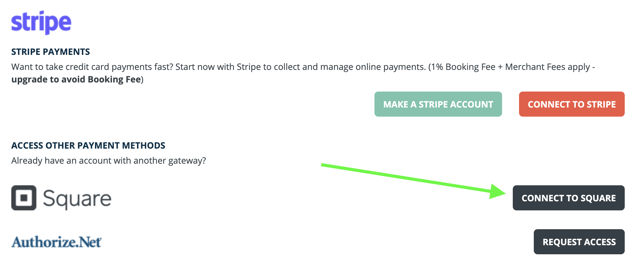 Then log in to the right Square account if prompted (or you'll be automatically connected to the Square account you were already logged into).
Assuming you followed the instructions in the first section, you'll then be successfully connected to your Square account.
Success!
All trips owned by the Team Owner that are in BOOKINGS MODE with gateway payments (first payment method) enabled will now be using the connected Square account for credit card payments.
Any TRIPS with a per Trip gateway connected will use that gateway instead, see below.
Connecting Square per Trip
AVAILABLE PLANS: This feature is only available on Venture and Enterprise. Learn more
Troubleshooting
How can I tell which Square account has been connected?
Unfortunately, at the moment, there is no way in the YouLi platform to see which one is connected. You can run a test transaction to verify: Learn more
Or you can
Disconnect the account
Log into the desired Square account
Click to connect
Then you'll know the connected Square account is the one you JUST logged into
---
How can I tell if a transaction in Square came from YouLi?
The transaction will show the Collected By as "YouLi" and the charge description will contain YouLi provided identifiers. Learn more
---
Need more help?
Reach out to the YouLi support team via a chat box at the bottom of your screen or submit a ticket request. If you need more advanced support, schedule a 1:1 Consulting session with one of our experts, as we will walk you through the features and best practices.