Finished planning your trip and ready for take-off? You might want to give your team members "view-only" permission.

What is the difference between a Co-Planner, Team Member and a Trip Coordinator?
Simply put, Team Members are users who are across all of your trips and can edit just about anything (outside of your branding), while Co-Planners also have a lot of capabilities to aid you in planning, they do not have access to the PRICING tab and they need to be added to each and every trip.
Trip Coordinators are a step down from both, as they are only able to view your trips & message travelers.
Did you miss the YouLi Cafe where we talked all about the Trip Coordinator role? It's viewable here! And more information on all team roles, you can read on for more about them here.
Can I convert my Team Member / Co-Planner into a Trip Coordinator?
Once an email is already used, it creates a YouLi account for that user. Therefore, once a person has used an email address as either a Team Member or a Co-Planner, they cannot change their account to a Trip Coordinator (at least not from the dropdown menu).
Although it is not technically possible to change a YouLi user's role in the Trip, follow the instructions below for a quick work-around to re-invite someone to be a Trip coordinator.
How to change an existing Team Member / Co-Planner to a Trip Coordinator?
The easiest way to do this is to ask your Team Member / Co-Planner to follow these steps:
Have them log in through the YouLi portal
Ask them to change their email on that account to another temporary email.
NOTE: To change the email associated with your YouLi account, click on your profile in the top right-hand corner and go to ACCOUNT. Then under the PROFILE tab, edit the email field to another email address of your choice. Click on SAVE to apply changes.

For example, if I am a Co-Planner with my claire@youli.team email address, I would log into YouLi with that address and then go into my ACCOUNT and change that email address to a different email address (perhaps my personal email).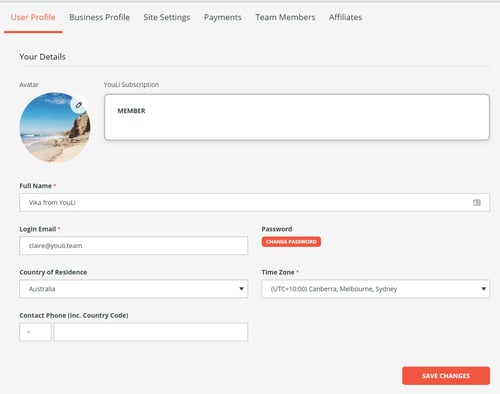 Once that's done, the Planner (owner of the trip) can now follow these steps:
Remove from the trip the Team Member / Co-Planner who has changed to use their temporary email address.
Invite the previous email address of the former Team Member / Co-Planner, this time selecting Trip Coordinator in the ROLE dropdown.
Your previous Team Member / Co-Planner will now be invited to the trip as a new Trip Coordinator, who may only view the trip details and is unable to edit the PRICING of the trip.
---
Need more help?
For more tips on pre-trip customer support join the YouLi community of travel professionals with monthly LIVE webinars and Q&A sessions.