Do you use Travefy for Itineraries and want to use YouLi for payments, documents and forms? Now you can merge the two! (this feature is in early release or "Beta", so be sure to test)
CAUTION: This is an early release feature - not fully complete, so please test before using with clients and be sure you're happy with the results. Report any issues to YouLi Support.
Your feedback helps us improve our product.
How will this look in YouLi Trip Pages?
The current integration is very simple and embeds the Travefy itinerary just below the Overview on the Highlights tab.
Travefy controls the style of the embed, so YouLi cannot determine the border or width of the embed.
Will this work on mobile?
Yes! Check it out yourself, the embed will resize to fit the screen size.
What if I want to use YouLi Add-ons?
You can still include YouLi add-ons to allow travelers to add to their invoice
How-to add to your Trip?
1. Get your Travefy itinerary id
Follow the instructions from Travefy to get your code
There are two ways
1. Get the itinerary id from the embed
Just copy the value after the data-travefy-itinerary-id from the code in the second box above
The id you need from this example is:
6yw9rqest55sqz2ah2z3zlufecmehjq


2. Get the itinerary id from the shareable URL

When in the itinerary builder press "Send to Clients" and then press "Preview". Once you are viewing the URL shareable itinerary you can copy part of the following text in bold in the URL:

It will look something like this:
https://travefy.com/trip/gavc6uqxngpmburxjgfr2kuxhdre2

The id you need from this example is:
gavc6uqxngpmburxjgfr2kuxhdre2
3. Paste that into the Share Summary
Go to Update Trip by clicking the pencil on the trip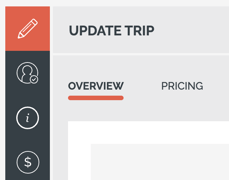 Scroll to the bottom and edit the Share Summary
Paste in the itinerary id found in Step 2

TIP: This does mean you should not use this feature with the website embed feature on YouLi since the share summary will then appear to customers. Best used for private trips.
4. Preview As Registered to confirm the itinerary is appearing on Highlights
Click to Preview from the header on the Trip
Or open the SHARE TRIP LINK in a new tab
You'll see the embedded Travefy itinerary below the Trip Overview.