Configure your Trip Pages, Starter Website and Traveler Experience from Site Settings
TIP: If you are a Team Owner or Team Admin, you can edit the Site Settings for your account.
The options to manage your Trip Pages and Starter Website are available by clicking ACCOUNT then Site Settings.

Branding Appearance
The first section you'll see allows you to manage the way your brand appears.
Be sure to setup your logo under Business Profile

You can configure:
Brand Color
Brand Text Color
Font
Link, Radio Button and Checkbox Color
Link Style
Website Header/Footer Scheme (applies only to Starter Websites)
YouLi Trip Pages & PRO+ Website
The next section has more options.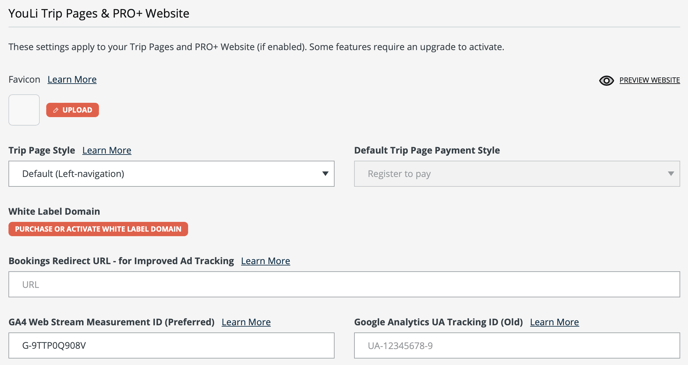 Favicon - applies only when White Label Domain configured
Trip Page Style - changes apply to ALL trips

Default is a left navigation with collapsed highlights for a tighter page style
Sales Page style is provided by Wanderlust Entrepreneur and has a top navigation with images expanded for a longer page style

White Label Domain - shows the domain used for your Trip Pages when White Label Domain configured
Bookings Redirect URL - used to enhance ad tracking. Learn More
GA4 Web Stream Measurement ID - learn how to connect your Google Analytics 4 account so that you can access Google ecommerce tracking
Google Analytics UA Tracking is no longer supported by Google
Starter Website Pages Content
If you're using the YouLi Starter Website, then you can configure your included page content here:
Website About Us
Website Terms & Conditions
Website Privacy Policy
Trip Registration & Display Settings

Registration Form
Require email for invitation group members - use this when also using the Book Together, Pay Separately so that everyone can be notified. Turn this off if you have lots of families booking who have only one point of contact
Require Last Name - by default, Last Name is not required to make registration easier.
Require Phone Number - by default, Phone Number is not required to make registration easier.
Display Settings
Display Last Name First
Default to SHOW COMPLETED for tasks on Trip Page - Learn More
Block CHANGES to task responses on Trip Page - Learn More
PDF Confirmation Settings
If you have access, configure your defaults for generating PDF confirmations.