Did you get burned with refund requests? Refund Protect might be the answer to offering refunds without having to cover the cost yourself. Integrated with YouLi Invoice + Checkout.
TESTIMONIAL FROM REHO STUDY TOURS

Refund Protect - What is it?
Refund Protect will protect your reputation and revenue by providing an exceptional customer experience when customers need a refund.
It is offered to customers at check out and will allow them to opt-in to a Refundable Booking. If customers can't attend their booking due to an unforeseen circumstance outside of their control, they can apply for a 100% refund with Refund Protect.
Customers apply for a refund using Protect Group's simple, pre-populated online Refund Application Form. We will handle the Refund Application and will refund customers directly, on your behalf, ensuring you protect the revenue from the booking.
At no cost to your business, and in these times of uncertainty, Refund Protect will provide customers with the confidence they need to begin booking again.
In light of COVID-19, we have seen a significant increase in the demand for Refund Protect and our customer attachment rate is now averaging 55% globally. We have been listening to travel industry feedback and have made ground-breaking improvements to our service. So, we launched an enhanced version of Refund Protect, which includes protection for COVID-19 specific perils.
This is especially helpful if a traveler needs to cancel last minute and you cannot offer a refund per your cancellation policy.
Keep your travelers happy without being out of pocket!
Introductory Webinar - April 2022
Watch the replay from our webinar with Reho Study Tours (Bianca Giles) and representatives from Refund Protect to answer all your questions.

Frequently Asked Questions
Q: Do I qualify to offer this to my travelers?

A: If you intend to have revenue of more than $5M in the next 12 months, then you qualify!



Q: What is the difference between Refund Protect and Travel Insurance?


A traveler that makes their booking refundable can receive a 100% refund if they cannot attend and can evidence one of the many reasons in the Refund Protect Terms and Conditions, which they accept when they select a Refundable Booking.
Refund Protect is not insurance, so it compliments any travel insurance your traveler purchases (from you or other providers). It is similar to having the option when purchasing a flight to make it refundable under certain conditions. This is in addition to any travel insurance the traveler may purchase.
Once the travel starts, Refund Protect refund application can no longer be made.
Some travel insurance also provides pre-trip cancellation coverage. Still, your traveler should check the terms for Refund Protect to compare to their intended travel insurance product to see whether they need one or both products. They should also ensure any pre-trip product is purchased within the allowed window relative to the booking date.
YouLi's integration with Refund Protect reduces friction. It ensures the traveler has confidence they can submit a refund application if they need to cancel before their trip for one of the many reasons in the Refund Protect Terms and Conditions.



Q: What does it look like when my traveler is offered the choice to make the booking refundable?



Your travelers will see a choice after selecting the payment method and instalment to select "Refundable Booking" or "Non-refundable Booking" as shown in the screenshot below.
The amount that will be added to their invoice is shown when refundable option selected.
The refundable option is selected by default, but the traveler can opt-out.
Text shown to the travel:



(O) Refundable Booking (Recommended)

* Covid-19 Infection & Isolation, see details
* Sickness, Accident, Injury
* Public transport failure
* Private vehicle failure
* Emergency services recall
* Home emergency
* Theft of Documents
* Changes to Examination Dates
* Pre-existing medical conditions
* And many more…


Upgrade your booking and receive a 100% refund 
if you cannot attend and can evidence one of 
the many reasons in our Terms and Conditions, 
which you accept when you select a 
Refundable Booking.
Example Screenshot of the integration with YouLi Invoice
The red box annotation is to help you see the feature and not included in the live integration.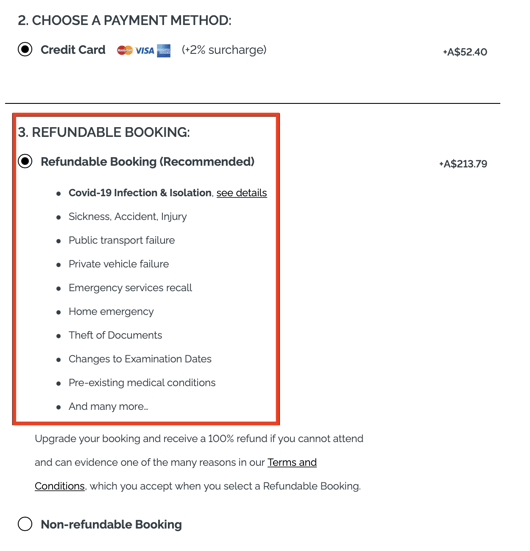 Q: Can I change the "refundable booking" text used on the invoice?





No, Refund Protect specifically provides that text to be clear about the service provided.
No changes to the core text - but you can (and should) add your clarifying links above/below the invoice.
The email confirmation for a refundable booking automatically includes links to a claim form with Refund Protect.
When we introduce you to Refund Protect, they can explain further.



Q: How quickly are claims processed?


According to Refund Protect (this support level could change):

"We commit to handle all refund requests within 48 hours of receipt of the refund application from your customer."
Q: Is there a setup fee?

There is no Refund Protect setup fee - but you do have to meet their minimum estimated revenue requirements.

There IS a one-time setup fee paid to YouLi to integrate Refund Protect into your trip pages & onboard you on how to use it. We will ensure you understand how YouLi works with Refund Protect to avoid any confusion with you or your travelers.
Once setup, there are no ongoing fees that you pay, all transaction fees are paid by the traveler.
Q: Is Refund Protect a known and trusted service?


Refund Protect is used by major ticketing platforms (like Ticketek) and is an established global company.
When YouLi provides the introduction, please ensure you have confidence in them before signing their contract as this is an agreement between you and Refund Protect.
YouLi takes no responsibility for the delivery of the product/service by Refund Protect.
Q: What does YouLi do?


YouLi shows the traveler the option to make the refundable booking with clear information about the choice and the exact cost on the Trip Page (see above)
YouLi informs Refund Protect on your behalf whether the booking is "protected" or not to measure conversion rates on your Refund Protect Dashboard

This includes the first and last name of the booking traveler and their reference code
YouLi will make it required to enter the last name of the primary contact for any booking in your account
If necessary, YouLi Support team can contact the Refund Protect API for a cancellation on your behalf
YouLi sends booking confirmation email to the traveler with instructions on how to submit a refund application
Q: How much will Refund Protect cost my travelers?

If selected, Refund Protect will charge a 5% fee on top of the total cost.

This includes any extra fees, taxes or surcharges. This is to ensure a full refund can be provided

The amount to be charged will be shown to travelers prior to payment (see above).
This amount will be included in the refund should an application for refund be accepted
This fee is collected by you and invoiced by Refund Protect on the agreed upon schedule.



Q: Is there a "cooling-off" period where the traveler can cancel their refundable selection?


Yes, there is a 14 day cooling off period where the Planner can request a cancellation of the selection to make the booking refundable to get back that fee.
This must be done via YouLi platform to cancel the Refund Protect selection for that booking

Currently, this requires a support ticket to be opened - this doc will be updated when it can be done via Manage Payments on the trip.

Cancellation could be because:

The traveler cancels within YOUR cancellation period - you refund their deposit and refundable booking fee
The traveler still wants to travel, but does NOT want to make the booking refundable - you refund ONLY their refundable booking fee and you will not be invoiced for this fee by Refund Protect (or receive a credit if you have already been invoiced)



Q: Can I profit from recommending Refund Protect?


Yes! You can add an additional charge on the Refund Protect surcharge, paid by your travelers who select "Refundable booking"

Some clients add as much as 5%!
We are typically seeing 3%

If you are unsure, you can start higher and move to a lower surcharge if your conversion rate is too low

One change is included in your setup fee

This additional charge will go to you along with the Refund Protect fee

The Refund Protect fee is later invoiced directly to you (YouLi does not manage this)



Q: Can I select which trips can be made refundable?


No, if you decide to offer Refund Protect, it will be available across ALL your trips.
However, your travelers can choose whether or not they want to add it to their individual bookings and make a different decision for each trip.



Q: How do I know which travelers selected refundable bookings?


YouLi Trip Page

View As the traveler to see their Trip Page invoice and note the inclusion of Refund Protect in the payment

YouLi Dashboard -> Trip -> Manage Payments

Click on the PAYMENTS tab
Click to expand the breakdown to see if the amount paid includes a Refund Protect surcharge

Refund Protect Dashboard

Refund Protect provides a dashboard with all bookings (those that are refundable and those that are not)
You can see your conversion rate on the dashboard
You can see the total amount collected in fees which will be used for invoicing you by Refund Protect
The dashboard shows by default in GBP, but can be changed to USD, EUR and AUD
The dashboard shows rounded whole numbers, but invoices are charged with decimals



Q: What conversion rate can I expect?


This will vary based on how much you promote this product and how concerned your travelers are about the risk of needing to apply for a refund.
Refund Protect estimates 20-40% conversion rates are good, we have seen much higher.
Q: Can I opt my traveler into this option as the Planner?


NO. This is currently an option that your traveler must accept directly from the Trip Page. You can always send them a link to their Trip Page to have them complete the first payment that way and apply any manual payments/credits after they have opted-in.
This means that Make a Charge and Apply Manual Payment options from the Planner view do NOT have the option to make the booking refundable
This option is being discussed and may become available in future
Q: How do I communicate this to my travelers?


We recommend you make an FAQ based on your policies and how Refund Protect will be applicable (whether you offer any refundable options or they must rely on Refund Protect)
Whether you also offer/require travel insurance will also impact how you communicate to your travelers
Q: Do I need to change my terms and conditions?


It is recommended that your cancellation terms refer to the fact that you are offering a refundable option and that if this is not opted into during booking then you will not be able to offer a refund.
These should be linked from your PRICING EXPLANATION which is shown below the invoice to travelers.
YouLi cannot advise on specific legal terms



Q: How do I get started?


Open a support ticket and to request an introduction to see if you qualify.