Are you getting an error when you try to send mass messages? Read this article to find out why.

As of Release 1.138 you can send unlimited messages at once.
OOPS!
If you tried to send a message to more than 60 travelers, you would have received this error.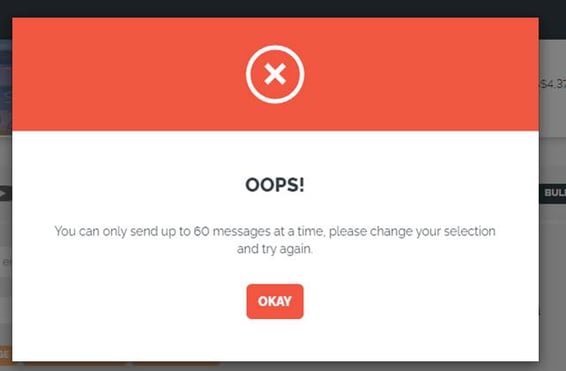 Why?
We've had to restrict sending messages to 60 people at a time while we sort out a timeout issue.
We are currently working on a fix for this - for now, follow the steps below to get around this issue.
If you see a timeout error, remember to refresh and check if your request was processed before trying again.
How Can I Send Messages To Large Groups Then?
To Work with this restriction, this is what you can do:
Set the page size to 30 or 60 people per page

Select all the travelers on that page, and send the message
Continue to send messages in blocks until all the travelers have received a message
Copy the message you are sending and paste it into the message box, so all your travelers receive the same message