Stop! Before you start learning YouLi, take a minute to read through the best ways to get support, should you not find what you need on your own. Here are ways that you can give us important details, to get you the help you need, faster!
Start by searching our Help Center
Before you submit a Support Request ticket to YouLi Support, be sure to search by keyword, for what you're looking for, in our Help Center.
When you're signed into YouLi, you'll see the chat icon, which you can click on to search for what you're looking for (Examples: "coupons," "brochure mode," etc.)

Can't find a help article that answers your question? You have some options.


Try out our Support Chat feature - Look for the chat icon in the YouLi platform!
If we don't respond, we may not be online. Leave your email address and we'll get back to you!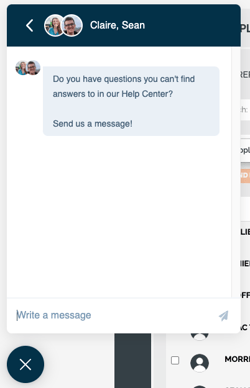 Submit a Support Request! Here are tips for creating a thorough ticket.
IMPORTANT: Separate Support Request tickets should be submitted for different issues/questions, which are not on the same topic. This helps keep us (and you) organized.
Upload a screen recording

This helps us immensely! Feel free to narrate your issue while also showing us what the problem is.
We usually see details in a screen recording that you may not describe in writing
If you don't have a screen recording platform you prefer, we love Loom. Get your free account here!
With Loom, you can record a video (up to 5-min), bringing us into your Trip Page, so that we can see it through your eyes and have you narrate what you're seeing & what your issue is. We can't stress enough how helpful this method is, in understanding your questions. Try it out!

Include a URL for the Trip Page you are referencing
Not into screen recording (preferred)? Add screenshots!

See the "File upload" field to add images


After submitting your Support Request
You can expect to hear from us within 24-48 hours, within our business hours (Mon-Fri, 9:00-5:00pm Eastern Time, U.S.)
Add support@youli.io to your email contacts, so that you don't miss a response from us!
Please let us know when your issue has been resolved so that we can close out your request.


Following up on a submitted Support Request
Your ticket will come with a Reference No. so that you can respond to the thread and update that specific ticket.
Looking for faster support?
We offer 1:1 consulting, for troubleshooting, help understanding your analytics, personalized onboarding, and more!

See our support tab, within the YouLi Onboarding Experience, for more details on your options & to purchase.

Become an Enterprise client, for included video call support! Interested in upgrading? Contact geoff@youli.team.
Have questions about consulting? Submit a ticket to contact us!
---
Need more help?
For more tips on pre-trip customer support join the YouLi community of travel professionals with monthly LIVE webinars and Q&A sessions.