We recommend you
HELP US HELP YOU!
Here are ways that you can give us important details needed, to get you the help you need, FASTER!
Before you submit a ticket to YouLi Support, be sure to search by keyword, for what you're looking for, in the help center.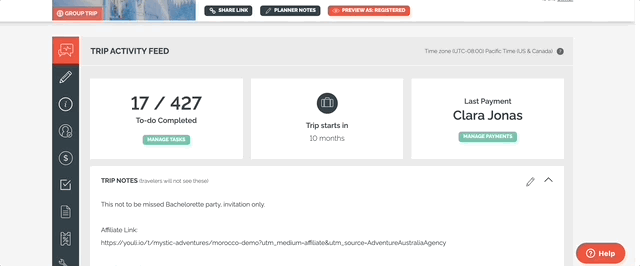 CAN'T FIND A HELP ARTICLE FOR WHAT YOU'RE LOOKING FOR? SUBMIT A SUPPORT TICKET!
TIPS FOR CREATING A THOROUGH SUPPORT TICKET:
Enter your name -- so that we know who we are corresponding with!
Include a URL for the trip you are referencing (i.e. https://youli.io/t/mystic-adventures/morocco-demo

). Fun Fact:

If you open the ticket from the trip you have questions about, the URL will be automatically included in the ticket for you. YAY! 🤸🏻
Let us know what request type

this is: (1) bug report (2) product enhancement (3) support request

Add screenshots! Even better, send us a screen share (SEE BELOW

for details on how to easily send a screen share).
NOTE: Separate support tickets should be submitted for different issues / questions, which are not on the same topic. This helps keep us (and you) organized.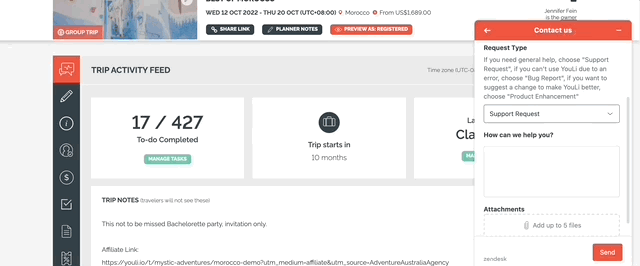 SHARE WHAT YOU'RE SEEING, VIA A SCREEN SHARE, USING LOOM
We HIGHLY RECOMMEND using a free (and easy!) tool that we love, called Loom, to share with us what you're seeing.
After creating your free account, you can take a video (up to 5-min), bringing us into your trip page, so that we can see if through your eyes and have you narrate what you're seeing & what your issue is. We can't stress enough how helpful this method is, in understanding your questions. Try it out!


AFTER SUBMITTING YOUR TICKET
You can expect to hear from us within 24-48 hours, within our business hours (Mon-Fri, 9:00-5:00pm Eastern Time)
Add

youlivetotravel@gmail.com

and

claire@youli.team

to your email contacts, so that you don't miss a response from us!
Please let us know when your issue has been resolved, so that we can close out your request.
FOLLOWING UP ON A SUBMITTED TICKET
Your ticket will come with a Ticket Request Number, so that you can respond to the thread and update that specific ticket.

If you choose, you can also make an account for our support ticketing system, which will allow you to view submitted tickets:

1. https://help.youlivetotravel.com/hc/en-us#
2. Click "Sign in"
3. Click "Get a password" next to "Have you emailed us?"
4. Set your password and you can log in to see your tickets with us
LOOKING FOR QUICKER SUPPORT?
We offer 1:1 consulting, for troubleshooting, help understanding your analytics, personalized onboarding, and more!
Become an Enterprise client, for included video call support! Interested in upgrading? Contact geoff@youli.team.
See our support tab

, within the YouLi Onboarding Experience, for more details on your options & to purchase.

Have questions about consulting? Submit a ticket to contact us!