Do you want to accept payment for your bookings in a different currency? This is easy to do and can be adjusted at the Trip level. That means you can accept different currencies on different Trips.
From within your Trip, complete these 4 steps
WARNING: You cannot change a Trip's currency, once you have begun accepting payments.
1. From your TRIP MENU, click on the UPDATE TRIP tab
2. Click on PRICING
3. Make sure you are taking payments, in BOOKINGS MODE
4. Click on the TRIP CURRENCY dropdown & select your preferred currency, from the following options (more may be added in future):
Australian Dollars (AUD)
United States Dollars (USD)
Canadian Dollars (CAD)
European Euros (EUR)
British Pound Sterling (GBP)
New Zealand Dollars (NZD)
Japanese Yen (JPY)
Danish Krone (DKK)
Mexican Pesos (MXN)
Indian Rupee (INR)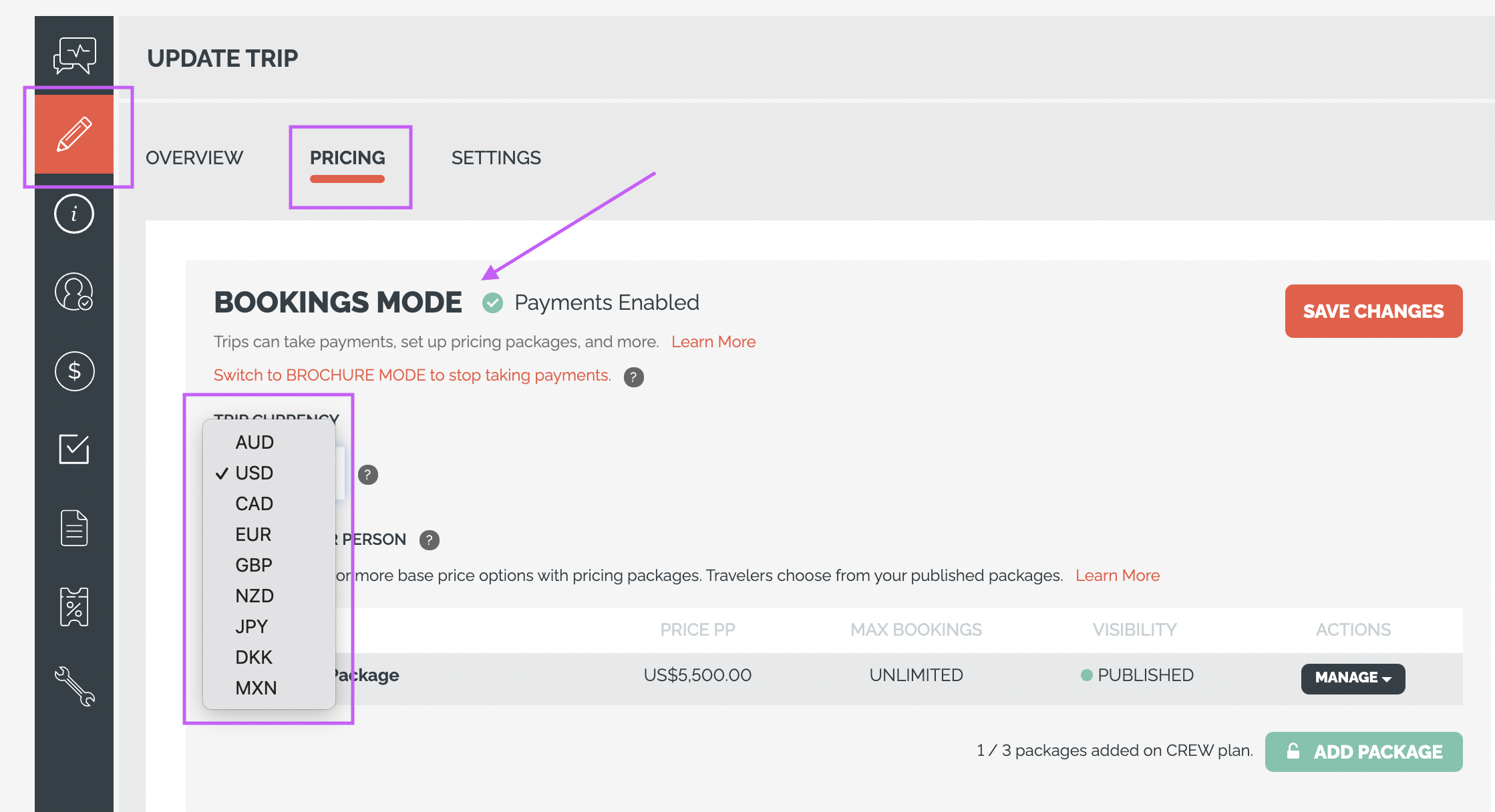 Foreign Transaction Fees
Deciding what currency to use involves a couple of factors.
What currency is your bank account in?

If you charge within YouLi in a different currency, then you will likely be paying an FX fee when the money settles into your account
For example: if you charge in USD, but your bank account is in AUD, then Stripe (or your chosen gateway) will charge you an FX fee when settling to your AUD account. There may be options to defer this based on your settlement rules, but ultimately you will pay to get the money out. Some gateways offer the ability to store in USD, but then charge a percentage when you withdraw.

What currency do your customers want to pay in?

If you are selling to Americans (for example), charging in USD makes the most sense. If you charge them in AUD then they will pay an FX fee on their card and (assuming your account is in AUD) then you won't pay an FX fee on settlement


Reducing fees
Remember, there is no easy answer to cross-currency transactions. Unfortunately, there will

always

be fees somewhere. 😆
That being said, there is usually a good way to minimize your fees, so be sure to consider all of your options.
Additionally, YouLi offers no-booking fee/non-credit card options

which may help you avoid some of these fees, if you have the right accounts set up to receive the desired currency.
Still need help? Contact your payment gateway!
YouLi provides the best customer experience for your Travelers, which includes accepting payments, but the gateways we integrate with (like Stripe, Square, and Cybersource) are the ones with the deepest payments expertise.
Reach out to your gateway to get the best advice and support on fees/currency options on their platforms.


---
Need more help?
For more tips on pre-trip customer support join the YouLi community of travel professionals with monthly LIVE webinars and Q&A sessions.