YouLi Delivers new functionality every month based on user feedback.
👉 Have questions? 👈🏾
We know that change can be overwhelming sometimes, that's why we are making ourselves available on Facebook for "YouLi Cafe" - a time to learn about what's new or just to learn how to use an existing feature you've never quite mastered. Join us every other Thursday (US Time) ...
Not a member of our private Facebook group? WHY NOT!? 😱
--> Last time Jen and Sean walked through the YouLi roadmap.
WHAT YouLi DELIVERED 👉🤑👈🏾 Catchup payments
People are booking trips later than they used to, so now when they register AFTER the second installment is due, they will be prompted to pay the deposit AND the second installment at the same time.
If you DO NOT want that to happen, be sure to setup your installments with due dates RELATIVE TO REGISTRATION. Then they will be prompted to pay each one in turn.

Need help setting up your booking pages just right?
* Open a help ticket and ask to book a 1:1 consulting session for just US$60.
👉🤑👈🏾 Click to call + Custom Link payment methods
ALL Premium accounts now have access to 2 MORE payment methods.
Click to call - so your travelers can call to provide credit card info
Click to custom payment link - for donation pages or other booking portals
--> Read more about all the no-fee booking options available to premium plans
👉💪👈🏾 Mobile app onboarding is one click easier
Now your travelers only have to click once from the email to open their trip in the mobile app
OR
You can send them their magic link and they can paste it into the mobile app to load right away
👉🤑👈🏾 Price per person
Thanks to Sam Keller of Working Without Borders for requesting this:

YouLi packages default to being priced per person, so you can now that's clear on the embed on your website and on the trip page.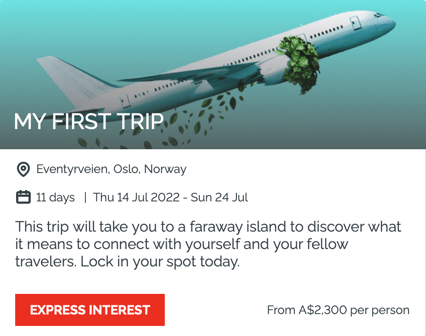 You can edit this by:
Click UPDATE TRIP
Click SETTINGS
Scroll to PACKAGES & PAYMENTS
Edit the "Label for package pricing"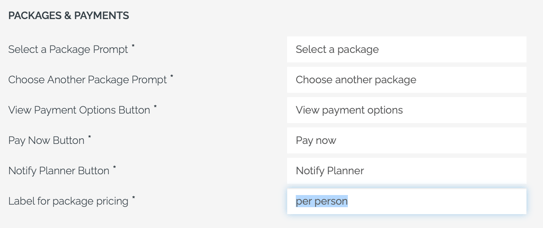 👉💪👈🏾 Limit number of embedded trips on website
Thanks to Nate from Adventure Out Loud for requesting this:

This is a power feature for clients with embedded trips on your website. You can now set a limit on how many of the requested trips will appear, so you can show the 4 upcoming trips on your homepage and then ALL your trips on a secondary page.
--> Learn more about filtering the trips you embed
👉💄👈🏾 Better logging when status is changed
Thanks to Yirel for requesting this:
Now you'll see a clearer message when you have changed a traveler status.
FOR EXAMPLE: A booked traveler cancels, so you change them to "DECLINED" by editing them from Manage People:

EXAMPLE LOG RECORD:

Now you'll see what the status change was explicitly in your ACTIVITY FEED.
👉🤩👈🏾 Who Else is Going?
Thanks to Elinor Fish for requesting this:
Show only the BOOKED people on a trip in BOOKINGS MODE
👉😓👈🏾 Testing Affiliate Feature
Some creative folks were inviting their own email address as Affiliates and finding the experience confusing.
We applaud you for testing, but to get the right experience:
Now you'll have to invite a different email address you control (we all have at least 5 these days, right!?) to test out how the Affiliate invite works.
--> Learn more about Affiliates
👉😓👈🏾 Send to 60 people at a time
We've had to restrict to sending messages to 60 people at a time while we sort out a timeout issue.
If you do see a timeout error, remember to refresh and check if your request was processed before trying again.
🔎🐜🔍 Always improving
Security and privacy are important to us, so we've made sure to fix these:
There used to be a way to merge invitation groups on accident - FIXED (#6070)
There used to be a way to see other people on the trip even if that main menu was hidden - FIXED (6049)
Change the spelling of "instalment" to "installment" to please the Americans. 🇺🇸
👉🚀👈🏾 Grow your Affiliate network TODAY
Last release we we made some improvements for our affiliates and our planners that have affiliates!
🌏 Preview as Registered Hidden From Affiliates
The "Preview as registered" button will now be hidden from affiliates. This is a tool for planners so in hopes of not confusing any of your beloved affiliates we decided to just remove it from their view :)
🌏 It's Now Easy to Mark as Paid!
It is now easier to MARK AS PAID and track the payments you owe and have paid to your Affiliates.
🌏 No More Commission on Taxes or Add-ons
Speaking of payments, We have changed the affiliate report to only account for the base package price. Affiliates will NO longer receive commissions on taxes, fees, or add-ons.
🌏 Track Leads Not Just Bookings
We have added a new filter when viewing your affiliate report called ALL PEOPLE. Use this filter to track leads, not just bookings.
Are you inviting Affiliates to sell your trips - Learn More
Are you an Affiliate looking to learn more about selling trips on YouLi - Learn More