YouLi Delivers new functionality every month based on user feedback.
👉 Have questions? 👈🏾
We know that change can be overwhelming sometimes, that's why we are making ourselves available on Facebook for "YouLi Cafe" - a time to learn about what's new or just to learn how to use an existing feature you've never quite mastered.
Not a member of our private Facebook group? WHY NOT!? 😱
Already a member? Watch Jen explain these new features here.

👉🚀👈🏾 Grow your Affiliate network TODAY
Last release we made this feature available to everyone to start inviting their network to sell their trips.
In this release, we've made some improvements for our affiliates and our planners that have affiliates!
🌏 Preview as Registered Hidden From Affiliates
The "Preview as registered" button will now be hidden from affiliates. This is a tool for planners so in hopes of not confusing any of your beloved affiliates we decided to just remove it from their view :)
🌏 It's Now Easy to Mark as Paid!
It is now easier to MARK AS PAID and track the payments you owe and have paid to your Affiliates.
🌏 No More Commission on Taxes or Add-ons
Speaking of payments, We have changed the affiliate report to only account for the base package price. Affiliates will NO longer receive commissions on taxes, fees, or add-ons.
🌏 Track Leads Not Just Bookings
We have added a new filter when viewing your affiliate report called ALL PEOPLE. Use this filter to track leads, not just bookings.
Are you inviting Affiliates to sell your trips - Learn More
Are you an Affiliate looking to learn more about selling trips on YouLi - Learn More
👉🤑👈🏾Pricing Explanation
The Pricing Explanation located under UPDATE TRIP is now easier to understand! Make sure you are aware that the information we filled it in with is for guidance only. Update the text with information relating to YOUR trip.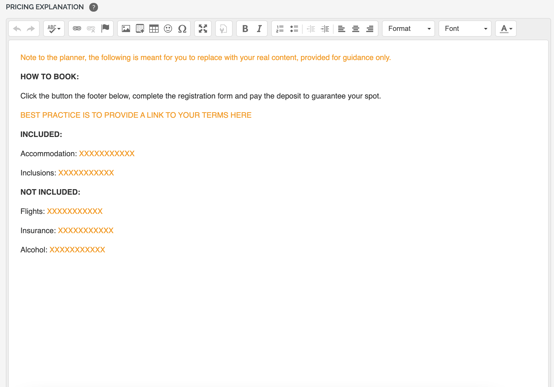 👉💪👈🏾 Coupons on Trips!
Did you see that you now have a new item on your menu bar!?
This has been a hidden feature for some time - damn Covid delays!
Now coupons can be edited at the trip level without requiring a support ticket.
If you need coupons across ALL trips, a ticket is still required.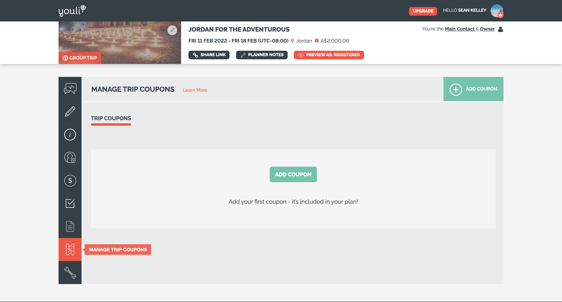 👉😓👈🏾 No more Traveler on Trip Page
As we are expanding, we have more British users who felt that traveler should be spelled traveler.
Well, as the song goes "potato, patato, tomato, tamato, let's just call the whole thing off!" and so we've removed that text altogether. We felt you wouldn't miss it, and neither will your travelers.
You're welcome ;-)
🔎🐜🔍 Always improving
#6040 - Error when viewing Trip Page when in Brochure mode if the trip previously had packages that were deleted - FIXED - Thanks to Kim and Ben for reporting this one.
Oops! - Error when deleting a traveler who has completed tasks - FIXED - now, when you delete a traveler, all their task responses will be cleared. - NOTE: Travelers who have made payments CANNOT be deleted.