This article is historical and no longer applies.
Take Bookings with Ease


Congratulations, you've been promoted to EXPLORER, which means you can now take bookings (Stripe ONLY) along with many other enhanced features!
Curious what's different between the old and new plan?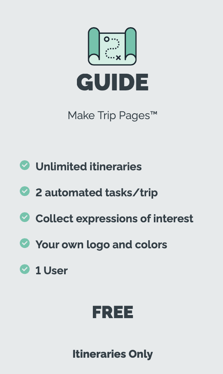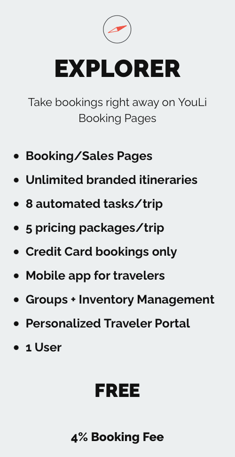 But wait, there's MORE!
More Tasks: From 2 to 8!
More pricing packages: From 0 to 5!
All the booking page features you were missing - and you only pay when you take bookings

Groups + Inventory Management
Personalized Traveler Portal
Affiliates
We Don't Hold Your Money
YouLi is a software platform that connects to your existing Stripe account.
So we don't ever hold your money. Your settlement timeframe is determined by your account with Stripe or Square and can be as soon as 1 day once you establish a good reputation.
Get started with bookings and GET PAID FASTER!
Booking Fee Explained
The 4% Booking Fee is applied on credit card charges only and is non-refundable. But you CAN pass this fee onto your travelers as a surcharge (depending on your legal jurisdiction).
If you're looking to provide alternative payment options/methods that have no booking fee, you should upgrade to PRO!
NOTE: This is a YouLi fee, that does NOT include the merchant fee charged by Square or Stripe. Your fee from your chosen payment gateway depends on your volume and country.