When you have more than a handful of Trips, you'll need to start organizing them. To do this, you'll need to set Tags on your Trips.
What will Tags allow me to do?
Include keywords for SEO on your TRIP PAGE
Split your embedded Trips on your website
Search for Trips on your TRIP DASHBOARD
Important things to note
You can only have 10 TAGS per TRIP, so choose wisely!
We provide you with a few hints to get you started, but you can add your own
You'll be prompted when making a Trip, but don't worry, you can always edit later
Tags are case insensitive, so "adventure", "Adventure", and "ADVENTURE" are all the same
The Trips must still match the embed rules
Advanced Developers can create javascript filters to dynamically change the shown Trips based on a user-selected dropdown of Tags.
What is a Tag?
TAGS are a simple way to organize / categorize / group your TRIPS
Remember that this is not a name, instead, it is a term that usually matches more than one of your Trip
Examples of Tags
Adventure
Africa
High School
Private
VIP
Wedding
How to set your Tags
TIP: If you hit "backspace" when you're in the tag text box, and it's already empty, the last tag will become editable, and allow you to change it. This is for for accessibility (for keyboard-only users)
Edit the list of TAGS shown to include

Click SAVE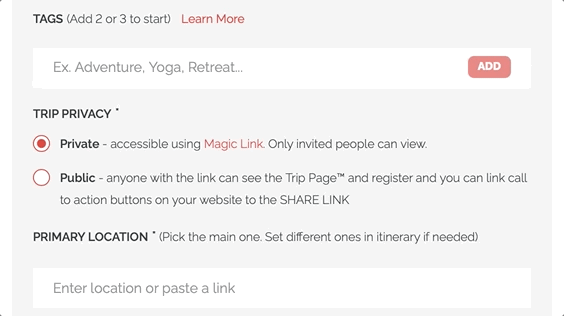 How to use Tags to filter your embed on your website
Normally when you copy to embed your full set of LISTED TRIPS it looks a bit like this
https://youli.io/embeds/script/trips/teamalias?view=card
If you want to further filter this down to a certain set of Tags, add them like this
https://youli.io/embeds/script/trips/teamalias?view=card&tags=adventure,volunteering
Read our full help article: How-to: Filter Your Embedded Trips On Your Website
---
Need more help?
Reach out to the YouLi support team via a chat box at the bottom of your screen or submit a ticket request. If you need more advanced support, schedule a 1:1 Consulting session with one of our experts, as we will walk you through the features and best practices.