YouLi makes it easy for you to send your Traveler's copies or their receipts/invoices

How can my Travelers get a receipt?
The Traveler can send it to themself
By clicking "SEND RECEIPT" from their TRIP PAGE (under the INVOICE menu).
NOTE: When you hover over the envelope, you'll see "Send Receipt." Click to send the receipt to the Traveler's email address.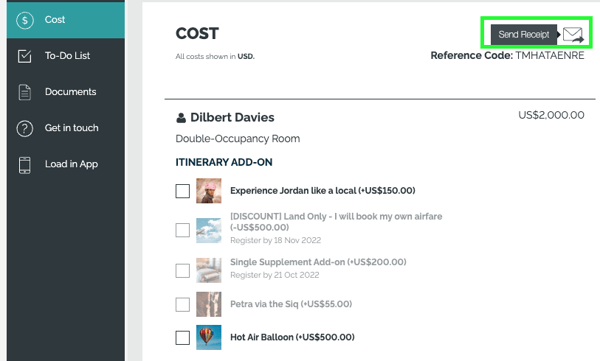 Or you, as the Planner, can send it to them
The Planner can click to "SEND RECEIPT" from the Traveler's TRIPBOARD.
From MANAGE PEOPLE, click VIEW TRAVELER TRIP BOARD
Click SEND RECEIPT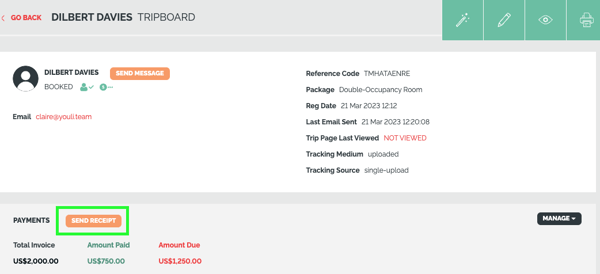 What does a payment receipt look like?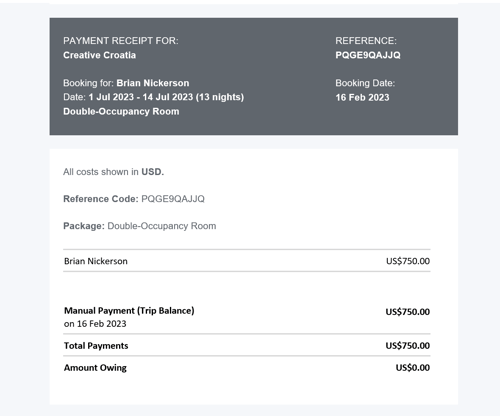 How do I send a copy of all Travelers' receipts to someone on my team?
If you, as a Planner (or team), want to send a copy of all Traveler receipts that are sent, you can submit a Support Request to have a BOOKINGS EMAIL added.
You will see this option under your ACCOUNT, but need to request YouLi Support adds it.

---
Need more help?
Reach out to the YouLi Support Team via the chat box at the bottom of your screen or submit a Support Ticket request. If you need more advanced support, schedule a 1:1 Consulting session with one of our experts, and we will walk through Traveler flow options & best practices.