Split of Full Name to First Name & Last Name
When we started YouLi, we had a dream of simplifying data entry for travelers and planners alike. So we decided to create a "Full Name" field instead of the classic split of "First Name" and "Last Name". It was a good idea, and many new platforms embrace it. In fact, we still only require Full Name on signup for Planners, but we have realized as we integrate with more and more 3rd party data systems like CRMs, that the old data world requires these values to be split.
+Everything all in one place
👉🖐🏻👈🏾 First Name and Last Name replace Full Name
What does this mean for you? As a Trip Planner:
If the Traveler name was entered BEFORE this release, the Full Name will be placed into their First Name field. The Planner can edit this from Manage People.
You can still add and edit people on your trips

First Name is required
Last Name is optional
Email is optional

First Name and email are required on bulk upload, Last Name is optional, but you must include the column in the file.
First Name is now required on using Add Registration via Zapier, but Last Name is optional.
First Name, Last Name AND Full Name will be provided in the response to any Zapier or API calls relating to Traveler registration

This means you DO NOT have to immediately change your zaps, but please migrate to using the First and Last Name fields as time permits.

Last Name can be set to REQUIRED ON REGISTRATION on request (similar to requiring Phone number on registration). This will require it for any member of the invitation group added at the same time.
Wherever names are displayed:

Default format will be: [First Name] [Last Name]
On request, this can be displayed as: [Last Name], [First Name]

What does this mean for your travelers? On Trip Pages:
If their name was entered BEFORE this release, the Full Name will be placed into their First Name field. The Traveler can edit this from EDIT PROFILE.
First name will be required when registering for a trip. Last name will be optional (unless configured otherwise)
Display of the traveler name will be based on the account setting (as noted above)
What doesn't this impact?
Passport data is not changed
Exports still have the Full name as one field (displayed as configured)
Any task forms where names are collected will not change
+YOULI WEB:
🛍🛒🛍 YOUR SHOP has been replaced by Plug N Play Website
Check out the new and improved menu, so much simpler to find what you need!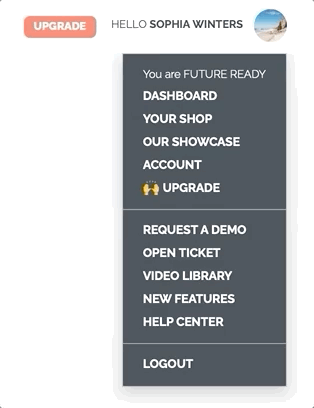 Premium plans:
Click EDIT WEBSITE to set your banner image and other content. If you don't need the site, don't worry, we never direct traffic to your site, it is totally up to you.
Ready to go LIVE?
Once you're happy with your site, open a support request to go live with your own domain.
FIND TRIP
A fabulous feature that many people didn't know about - check it out!
Still using YOUR SHOP?
Don't worry If you are still pointing people to your shop, it's still there! But please change your links as soon as you can as we will shut this feature down by the end of 2021.
Your Logo links to your Plug N Play website - instead of the SHOP ...
or your External Website if you choose to switch it from SITE SETTINGS.

GUIDE plan:
+EASY TO USE:
🔎🕵🏽‍♀️🔍 Use your own term for Packages
Whether you use Pricing Packages to upsell to luxury options or to pick preferred dates, now you can change the Trip Page language to be the right term for YOUR travelers.
Examples you might use instead of Packages:
CHOOSE YOUR DATES
CHOOSE YOUR CLASS
CHOOSE YOUR CATEGORY
HOW MANY PEOPLE
To change this for ANY trip, simply click on the pencil icon and click to SETTINGS.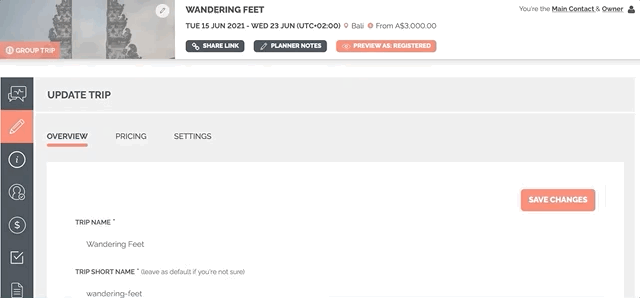 🔎🕵🏽‍♀️🔍 Find your Pending payments (and Total Revenue)