Introduced in v1.109
Enterprise Plans ONLY
Using Branding Options on Trip Pages
If the Trip Owner has Brand Options enabled, click to UPDATE TRIP-> SETTINGS.
Then choose from the down menu labeled "Branding Option"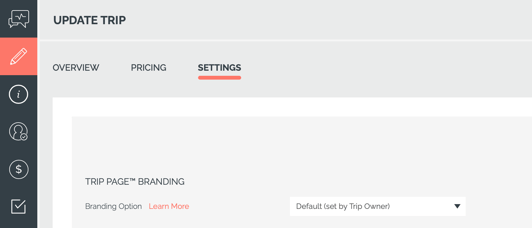 If your account is configured to having Branding options, they will appear in the drop down like this.

Changing the selected Branding Option will immediately change the appearance of the Trip Page.
Configuring Branding Options
To setup your Branding Options, open a ticket. Be sure to include the following information:
Name of the option to appear in the select box
Logo file
Link Logo to URL

i.e. https://youragencywebsite.com

Brand color (in HEX)
Text font

Arial
Montserrat
Lucida
Open Sans
Raleway
Times
Verdana

Text Color in HEX

i.e. #000 (white)
i.e. #fff (black)