Do you need to transfer a Traveler from one trip to another? Maybe you want to offer a Traveler a discount. If so, this article might be for you!
What does applying a credit mean exactly?
This means that you can put credit onto a deposit or installment so that your Travelers will see that part of their trip cost as paid.
This feature is for you if:
You need to transfer funds from one TRIP to another TRIP
You want to give a discount
How do I apply a credit to your Traveler's Invoice?
Click to MANAGE PEOPLE, then click MANAGE next to the traveler's name
Select APPLY CREDIT from the drop-down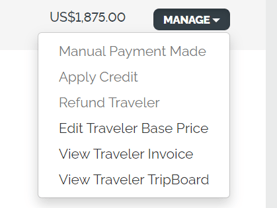 3. Next, customize the title, name, and more: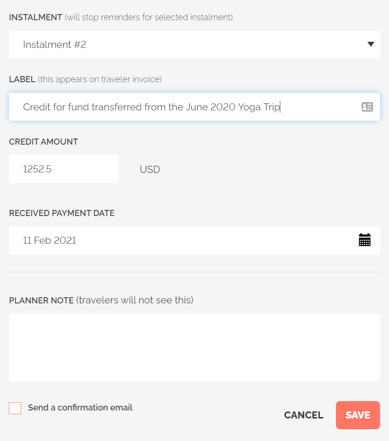 INSTALLMENT: Make sure to choose the installment you want the credit to go against. If you choose the deposit or installment, the traveler will not receive those automatic reminders. If you choose DO NOT APPLY the Traveler will still get reminders for all of your set installments.
LABLE: This is where you can customize the label for the credit. You can specify what it is for your records and for the traveler's records. This will show up on the traveler's invoice.
CREDIT AMOUNT: Specify how much the credit is for in this area! Take note, you do have the ability to make this number negative to subtract from the total cost if you want.
RECEIVED PAYMENT DATE: This is where you choose the date for the credit to be recorded on.
PLANNER NOTE: This area is just for you! Leave any notes you have for yourself as the Planner so that you can look back later and remember any details for this credit.
---
Need more help?
Reach out to the YouLi Support Team via the chat box at the bottom of your screen or submit a Support Ticket request. If you need more advanced support, schedule a 1:1 Consulting session with one of our experts, and we will walk through Traveler flow options & best practices.