Simple, fast, effective and SEO optimized travel website you can launch in days without a developer.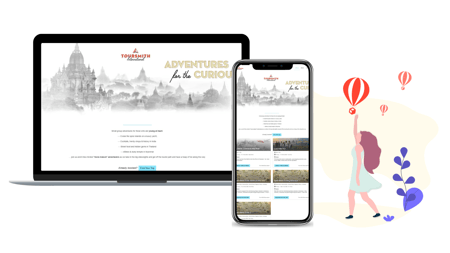 YouLi offers a simple website to integrate seamlessly with your YouLi TRIP PAGES.
TIP: The PRO+ Website (formerly Plug N Play website) it the perfect place to start when you are beginning your business. Simply upgrade to the PRO+ Website plan to activate.
Case Study - Launch a Website in Days, Not Weeks
Learn how Melanated Travel launched their website in days (instead of weeks or months).
6 Steps to launch in days, not weeks!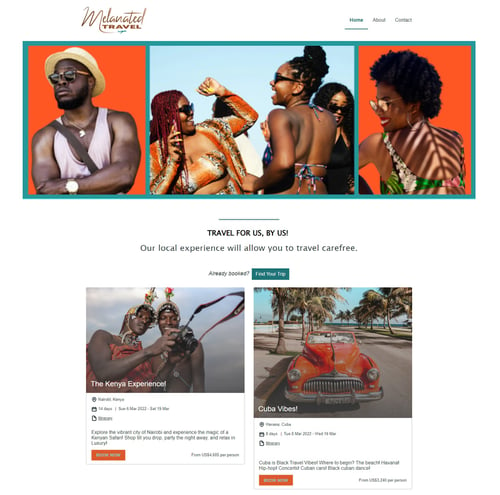 What is a YouLi PRO+ Travel Website?
YouLi PRO+ website includes the essential features every travel website needs.
The following pages are automatically, so all you need is to define the branded look and add content:
Home - Includes your BROCHURE TRIPS and/or trips you are taking bookings on
About - This will include your avatar photo and business blurb
Contact Form - a CONTACT FORM that sends you an email with inquiries:

Automatically sends to the email on your account
Automatically sends the customer a copy with your email

Find Your Trip
Privacy Policy
Terms & Conditions
Why launch your trips with a YouLi PRO+ Website?
Fast & secure delivery - unlike generic DIY websites, YouLi templates are designed specifically to showcase your group experiences and won't overwhelm you with unnecessary settings. We will also take care of the GDS compliance and perform all the updates, so you don't have to worry about the maintenance.
Fast load speeds - YouLi PRO+ websites are optimized to run fast, which is critical for your SEO scoring and pleasant customer experience.
Integrated Google Analytics - including GA4
Give yourself time to build - custom website development may take months. While you are building your full website, you can take advantage of the essential YouLi PRO+ starter website, then transfer your domain and all the content to your custom-made web.
TIP: As an amazing bonus, there will be a branded 'FIND YOUR TRIP' button on the homepage. This is for customers who have REGISTERED on trips and/or BOOKED in; they can enter their email address to get their MAGIC LINK. (so they don't bug you!).

Here is an example of FIND YOUT TRIP feature by Working Without Borders. Note that this page is branded in the same colors you chose for your TRIP PAGES.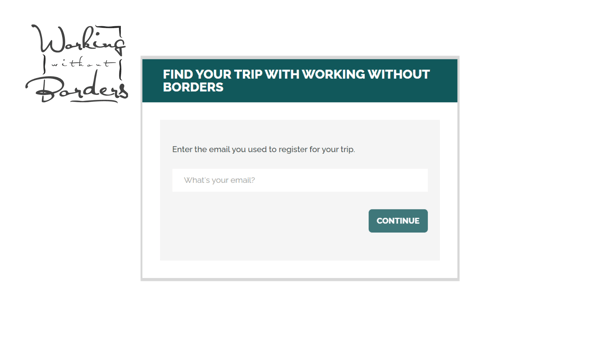 At the bottom of the website, we will link to your PRIVACY POLICY and TERMS & CONDTIONS.
NOTE: YouLi hosts your domain securely (includes SSL cert) & include WHITE LABEL DOMAIN for your TRIP PAGES.

Here are some examples of a YouLi PRO+ Website:
How do I get a YouLi PRO+ Starter Website?
After you upgrade to PRO+ Website, you can open a support ticket to start the process of setting up your domain.
How do I launch my Starter Website?
After you have upgraded and setup your website, open a ticket with your domain to start the process of launching.
Before opening the ticket, make sure you have:
Domain (i.e. mynewtravelcompany.co.uk)
Domain Registrar (i.e. GoDaddy, NameCheap, etc)
Access to the Domain Registrar so you can update the Domain Name Servers per our instructions - we can help with this for a consulting fee.
Only one domain is included in the plan.
TIP: YouLi doesn't register domains, we recommend using an established registrar like Google Domains. However, we can work with any registrar.
Will the website be under my company brand?
YouLi-powered websites are WHITE-LABELED. That means YOUR domain, YOUR business logo, YOUR colors, YOUR content. The only thing that will indicate the YouLi platform is a small "powered by YouLi" logo on the bottom of the screen.
How long will it take for my website to get set up?
It's a super quick process. Essentially all you have to do is
Set up your YouLi account and Upgrade to PRO+ Website
Fill out your profile, branding and site settings, things like: font, logo, and more.
Pick an amazing banner image
Tell people about your company, add your terms and privacy policy
Start publishing amazing trips on your website!
So, what is NOT included in a YouLi Web website?
The template is fixed to a default YouLi style - but this provides a canvas that becomes very branded with the right banner and content

Only the pages listed above are included, more pages cannot be added
Set up of ZAPIER to integrate with your CRM or email marketing is available → book a Consulting call if you're not sure how to do this on your own
Not sure if the YouLi PRO+ Website is what you want?
We have CUSTOM WEBSITE options if your budget allows more creativity.
Watch the webinar to learn the details:
---
Need more help?
Connect to our team and discuss your web development options. Launching your travel website is easier than you think. Submit a ticket.