We did it guys!
We all made it through 2020, ready to jump into 2021 stronger than ever.
It's the new year and that means more fun features!
Want to learn more about past features YouLi has delivered? Discover all of our release notes here.
+ALL-IN-ONE PLACE
⚡⚡⚡ New Zap: Send registrations from ALL your trips into your CRM or email marketing platform
Next time someone shows interest in ANY of your YouLi trips... have their registration info automatically zapped into your CRM too. Now you can do this in one zap!
PLUS, we are passing through a TON of more info. Read all about the new ways you can pass traveler information to your other platforms in our updated Zapier + YouLi Integration | Connect your platforms with YouLi and vice versa.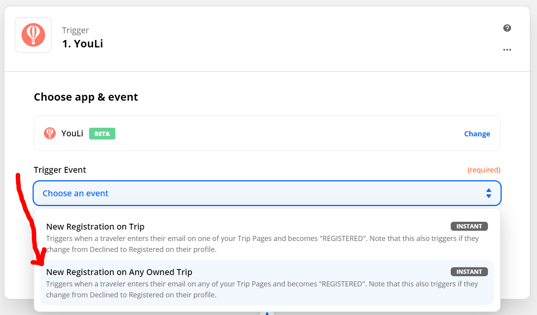 Also, we offer personalized 1:1 Zapier consults. Book in time and we will seamlessly integrate your platforms on the call.
💰💰💰 Easy way to filter your payments in Manage Payments
Now when you go to your Manage Payments tab, you have more ways to filter what you want to see. On the right side, you can choose between Not Booked & Booked. Underneath Booked you can filter even further by choosing between Pending, Booked & Owing, Booked & Fully Paid.
Not sure what Booked means in YouLi? If means your traveler has made their first payment, therefore reserving a spot on the trip.
📤📤📤 FYI, you really need to update your consent text
Don't forget that you need to update your Privacy and consent terms on your trips. To be sure, now we won't let you forget :-)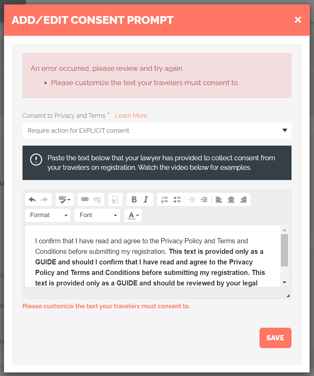 This is a super powerful way to make sure your travelers agree to your needed policies when they register. Read more about everything you need to know for collecting consent in our dedicated help doc.
❌❌❌ Now you can cancel individual Itinerary Items!
Sayyy whattt? That's right. We figured through these crazy Covid times, it would be helpful for you to be able to portray the information to your travelers if an itinerary has to be canceled (but not the whole trip).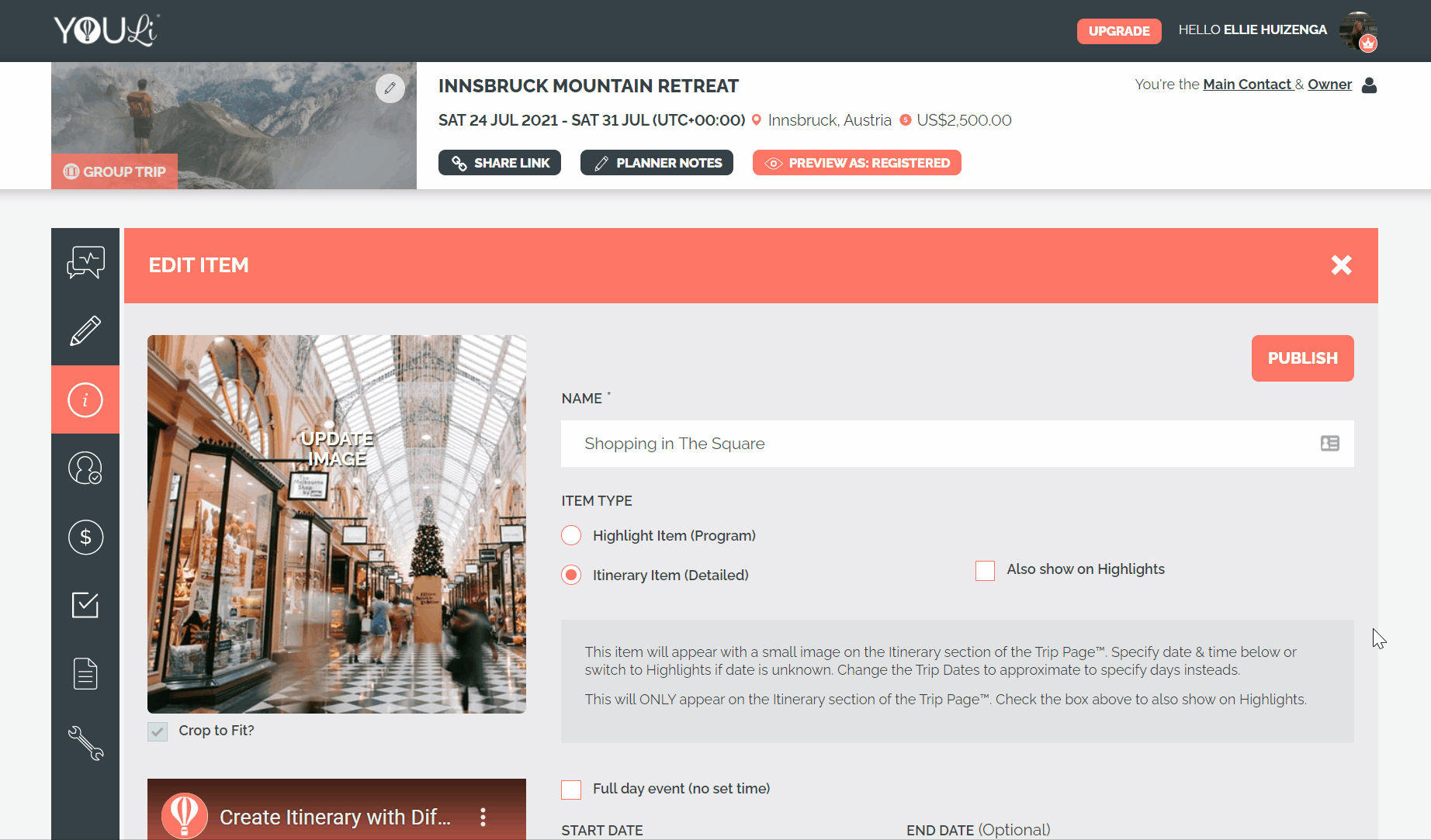 Here is what a canceled itinerary item looks like for your travelers:

👁️👁️👁️ See more info on itinerary items on the Tripboard, such as visibility
Now, you can see more info about each of the Optional or Add on items for your traveler in their Traveler Trip Board. Learn more about the status of the item (archived, canceled, or published). Plus, you can see if it is visible to the traveler.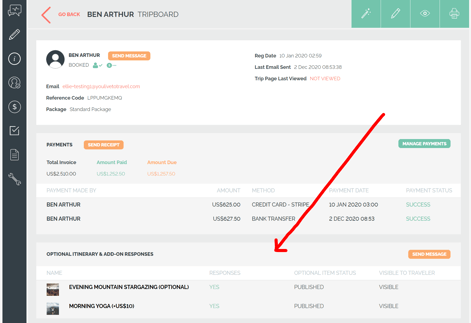 REFRESHER!
One of our favorite things built in 2020 was the Traveler Tripboard! YouLi is truly your one-stop shop when it comes to managing your travelers. We empower you to be able to see everything in one place. Seriously, how great is it?!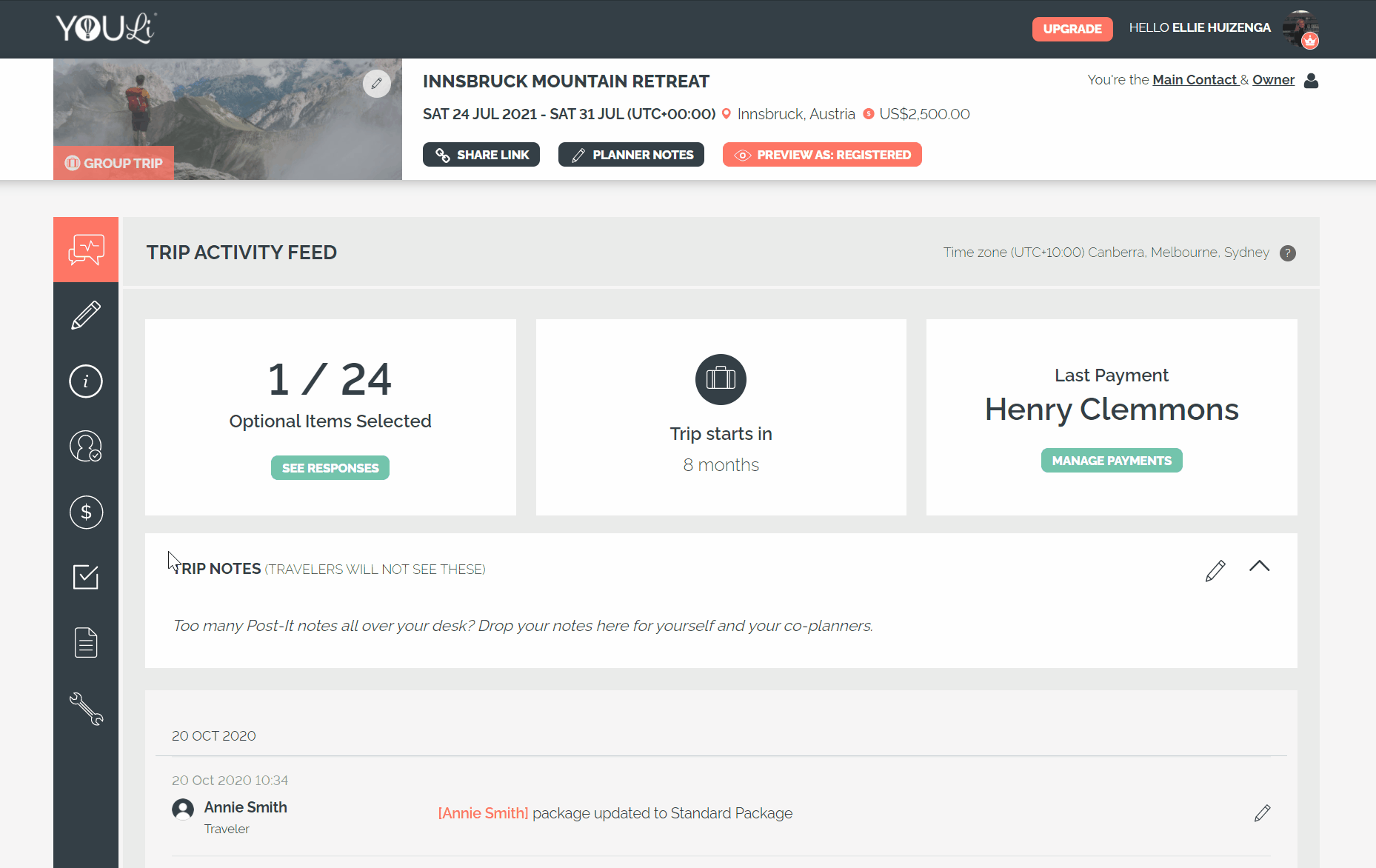 ---
Need more help?
Reach out to the YouLi Support Team via the chat box at the bottom of your screen or submit a Support Ticket request. If you need more advanced support, schedule a 1:1 Consulting session with one of our experts, and we will walk through Traveler flow options & best practices.