Need to collect Dietary requirements from your travelers, but not sure how? With YouLi, all you need to do is create a task!
How to collect a dietary requirements and preferences
You can create a new task by going to Manage Tasks and then adding Add Task:

From there you will be able to customize the task to fit exactly what you need to know for the dietary restrictions and requirements your travelers might have. Learn more about exactly how you can build the perfect task in our Tasks & Resources help doc.
One of the important things to choose is the response type you want. Discover all of the response types you can choose on YouLi Tasks.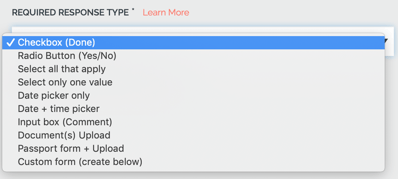 RECOMMENDED RESPONSE TYPES
When creating the task, consider what format you want the data. Do you want it to be restricted or flexible?
Select only one value (or Custom form)

This allows you to provide a set list of options - this is good for flight meals
Here's an example of what this could look like when included in a custom form:

Input box (Comment)

If you are flexible and want to allow them to tell you their preferences rather than restrict them to preset options
Here's an example of what this could look like:
How to see the traveler's responses to your dietary requirement task
1. INSIDE THE TASK RESPONSES
You can see the responses from everyone on the trip by going to Manage Tasks and clicking RESPONSES underneath the task:

This is also where you can send a message to remind people to finish the task if they have not done so.
PRO TIP: You can export the data from Task Responses to include the name and dietary requirements to send to your caterer in one clean spreadsheet.
2. ON TRAVELER TRIPBOARD
Once the traveler completes the task and provides their dietary requirements, you will be able to see individual traveler responses in their Traveler Tripboard under the Task section.

3. MANAGE PEOPLE EXPORT
From Manage People, select your people, then click EXPORT SELECTED and choose the first option to download all their data, including their dietary requirements.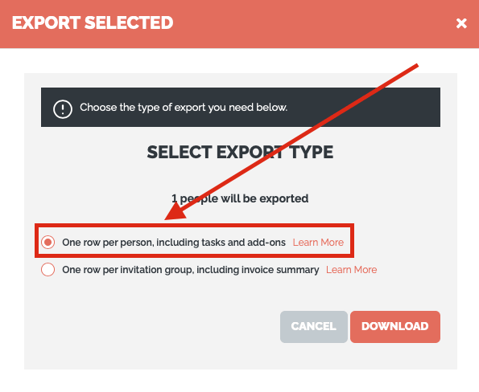 DEPRECATED: If this was previously populated in the traveler's profile, it will still be shown, but new trips will not have this option.