Want to pull a report in YouLi for your your trip of all the payments that have occurred? Easy peasy. You can view all of the payments in your trip by going to Manage People and then clicking PAYMENTS.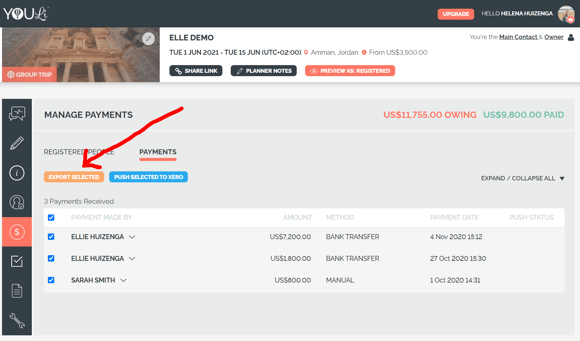 From there you select who you want to export to a csv or excel and click EXPORT SELECTED.
Your excel sheet will show you:
Who the payment ways made by
Reference Code
Selected Package
Room
Breakdown
Currency Type
Amount
Method
Type
Payment Date

Want to learn more about how you can reconcile your payments with Xero? Learn more about our Xero + YouLi Integration.
Plus, it will also show you:
Tracking Medium
Tracking Source
Tracking Campaign
Tracking Referring URL
Tracking Referring Domain

Want to learn more about how YouLi helps you with source tracking? Check out our help document about source tracking.