Access all of your payments in YouLi across ALL of your Trips.
AVAILABLE PLANS: No limits here! Available for all YouLi plans.
Why is the Global Payments report so powerful?
You can:
See all of your payments in one place
Easily click into a Traveler's TripBoard to see their payment summary for each TRIP
Quickly jump into TRIPS to mark pending payments as received
Filter by payment date
Find payments that require pushing to Xero
Export all of your payments with the click of a button
How do I access my team's Global Payments Report?
To view, click to
Your TRIP DASHBOARD
REPORTS
PAYMENTS

How do I download the data from my Global Payments Report?
It's easy to export the displayed information into a CSV to open in Excel or Google Sheets.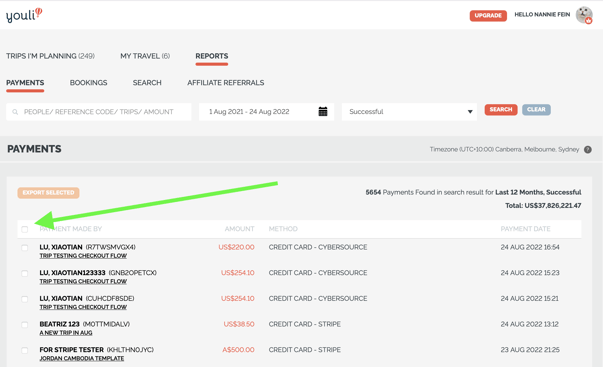 Change your filter options to show the desired data
Click the box in the header row to s

elect all

Click EXPORT SELECTED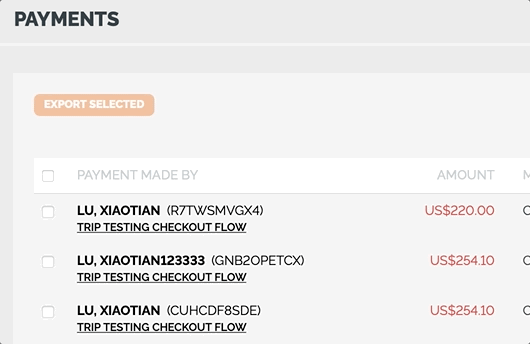 WARNING: Scroll down and click "Load More" to ensure you have all the data visible that you need to export.

The exported data includes
Who the payment was made by
Reference Code
Trip Name
Package
Room
Currency
Amount
Method
Type
Payment Date

Extra fields include
Tracking Meduim
Tracking Source
Tracking Campaign
Tracking Referring URL
Tracking Referring Domain
Troubleshooting
Can't see any data in your Global Payments Report?
This could be because you are not a Team Member or Owner of the Trip you're looking for.
If you are only a Co-Planner then you will not be able to see this report for TRIPS you are co-planning.
You can request to be allocated a team license by the owner of the TRIP.
Learn more about the different team roles in YouLi.
---
Need more help?
Reach out to the YouLi support team via a chat box at the bottom of your screen or submit a ticket request. If you need more advanced support, schedule a 1:1 Consulting session with one of our experts, as we will walk you through the features and best practices.