We've got some exciting news about tracking the SOURCE of registrations
on your Trip Pages 🐾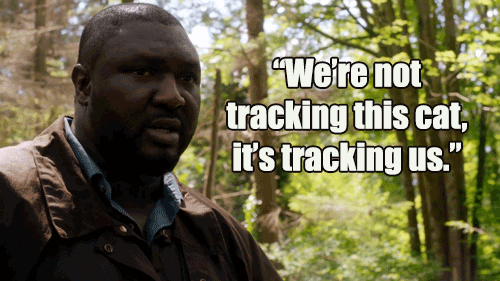 Did you know we regularly put out new releases? Discover them all here.
Read on for the new features in this release:
+ALL-IN-ONE PLACE:
🔗🔗🔗 SOURCE TRACKING ON REGISTRATION - ANALYTICS
This is an exciting one guys! Now, you will be able to know how the travelers that register came to your Trip Pages. We have updated YouLi so now you can track the source of registrations on your Trip Page.
We record the first source whether it is Facebook, email, your website, a marketplace, etc. We attribute the registration to that source if they register within 30 days of their first visit.
If you don't already use utm_medium/utm_source/utm_campaign (Urchin Tracking Module) parameters in your social and email campaigns, we strongly recommend you start.
These parameter values will now be saved in YouLi when a traveler registers so you can see which sources, mediums and campaigns are driving the MOST registrations on your trips (mid funnel).
🤯 Not sure what all this means? That's ok, we'll be hosting a Community Meetup on Analytics soon
These Tracking Values will now be included in your exports from Manage People and Manage Payments:
Medium
Source
Campaign
Referring URL
Referring Domain
These are the sources we will be tracking:
Tracked Email campaigns, Social referrals and Links from your Website

Medium = utm_medium OR 'referral'
Source = utm_source OR referring domain
Campaign = utm_campaign or blank

Direct (no known referrer)

Medium = 'referral'
Source = 'unknown'
Campaign = utm_campaign or blank
Referring URL = blank
Referring Domain = blank

Planner uploaded

Medium = 'uploaded'
Source = 'single-upload' OR 'bulk-upload'

COMING SOON:

Affiliate tracking so you can know what commissions are due based on the affiliate ID
Also need aggregated data on page views (top of funnel)? Have you linked your google analytics account to your YouLi account yet?
Want more advanced CRM/Analytics tracking or chat embedded on your Trip Pages? Upgrade to VENTURE to get a white-label domain and add advanced tracking and chat widgets onto your Trip Pages.
💸💸💸 Coupon Codes
Want to offer an early bird discount or coupon for an upcoming trip? You can do that on YouLi with coupons!
Plus, in this release, we made coupon codes longer (previously they were only 20 characters). You can learn more bout YouLi coupon codes in our Pre-Release documentation about coupons.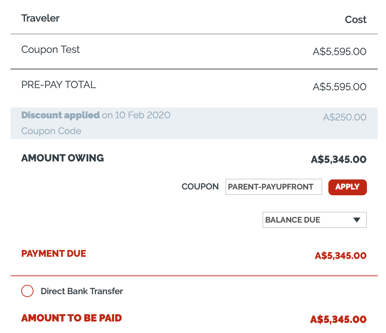 Want to put a coupon code on your trip? They are a feature offered on Crew Starter and above. Reach out via our support chat if you want to activate a coupon code.
+EASY TO USE:
🌅🌅🌅 Activity Feed
Don't remember what your Activity Feed is? The Trip and Dashboard Activity Feeds is where YouLi logs both the things that your travelers & your team members are doing on your Trip.
This means any payments, tasks, registrations, automatic emails or any changes that you or a team member make on the trip are shown in the Activity Feed.
This release, we made it a little bit easier to read the responses to your optional items. Once travelers start to sign up for your optional items, you will see it on your activity feed.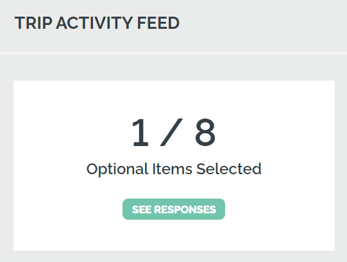 The trip activity feed will show how many of your travelers have selected yes to the optional items on their itinerary/highlights.
Are you still on Guide? Take a moment and explore Crew Starter.
With full Stripe and Square integration payments are easy. There are no booking fees, and we never hold your money. Use YouLi as your branded landing pages, or integrate it into your website as a powerful extension. Activate the Mobile App, and offer extraordinary customer experience to your clients.

YouLi powers you up.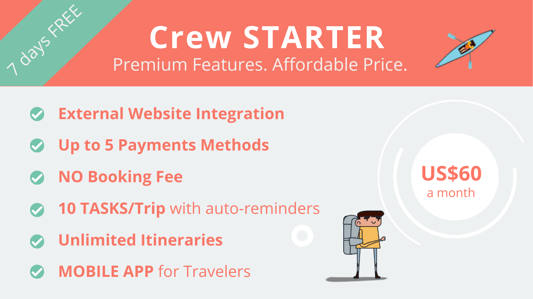 ---
Need more help?
Reach out to the YouLi support team via a chat box at the bottom of your screen or submit a ticket request. If you need more advanced support, schedule a 1:1 Consulting session with one of our experts, as we will walk you through the features and best practices.