YouLi

- Trip Websites Made Easy

join us for a Workshop this month on these features!
+ALL-IN-ONE PLACE:
Now, you have even more power to style YOUR Trip Pages on YouLi!
🔠🔠🔠 Choose Your Font - Across ALL Trips or sentence by sentence
When you change your font at the Account level, it applies to ALL your trips, past, present and future.
Look for the "FONT" and the new "TEXT COLOR" options below the logo.

↘️ Trip Page Descriptions

There are a few new options in your editors...
Tables - not always the right tool, but handy when you need it
Emojis - of course you could always paste them in, now a few are a click away 😍
Special characters - sometimes you need an accent: sÍ
Full screen edit mode - click the 4 arrows to expand and contract 🤯
Center or Right align - left is so last week...
Headings - bigger is better (just not ALL the time)
Font - please use Comic Sans sparingly 💥
Font color - with great power comes great responsibility, less is more when it comes to colors, but sometimes you just need to

MAKE THINGS RED
You can brand your YouLi Trip Page by choosing your font at the Account level OR ... word by word.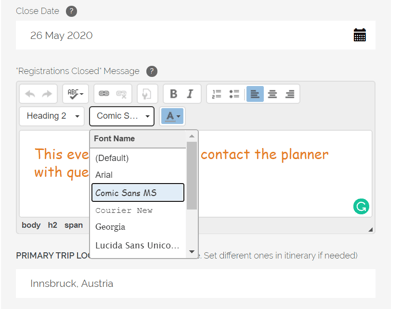 🆗🆗🆗 Change Your Text Color
PLUS, you can change the text color too! So now you have the opportunity to make certain things, POP. Don't forget that you can click MORE COLORS and choose your brand color by inserting the hex code.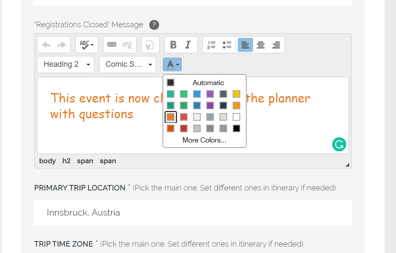 🧬🧬🧬 Customizable Banner Options
You have spent all this time in canva creating a beautiful banner with text?
When you want to add a banner image you have the option to choose 'Crop To Fit Height?' This will automatically crop the photo to 1500w x 525h.
Whereas if you uncheck 'Crop To Fit Height?' your photo will be cropped to 1500w, but the full height will be shown - ensuring your text appears as desired.
👣👣👣 Personalize your REGISTRATION CLOSESD message in footer
See the font choice and color choice show its power in your footer. NOW YOU CAN MAKE IT POP.
If your trip is full or the deadline is passed, this is a great way to let people know what other trips you recommend for them. Simply click to UPDATE TRIP and scroll down to CLOSE REGISTRATIONS.
Set your Close Date and ensure your "Registration Closed" Message is set to Heading 2 or 3 and maybe even choose a color or font variation to make it really standout.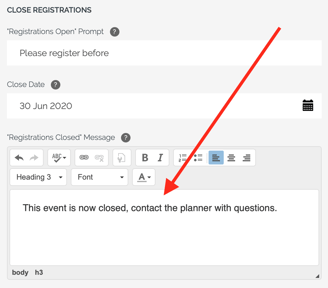 See how it could look on the Trip Page by clicking PREVIEW AS:
+EASY TO USE:
💢💢💢 Drag your text box
Now, it is easier to do add ALL the text you need without feeling your style is cramped!!
You can expaaaaaaaanddddddd.
NOTE: This only works on desktop. So, be sure to switch from mobile if you need extra space.
🔸🔸🔸 New, easier to understand lingo
We updated some of the lingo on the planner side of your Trip Page. It all connects to the same place.
In particular, the PREVIEW TRIP PAGE has become PREVIEW AS: REGISTERED
That's because YouLi Trip Pages look different depending on what state your Traveler is in.

Note: All of the above updates apply to the default Trip Page style.
+LOCK IN LOCKDOWN SAVINGS - LIMITED TIME ONLY
For just US$5 a month (valued at over $100) we want to empower you to continue to build trips for the travel boom that is coming once everyone can explore again.
It includes Customizable Forms in your Tasks (and 8 Tasks/Trip).
But hurry, the lockdowns are easing and this offer is expiring July 31st, 2020. But if you sign up now, you can keep it as long as you need!