YouLi makes it easy to pause payments and start taking them again when ready.
Do you want to stop taking payments? Perhaps something has changed about the destination or the operator, and you're not sure the trip will go ahead, but you aren't ready to cancel it yet. In this case, you can simply block access to the Invoice so interested Travelers cannot pay, then turn payments back on when you are ready.
Pause payments via the invoice on your Trip Page
Click to UPDATE TRIP > SETTINGS
Scroll to TRIP PAGE MENU LABELS
From there, uncheck the box next to INVOICE
Click SAVE
This will hide the invoice from your Travelers, but leave all other parts of the TRIP PAGE as VISIBLE so they can still access them.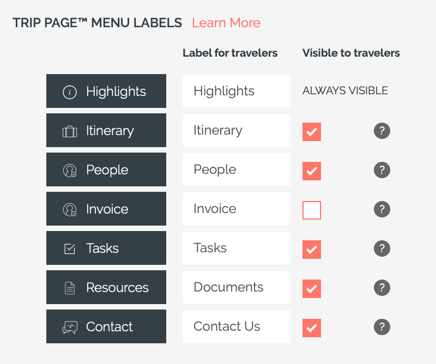 Remember to pause reminders
Now that you've blocked the invoice, you will also want to ensure that payment reminders are not sent.
Click to UPDATE TRIP > PRICING
Click the pencil to edit an installment
Uncheck SEND REMINDERS

Click UPDATE


---
Need more help?
Want to learn more about automatic emails that go out on your behalf through YouLi to your travelers such as who the emails come from or how do email templates work? Explore our Automatic Email Help Doc. Also, discover How To Stop Automatic Emails.