If you have published a trip and are currently collecting registrations plus you've finalized the price to take bookings but then something changes and you need to pause the bookings... you're in the right place. :D
Perhaps something has changed about the destination or the operator and you're not sure the trip will go ahead, but you aren't ready to cancel it yet. In this case you can simply block access to the Invoice so that interested travelers cannot pay (yet), but it's easy to turn it back on.
Pause Payments via the Invoice on your Trip Page
It's easy, just go to Update Trip->Settings and scroll to TRIP PAGE MENU LABELS. From there, uncheck the box next to Invoice and Save the changes.
This will hide the invoice from your travelers but all other parts of the trip page you leave as VISIBLE they can still see.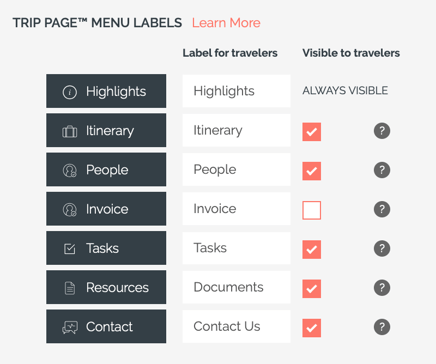 To learn more about this feature, read the full article on controlling what your travelers see.
Pause Reminders
Now that you've blocked the invoice, you will also want to ensure that payment reminders are not sent.
You can stop ALL reminders by setting the dates of the trip to estimated.
But if you JUST want to stop payment reminders (and not task reminders), then you can do that under Update Trip->Pricing. Scroll down to see the PAYMENT INSTALMENT DUE DATES
Click the pencil next to each instalment to uncheck the box for automated reminders in the popup: