Want to increase bookings AND give your customers a great experience with everything they need in one place?
In this help doc, we walk you through the payment flow for YOU (the Planner) and your Traveler.
How to set up payment flow for your trips
After clicking to CREATE TRIP from the dashboard:
Step 1. Click "Set a Price" from the header


Step 2. Choose BOOKINGS MODE
Step 3. Select your currency and click "ADD PRICING PACKAGE"
Complete the required fields to create your base price per person.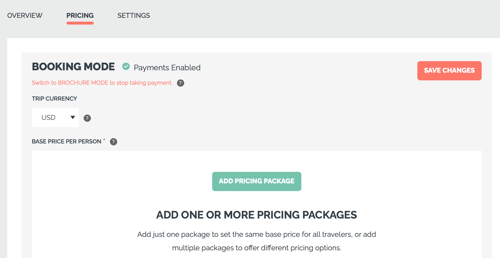 Step 4. Select the desired payment methods
There are up to 5 different PAYMENT METHODS you can choose and offer your Travelers when they pay through their YouLi TRIP PAGE. (Don't worry, most Planners only offer 1 or 2)
NOTE: Don't worry, you can always add/remove them later. This will automatically update on the TRIP PAGE so Travelers can access the new options (or not access them) immediately after you make the change.
Payment Flow for Credit Card Payments
Available on ALL YouLi plans (including free Explorer)
If your travelers choose to pay by credit card, they will be prompted to input their credit card & will see that they have a payment made in green.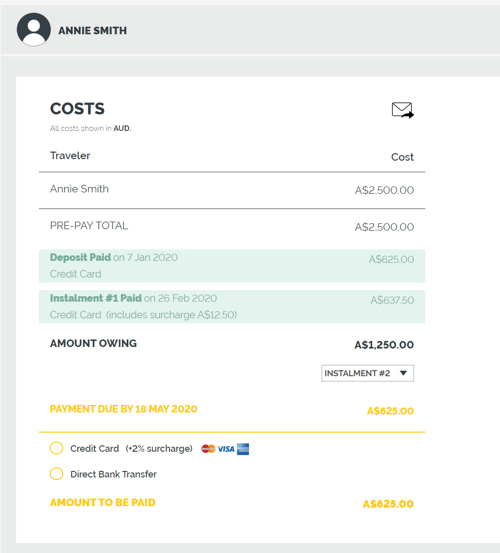 As the Trip Planner, you can then see their payments on the MANAGE PAYMENTS tab. When Travelers make payments via credit card, you will be able to jump from YouLi into the Stripe Payment.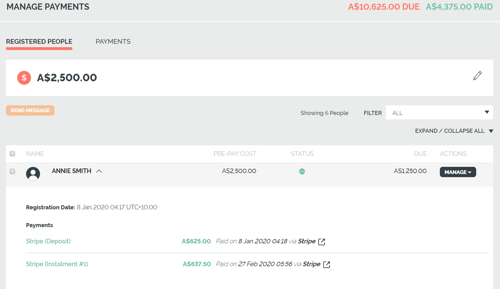 Oh, and have you pushed to Xero yet? Learn more about YouLi integration with Xero accounting software.
Payment Flow for Direct Deposit or Bank Transfer
If your Travelers choose to pay by DIRECT DEPOSIT, they will be prompted to follow the directions that you listed for your Trip and then click NOTIFY PLANNER.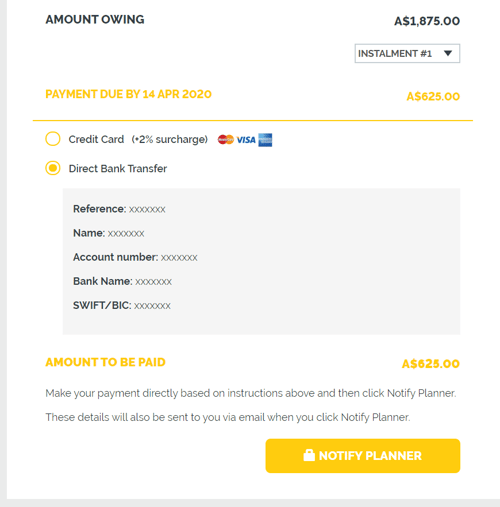 Once the Traveler notifies the Planner they will see that they having a PENDING PAYMENT in orange.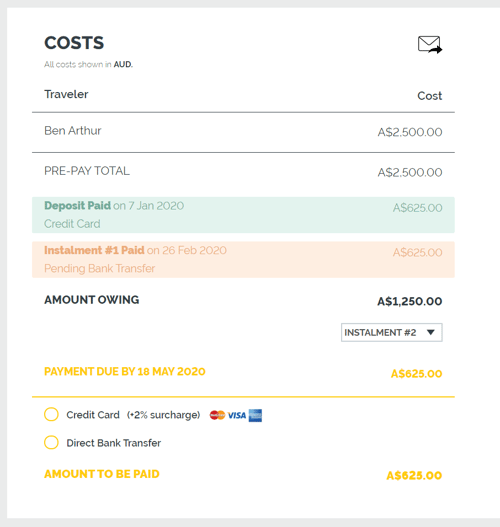 This means that they are waiting for YOU as the Trip Planner to confirm that their payment came through. To do this as the Trip Planner, once their payment comes into your bank account, go into YouLi and the MANAGE PAYMENTS tab and mark the payment as RECEIVED.

Once you accept the payment, your Traveler will see on their TRIP PAGE that you confirmed the payment.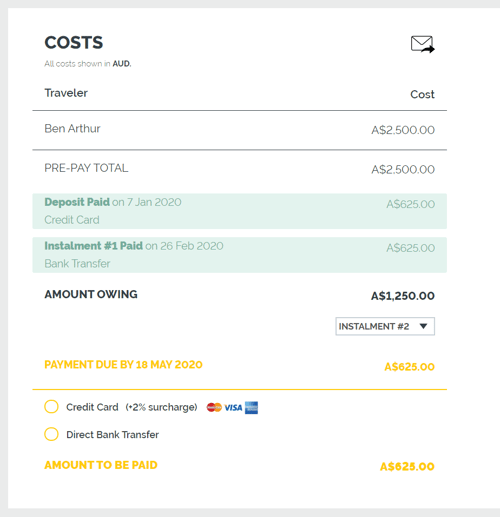 Cannot seem to turn on your DIRECT DEPOSIT? Perhaps you need to unlock it by upgrading to a PRO subscription.
TIP: Learn more about the AUTOMATIC EMAILS (such as PAYMENT CONFIRMATIONS and PENDING PAYMENT EMAILS) that go out on your behalf through YouLi.
Also, want to send an extra invoice or receipt to your traveler? They can do this themselves in their TRIP PAGE or you can PREIVEW as them and send it via their TRIP PAGE.


---
Need more help?
If you want to get 1:1 attuned to YOUR business needs, schedule a paid Consulting call. One the YouLi expert will walk you and your team through the setup and follow up via an email to make sure you understand the process.