YouLi is a powerful travel planning software for many reasons, including the ability for your Travelers to be in different stages of registration, in addition to tracking where your Travelers are in the booking process (making payments).
Different Traveler Status types within Manage People & Reports
See this image, for a snapshot of all of the different icons you will see in YouLi, which will represent different STATUSES for your Travelers.
Review each STATUS in more detail below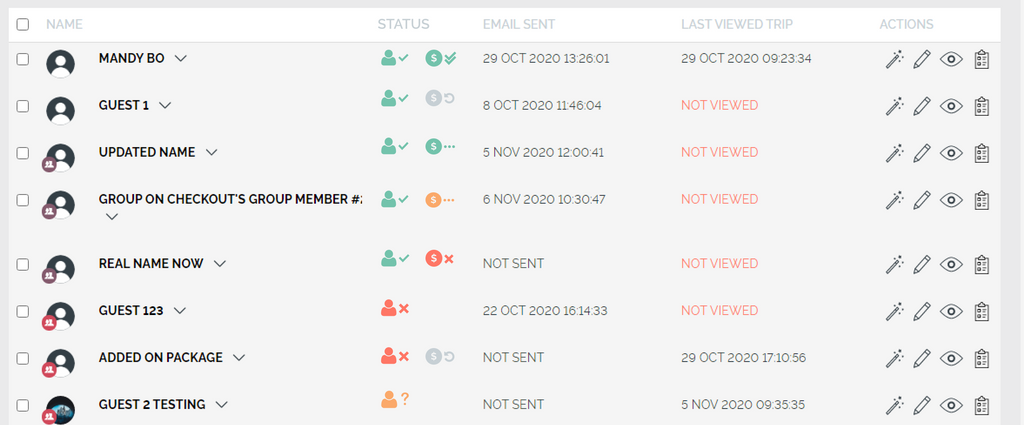 NOTE: These Traveler types can change based on your Traveler sign-up flow.
As a Traveler, what does it mean to be "registered" vs. "booked?"
In YouLi, we define being "registered" when your Traveler enters their email on your YouLi registration form. This means your Traveler can be registered without having made a payment.
However, once your Traveler makes their deposit or first payment, then in YouLi they are considered "booked." This means they can still owe money for their trip OR owe absolutely nothing because they have paid for it in full.
What are the different registration statuses?
Invited
YouLi uses the term "Invited" for the Travelers you have invited on your trip, but have not yet been confirmed as registered (this can be done manually, by editing the person's STATUS or once the person fills out the registration form themselves).
These Travelers will show up as "Not Responded" for their STATUS.
NOTE: Everyone whom you add to your YouLi Trip will initially come in as either "Invited" or "Not Responded."
When added to Manage People & Reports and the Status field is not changed to "Registered," by default, that person's status will be "Invited."
Registered
As soon as one of your Travelers shows interest in your TRIP by inputting their email via the REGISTRATION FORM, their STATUS will then become "Registered."
Registered does not mean that the Traveler has made a payment, but it does mean that they will now show up in your MANAGE PAYMENTS tab. There you can see the payment status for all of your Registered Travelers.
Use this like an abandoned cart situation, YouLi sends automated reminders to registered travelers who have not paid. But you can also send personalized messages from Manage Payments.
TIP: While you are on the Trip Dashboard, you can quickly preview your Trip Page as someone who is "Registered." Just keep in mind that you won't be able to complete tasks or test out making payments. See image below.

Registered and Booked (Fully Paid)
Wahooooo! When you see this besides one of your Travelers... hooray! They are Registered and have fully paid! 💥
Registered and Booked (Partially Paid)
When you see this STATUS, it means that your Traveler is Registered and partially paid. You can click into their TRIPBOARD for deeper insight into what INSTALLMENTS they have made and how much more they owe.
Registered and ALL Payments Refunded (no inventory held)
This means your Traveler registered but was fully refunded.
Registered with a Pending Payment (inventory is held)
This STATUS means that your Traveler registered and has a pending payment. In order to move the payment from pending, you need to mark the pending payment as received within MANAGE PAYMENTS.
Registered and Not Paid / Not Booked (no inventory held)
This means your Traveler registered but they have not yet made any payments.
TIP: Your Traveler will receive automatic payment reminders once they have registered, so long as you have those email reminders turned on, YouLi will nudge your Traveler to get their deposit and subsequent payments paid.
Declined
Declined Travelers have opted out of the TRIP completely. You have the option of leaving them visible under MANAGE PEOPLE & REPORTS or you can delete them completely from the Trip.
As an alternative, just change them to "Declined," if they are no longer able to make the Trip and you don't mind them being visible under Manage People & Reports. Any Traveler whose Status is "Declined" will not receive any automatic emails from YouLi.
CAUTION: Travelers who have made a payment cannot be deleted. However, you can delete their payment(s) from Manage Payments (as long as it isn't a credit card payment) and then delete the Traveler(s) themselves under Manage People & Reports.
Declined and refunded payment
This means that your Traveler has been changed from "Registered" to "Declined" and you have refunded a payment.
CAUTION: Only the Travelers who are considered 'Registered' will show up under your Manage Payments menu tab.
How do I change the Status of a Traveler?
You can change the STATUS of a Traveler by viewing that Traveler in MANAGE PEOPLE & REPORTS and clicking EDIT or editing from within their TRIPBOARD.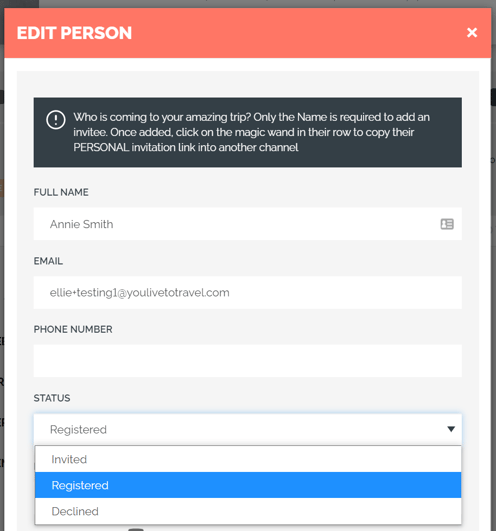 ---
Need more help?
Reach out to the YouLi support team via a chat box at the bottom of your screen or submit a ticket request. If you need more advanced support, schedule a 1:1 Consulting session with one of our experts, as we will walk you through the features and best practices.