Give your Travelers access to all their trip documents even when offline via the Mobile App experience

Your YouLi Trip App
Not only do you and your Travelers have a one-stop-shop where you can manage payments, tasks, and an interactive itinerary on your computer, but now, your travelers can access everything on their mobile devices via the mobile YouLi TRIP APP.
Download the Mobile App on Apple or Android


Finding Your Trip
When first loading a Trip: the Traveler will be prompted to enter their EMAIL ADDRESS and be sent an email to LOAD TRIP which will load their Trip inside the YouLi TRIP APP (or you can give them their MAGIC LINK)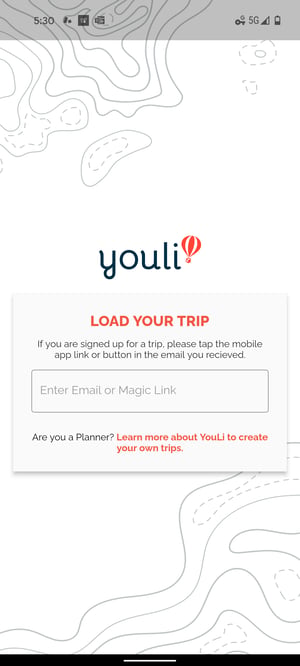 Load Multiple Trips
Travelers attending multiple YouLi-powered Trips can now load their Trips in one place and seamlessly switch between them
Just click ADD and enter your EMAIL or MAGIC LINK to load another Trip
Each Trip must be added manually and will be sorted in the order they are added
Just click the three dots in the corner to remove or refresh a trip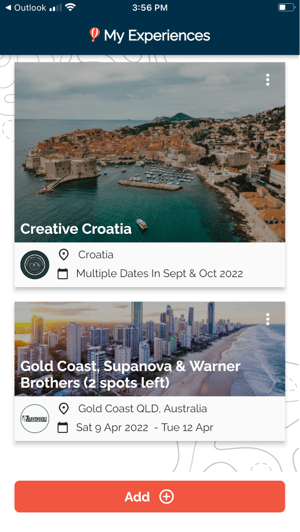 The YouLi mobile Trip App includes:
ITINERARY
PAYMENTS
TASKS
RESOURCES
CONTACT
NOTE: This means that your Travelers can finish TASKS make PAYMENTS, and access their RESOURCES all from the Mobile App when they are online. When offline, they still have access to CONTACT info & ITINERARY information.
ONLINE vs. OFFLINE in a Mobile Trip App: what is available?
We know that travel should be all about getting immersed and shutting off your phone, but we often can't completely disconnect. Especially if you need to check what time breakfast is, it's nice to be able to quickly reference your itinerary whether you're online or offline. That's why the YouLi Trip mobile app allows travelers to save their Trip Page for offline viewing. This does take a few steps before you go offline.
Switching to offline mode will happen automatically when the traveler opens the app while in Airplane mode or if they refresh while offline.
ONLINE features include everything that you can do on the Trip Page from the browser:
Register
Make PAYMENTS
Opt into optional ITINERARY ITEMS
Complete TASKS
Clicking on location links to open in map application for directions
Clicking on external links to websites
OFFLINE mode does NOT allow you to do the above-listed online actions but DOES allow:
Viewing of ITINERARY & HIGHLIGHTS
Viewing of TASKS
Viewing of travel DOCUMENTS that are PDF and images (not links to videos or websites)
Viewing of other PEOPLE on the Trip (if enabled on the Trip)
WARNING: PDF attachments cannot be viewed offline on Android devices
Before the trip, make sure your travelers download the app


Set a due date for the "Download Mobile App" task that is added by default on your trip

They will receive a reminder to download

OR you can send them a message that includes a link to this video


The link from the message you send them will start the process shown in the video


Need more help?
The YouLi team is available via the chatbox at the bottom of your screen. For a 1-hour deep dive into your business setup in YouLi, schedule a 1:1 paid Consulting session.