Meet Jackie, Jane and Jamal
We launched our characters in 2019 as part of our marketing, and now you can watch for their friendly faces in the app. How many places can you spot them?
KEY UPDATE - 2 NEW Direct Payment Options
* Pay over Phone & Custom Payment Link *
BY INVITATION FOR EARLY ADOPTERS ONLY
We are pleased to now offer 5 payment methods to planners. You won't want to make them all available (probably) but the point is, you get to decide! So no matter how you get paid, it all get's tracked in ONE PLACE.
Check out the video to see the improved flow in action.
Credit Card is ALWAYS an option, what varies is
the % YouLi fee charged - Upgrade to drop to 0%

the gateway used (currently Stripe or Square) - only one per team

the gateway used is based on the Trip Owner (which is currently always the Team Owner)
Bank Transfer

PayPal.me Link

🆕 Pay over Phone - with Click to Call on mobile

🆕 Custom Payment Link (new) - send them to any page to make a payment and we'll keep track so you know where to confirm payment. Great for Donation pages!
SAVE TIME, LESS STRESS:
You can now convert Trips to Quotes and vice versa, check the COG on the dashboard for the one you want to switch. Not all of them qualify, so if the option isn't there, it can't be converted.

Quotes are a premium feature, open a chat in YouLi to find out more.

Direct Payments Methods now have "ADVANCED OPTIONS" that let you specify

Payment Guidance on the Booking form
Pending Email Message to be sent when Traveler clicks "Notify Planner"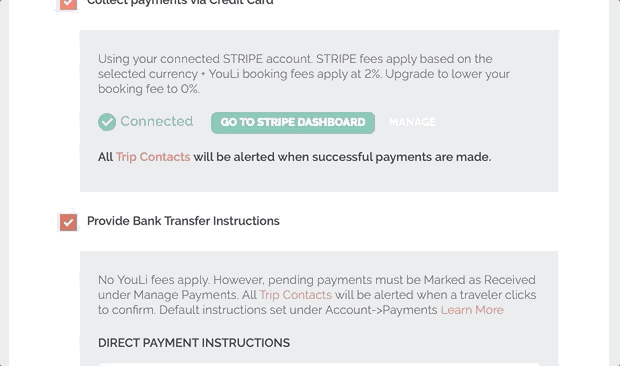 EASY TO USE:
Going? What did that mean? Well, it just meant that a Traveler is REGISTERED, so now we've changed all the language you see to match. You'll find the word Registered all over the place and it always means that a Traveler put their information in or an invited traveler confirmed they are interested.

You can see a Traveler's REGISTERED STATUS on Manage People
You can see if a Traveler paid on Manage Payments

Based on feedback, we've improved the way the checkout/booking flow works for Travelers.

The prompt to pay in the footer will follow you around once the traveler selects a payment method

You can now filter your REGISTERED PEOPLE by PENDING to quickly see your pending payments
Footer is now fully white-labelled with your brand color (no more strange orange color!)
Reminders and Pending Email confirmations are now a lot easier
Tasks with due dates before payment due dates will prompt in the footer first. So if you have a task that must be completed BEFORE payment, schedule it for the day the trip launches, then it will always appear as an URGENT task in footer
Default Due Date for new tasks is now set to Today (thanks Ben for catching this one!)
Preparing for our Mobile App with Offline Itinerary viewing, we've changed Trip Page links to open in the SAME tab. If you want your directions or documents to open in a new tab, right click and select "Open in New Tab". Click back to return to the Trip Page.
No more Trip Kind! Some of you figured out it didn't do anything anyway, so we've removed the extra step of choosing whether it's a tour/adventure/wedding/etc.


Set your Trip Banner when creating the trip. It's so important, we've moved it into the trip creation flow. Don't worry, you can still edit later if you prefer.


Better names for Trip fields so you know what to put there, here's a couple of examples: