YouLi allows Planners to provide documents and resources TO Travelers and to collect FROM Travelers. Both sets are located under 'Resources & Uploads'.
All these documents are stored securely
So only authorized people can access them, they are:
They are a co-planner on the Trip and can access as a Planner
They are a Trip Coordinator on the Trip and can access the Trip read-only, including viewing the resources and uploads
They are the Traveler who can view their files on their Trip Page
They are given a SHARE link by a Planner that expires in 30 days
This article covers this last case:
As a Planner on the trip (#1 or #2 above), click to 'Resources & Uploads', and find the document you want to share with a supplier or other colleague.

This can be under either: "Trip Resource" or "Uploads from People"

Click the three dots on the card for the resource and click SHARE.
Then copy the LINK shown in the popup.
WARNING: This link will expire in 30 days for security reasons. You can always go back and get a new one at any time if they need more time.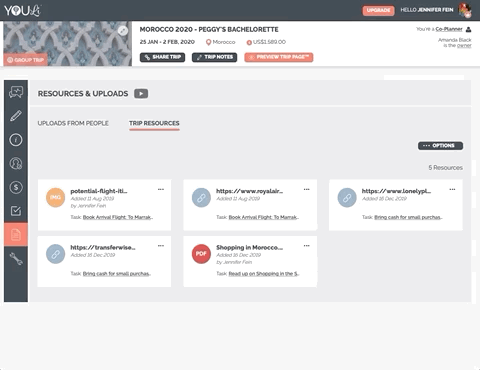 When to use this
You need to share a resource with a compliance team member to confirm you have posted the right document
You need to send a passport to a hotel supplier (note you can download the entire zipfile if you need to send them all)
You need to prove to a Traveler they uploaded the wrong document and they need to re-submit a task