Dec 12, 2019 - Release 1.80
We provide information on new features every time we update, see details on other releases.
⤴️ YouLi is Growing
We have had an incredible 2019 and we are increasing our prices to reflect the additional value we've added to the system over the year. FOUNDATION clients will never see their price increase and early adopters will continue on their current plans to the next renewal date.
CREW is now US$150/month or A$200/month with a 0% YouLi Booking Fee - because we believe in providing continuously improving software for a fair price.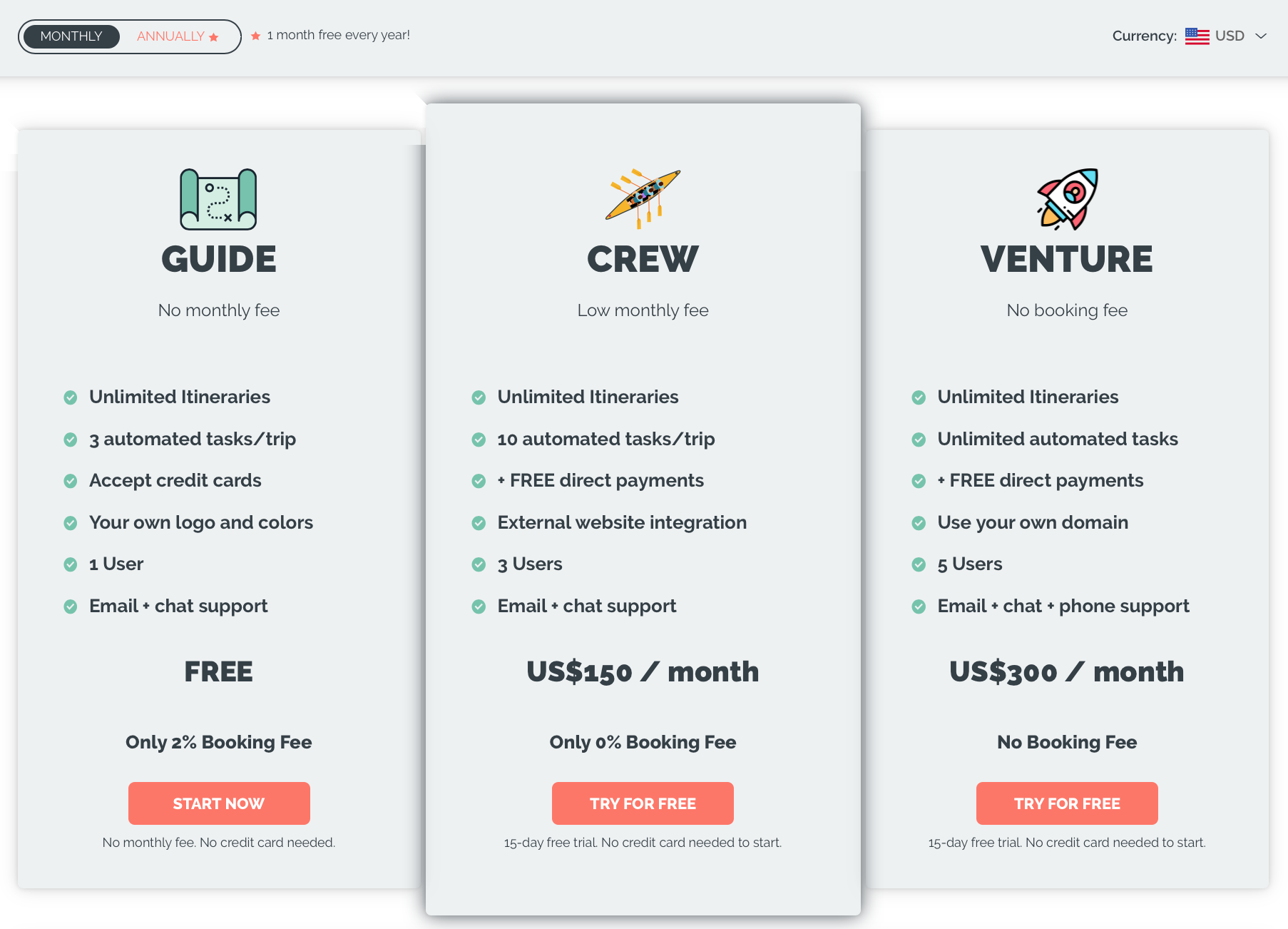 This change also means that GUIDE subscribers will no longer be able to use the free Direct Payments loophole that was previously visible in the platform. Upgrade to CREW to re-enable.
🆕 Payments Pushed to Xero as Invoices
ALL IN ONE PLACE
We know how hard it is to keep on top of all the fees and payments coming in on trips. Reconciling your payments in YouLi with the payments from Stripe in your bank account can be a headache, especially when you're on the road.
Solve it with one click!

Now, with the YouLi + Xero Integration you can:
Select which payment to push to Xero and YouLi automatically creates an Invoice so your bookkeeper simply matches the invoices to the bank feeds
Smart traveler lookup to ensure matching to the right customer in Xero (based on email when possible)
Fees are added as negative values in the Invoices to make reconciliation easier
Easily account for GST so it can be claimed back from even the smallest Stripe fees - it adds up!
Do all of this on your mobile from anywhere in the world with an internet connection - just click the "Push to Xero" button
This is a PREMIUM feature, open a ticket to request access.
🔁 Integrated just got better
ALL IN ONE PLACE
You know we can integrate into your Wordpress and Square Space sites seamlessly?
Now our snippet embeds on websites are more specific about the location it appears - ensuring that the trips appear where you place them on the page.
💸 Registered vs. Paid
EASY TO USE
The Registered People report in Manage Payments now sorts by the Registration Date. So that the oldest registrations are on top and the newest are at the bottom. Click to "Expand/Collapse" to see the actual registration date and decide if it's time to followup with a phone call or send a message.
How do I know who has made their payment to hold their spot?
Click on the filter selection in the upper right of the table to quickly see only those people who have made a payment.
😲Lots of Little Surprises
EASY TO USE
Under Resources we've put your UPLOADED FILES first since that's the main thing you're looking for
The INFERRED and EXPLICIT Consent feature now requires a message so you cannot accidentally leave that blank <-- compliance is important!
We've provided a consent default message to get you thinking, but DON'T FORGET TO CHANGE IT - we are developers, not lawyers. 👩🏻‍💼😊🖥
When viewing a trip, check the header to see: You are a Team Admin or Main Contact or Trip Owner or Team Member or Trip Coordinator so you know your role on a trip
We are now blocking large image files from being pasted in Firefox into descriptions <-- security is good for everyone 🔑
The popup that shows after a traveler registers is now hidden by default, check the box and change the message to make it clear why they should pay their deposit.
Most users change the default message - be sure the message is driving the next desired step (tasks? payments? profile update?). Change under Update Trip -> Settings.
Travelers were sometimes double-clicking the registration button and sending multiple invitation emails to themselves - but not anymore!
---
Need more help?
Reach out to the YouLi Support Team via the chat box at the bottom of your screen or submit a Support Ticket request. If you need more advanced support, schedule a 1:1 Consulting session with one of our experts, and we will walk through Traveler flow options & best practices.