Sometimes you will have people who expressed interest or were invited to your Trip but decide not to go. Or perhaps you've created a test Traveler whom you want to delete from your list under "Manage People & Reports."
There are two ways for you to remove people from your Trip
Read through both options, to see which is preferred. Additionally, you'll find details on how to troubleshoot issues you may have.
Option No. 1 - Delete the person & all of their data


CAUTION: You cannot delete a Traveler who has made a credit card payment. See "Troubleshooting" below, for more information.
WARNING: Deleting this invitee removes all of their profile information, optional itinerary responses, task responses, and documents. It cannot be undone. If the person is no longer attending but you need to keep their information, leave their status as DECLINED instead (Option No. 2, below).
From the MENU within your TRIP, click on MANAGE PEOPLE & REPORTS
Then, hover over the name of the Traveler you want to remove and click DELETE

You will be prompted with an alert (see image) if they have any TASK RESPONSES that will be lost, this will help you avoid deleting the wrong people.

If you click DELETE all information on that Traveler will be permanently deleted.
If you click CANCEL, nothing will be deleted (including the Traveler).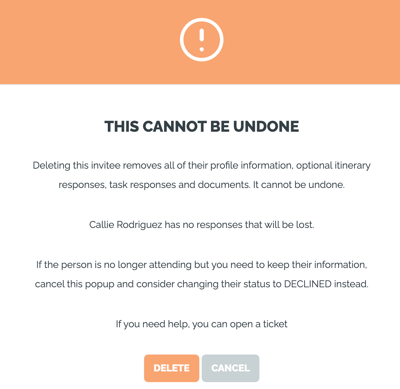 Option No. 2 - Set the Traveler to "Declined"
This will stop any automated notifications from being sent to that Traveler, but will not delete the Traveler, so you can communicate with them in the future.
For example, if you run a similar trip next year, you can message these Travelers to promote your new TRIP since you know they are interested in these kinds of trips.


From the MENU within your TRIP, click on MANAGE PEOPLE & REPORTS
Then, hover over the name of the Traveler you want to set as "not going" and click EDIT
Scroll down to STATUS and select DECLINED
Click UPDATE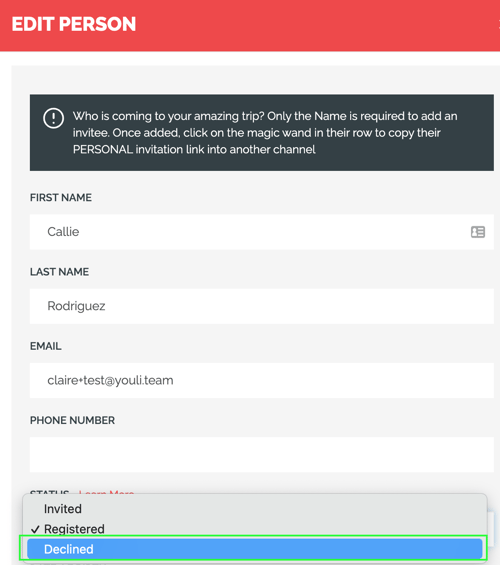 TIP: You can also remove many people at once by checking the boxes to the left of their name and clicking the "Edit Selected" button to change their Status.
Troubleshooting
If you find that you cannot delete a Traveler, they probably made a payment which means you cannot delete them permanently. However, you can edit their STATUS to DECLINED as noted above.
If you

really

need to delete them, you'll need to go to MENU > MANAGE PAYMENTS and then delete the payment from there, before returning to delete the Traveler.

Credit card payments cannot be deleted, but other methods can be
There are reasons you may need to do this, including handling a GDPR "right to be forgotten" request. If you need the payment deleted, you can put in a request with YouLi Support.
---
Need more help?
For more tips on pre-trip customer support join the YouLi community of travel professionals with monthly LIVE webinars and Q&A sessions.