What tools can help you onboard clients to your group trips.
The MANAGE TASKS & CUSTOM FORMS and RESOURCES & UPLOADS tabs are where you manage all documentation and things you need your travelers to do before the trip. Through these two features in YouLi, you will be able to collect completed waivers and passport scans from your travelers as well as provide important information to your travelers.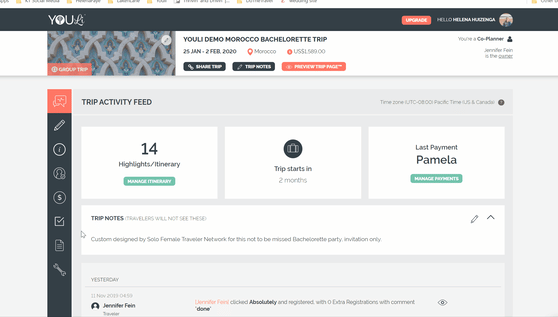 TASKS
Tasks are how you manage what you need to gather FROM your travelers to ensure they are ready for your trip and how you ensure the information you need to give TO them is received. Anything the Traveler is required to provide or complete can be a task.
Responses are PRIVATE to each traveler, so rest assured no one besides planners (or others in their Invitation Group) can see their responses.
WARNING: Travelers cannot complete tasks if the TASKS menu is hidden (under your menu, make sure the box is checked).
Even if the TASKS menu is visible, the menu will NOT be shown if:
The trip is PUBLIC and the viewer has not yet registered
The Traveler viewing does not have any assigned tasks
ADDING TASKS
NOTE: The number of tasks that you can add depends on your package.
AUTOMATED REMINDERS FOR TASKS
Want to set up automated reminders for your tasks? Find out Learn how to do it in our document focused on Automatic Emails for Tasks.
Ordering Tasks
Tasks are automatically sorted by due date and then alphabetically by name.
But, do you want to order your tasks in another way other than when due?
If you need to sort an item to the top of a set of tasks due on the same day, you can put an asterisk (*) at the beginning of the task name.
OR
You can number the tasks and they will sort up to 9 tasks. Because the name sorts alphabetically if 10 tasks are due at the same time, 10 will sort right after 1.
Cannot seem to add more tasks?
IMPORTANT! If you cannot access the full amount of tasks in your YouLi plan, make sure that your trashed tasks are VISIBLE and edit those tasks.👇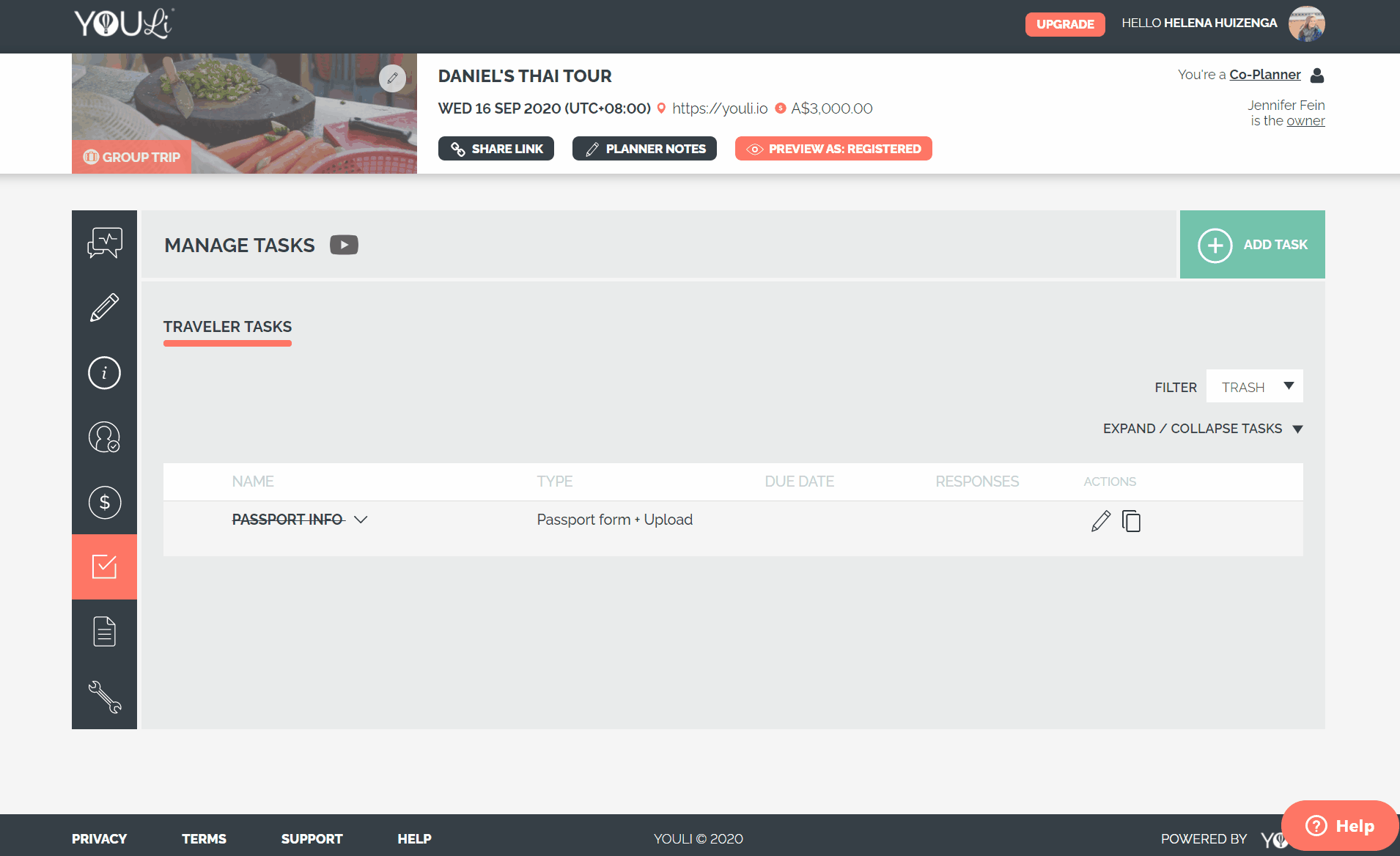 Resources
Resources are links/documents/videos/photos that you want to share with your travelers. Resources MUST be attached to tasks, to ensure your travelers confirm they have read them.
Uploads - The documents your travelers provide to you when they complete your tasks
Reminders - With YouLi you can set reminders for tasks. No one wants to complete a long registration form and no one reads the FAQ - but YouLi's automated reminders ensure they get their tasks done. 👍

Note: If you want to see what the experience is like for your travelers, do not be shy to add a 'test' person to your trip. You can always delete them later. Click through to complete tasks as a Traveler to ensure the completion method is how you want it.
Also, check out our video on using Tasks and Resources post COVID-19 travel. We show how you can track health forms and pass on safety information.
Watch this overview YouLi How-To: Resources & Tasks video for more info on all things Manage Tasks & Custom Forms + Resources & Uploads.