These two tabs are where you manage all documentation and things you need your Travelers to do before the Trip. Through them, you will be able to collect completed waivers, passport scans, and and provide your Travelers with resources too!
Where do I find these two tabs?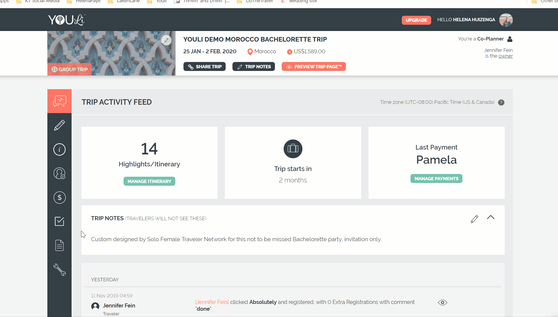 What are Tasks in YouLi?
TASKS are how you manage what you need to gather from your Travelers to ensure they are ready for your TRIP, to ensure you have the information you need from them.
NOTE: Responses are private to each Traveler, so rest assured no one besides Planners (or others in their Invitation Group) can see their responses.

How to make sure Tasks are visible to your Travelers
WARNING: Travelers cannot complete Tasks if the "Tasks" tab is hidden. Make sure that menu tab is visible on your Traveler's Trip Page.
Even if the TASKS menu tab is visible, the tab will not be shown if
The TRIP is "PUBLIC" and the person viewing the Trip has not yet registered
The Traveler viewing does not have any assigned TASKS
How to add Tasks in YouLi
NOTE: The number of Tasks that you can add depends on your YouLi plan. See our pricing comparison chart to see how your plan compares to others & how many Tasks are included on your current plan.
1. From your TRIP MENU, click on MANAGE TASKS & CUSTOM FORMS
2. Click ADD TASK
3. Fill out all fields (
TASK - Give your task a name - this will be visible to your Travelers!
INSTRUCTIONS - Add detailed instructions. What do your Travelers need to do?
DUE DATE - This can either be:

A) A specific due date (i.e. November 27, 2023) or you can "Switch to: due date relative to booking date" and
B) Choose when the task is due, based on how many days out someone is from paying their deposit (when they are officially considered "booked").

ASSIGNED TO/TASK VISIBILITY - You have the ability to assign certain TASKS to certain people. When you edit or create a Task, you can pick which Travelers will be prompted to complete it.

Watch this YouLi How-To: Task Visibility video for a more detailed walk-through. If you need to enable or disable a Task for certain Travelers, you can do that within individual Tasks.

AUTOMATED REMINDERS - Do you want to send reminders automatically? If you check this box, reminders will be sent in the following cadence (and

not

if the TASK is completed!). See here for more details on automated email reminders.

1 week prior to the due date
On the due date
2 days after the due date

ATTACH RESOURCES - You can add a video or document for your Traveler to watch or fill out, through a TASK in YouLi.

Here is the YouLi How-To: Add Resource to Task video that outlines how to add a resource (document, video, PDF form to fill out, etc. ) to a task (something you're sharing with your Traveler, which is a part of what they need to do).

REQUIRES A PLANNER TO REVIEW - Do you want to approve the TASK and have it set as "PENDING REVIEW" until you review it? Check this box, to say "YES."
NOTIFY ALL TRIP CONTACTS FOR EACH RESPONSE - If it's important that all of your TRIP CONTACTS see that this TASK has been responded to, check this box, to say "YES."
REQUIRED RESPONSE TYPE - There are many types of responses to a TASK from Yes/No to full passport details. You can choose what type of Task you want your Traveler to complete.
ENABLE OPTIONAL DOCUMENT UPLOAD(S) - If you want to allow your Travelers to upload a document on this specific TASK, check this box.
How to set the order for your Tasks
TASKS are automatically sorted by DUE DATE and then alphabetically by TASK NAME.
But, do you want to order your Tasks in another way, other than when they are due?
If you need to sort a TASK to the top of a set of Tasks that are due on the same day, you can put an asterisk (*) at the beginning of the TASK NAME.

OR
You can number your TASKS and they will sort (for up to 9 Tasks).

Because the TASK NAME sorts alphabetically, if 10 Tasks are due at the same time, 10 will sort right after 1.
Are you having trouble adding more Tasks?
If you cannot access the full amount of TASKS included in your YouLi plan, make sure that your trashed Tasks are visible and edit those Tasks.

See below. Use the FILTER, within MANAGE TASKS and filter by "TRASH" to restore your TASK and ensure it's visible.👇
What are Resources in YouLi?
RESOURCES are links, documents, videos, photos, etc. that you want to share with your Travelers.
How do I add Resources for my Travelers to review?
RESOURCES must be attached to TASKS, to ensure your Travelers confirm that they have read/reviewed them.
See this help article for more details on adding RESOURCES & sharing them with your Suppliers (when needed!).
Watch this overview video, for more information on all things Manage Tasks & Custom Forms + Resources & Uploads.
---
Need more help?
For more tips on pre-trip customer support join the YouLi community of travel professionals with monthly LIVE webinars and Q&A sessions.