Learn to effectively manage bookings and payment installments on your group trips.
Getting paid is what makes these trips possible. That's why we have two ways to look at the payments collected from travelers on YouLi TRIP PAGES.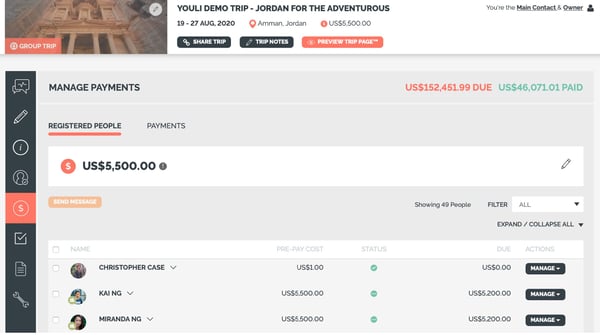 Reports Accessible to Trip Planners
Under the MANAGE PAYMENTS menu, you have 2 tabs featuring the payment reports.
1. Registered People Report
This is where you see all the people who have REGISTERED for a Trip. They have told you they are interested, and this is where you see if they have actually paid.
All Registered People will appear with an indication of their PAYMENT STATUS and details of the payments they have made. Note that if someone registers, pays, and then declines, they will still appear here so you can review their payments.

REGISTERED PEOPLE tab allows you to:
Send Messages - t

hese can be payment reminders or thank you notes

Filter to see who has PAID and who is OWING

Manage MANUAL PAYMENTS

Manage DIRECT PAYMENTS

Mark as RECEIVED

Mark as NOT RECEIVED

delete

Edit Personalized Cost

2. Payments Report
This report is great for bookkeeping! This is where you can see JUST the payments that have been made, regardless of who made them.
If you are using a bookkeeper, they will probably want the export from this report. Simply click the EXPORT ALL to download and email to them.
Click to EXPAND/COLLAPSE ALL to see the details of each payment or click the arrow to expand an individual row.

The PAYMENTS tab allows you to see all details about payments:
Date made

Payment made by

Number of people covered by the payment

Gateway (typically Stripe) fees
YouLi fees (if applicable)
Troubleshooting
Sometimes YouLi does not know the gateway fee. This can be for many reasons and it will appear with a link back to the currently connected gateway dashboard so you can find it there.
Here's an example of a case where the fee is not known.

Potential reasons the fee is not known:
The currently connected gateway is not the same as it was when the charge was made so YouLi can no longer retrieve it.

The gateway is no longer connected so YouLi cannot retrieve it.
Stripe error: Sorry, something went wrong
If you see this error on Stripe when you click on the link, it is typically because of one of the reasons above. If you can switch to the Stripe account that you used for the charge, you may be able to find it manually.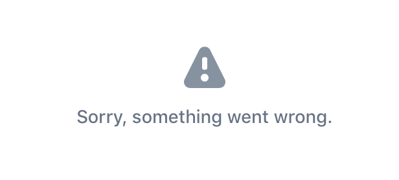 Click back to the REGISTERED PEOPLE tab and expand the row for the person who made the payment, there you will see the Stripe Charge ID, use that when contacting Stripe support to find the charge fee details.

---
Need more help?
Reach out to the YouLi support team via a chat box at the bottom of your screen or submit a ticket request. If you need more advanced support, schedule a 1:1 Consulting session with one of our experts, as we will walk you through the features and best practices.