Oct 15, 2019 - Release 1.77
We provide information on new features every time we update, see details on other releases.
🆕 Tasks that allow you to Build Custom Forms
We know that Tasks are the most powerful feature in YouLi, and now, they've just gotten 50x more powerful.
Currently in limited release, coming out to CREW packages and above later this year, it is now possible to build custom forms WITHIN your tasks. Time to ditch those PDFs, Google Forms and Word docs.

If you don't see this option in the drop down, open a chat to request access before it is generally available:

Once selected, you'll be able to build your OWN form (up to 50 fields).
Want to know more, read about Custom Forms
✅ Tasks: Required Response Type
The tried and true pre-set Response Types are still there, but they look a bit different.
We've expanded our documentation to explain each type: Read More
Before you selected from list: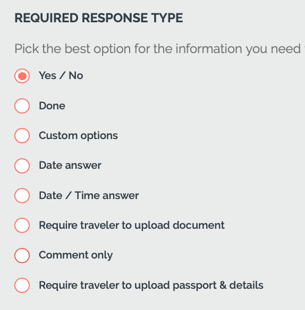 Now you pick from a drop down: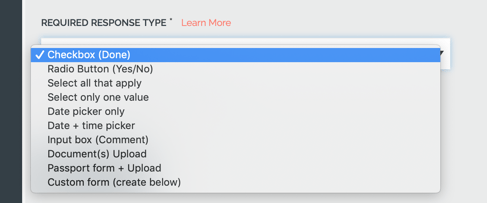 You can now see these types on the Manage Tasks table:

✅ Tasks: Require Planner Review
This is an older feature, but we're finding more people using it, which is great! So we've improved the way we record the reply in the Activity Feed from the Planner when resolving a Task.



New Activity Feed record when the Task is resolved by the Planner:

Do you need to use this advanced feature? Read more to find out.
✅ Tasks: Notify Main Contact for Each Response
Another oldie but a goodie, if you need to know as soon as the task is completed, this feature is for you. You can always turn it off if you get overwhelmed with emails.
NOTE: If you're the only Planner in your account, you ARE the Main Contact.

Do you need to use this feature? Read more to find out.
🐛 Bug Fixes
Archived trips now show the correct error in all cases if someone tries to view the Trip Page
Editing Tasks or Itinerary Items that were restricted to Show Everyone EXCEPT would cause the exclusion list to be lost - this has been fixed.
---
Need more help?
Reach out to the YouLi Support Team via the chat box at the bottom of your screen or submit a Support Ticket request. If you need more advanced support, schedule a 1:1 Consulting session with one of our experts, and we will walk through Traveler flow options & best practices.