Some Tasks need additional review. Require Tasks to be reviewed so you can ensure your Travelers complete them.

How to enable Requires Planner To Review
Click to MANAGE TASKS & CUSTOM FORMS
Edit/create a TASK
Check REQUIRES PLANNER TO REVIEW
When should you enable this feature?
Does a Planner need to confirm that the response is valid?

Check that the insurance has sufficient coverage
Confirm that the traveler's medical responses do not disqualify them
Confirm the passport is valid for travel

Does a Planner need to take an action in response to this Task

Book an airport transfer
Arrange for special accommodation
Pass along dietary information
How does it work for the Traveler?
Your Traveler will see that their TASK will require you to review:
Before completing: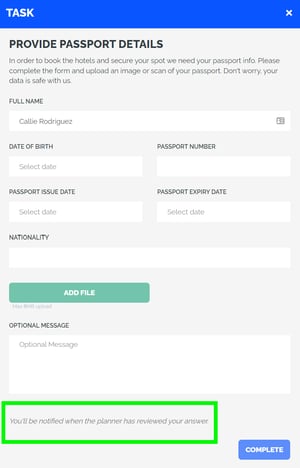 After completing: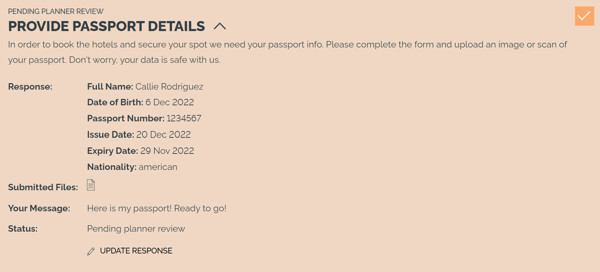 How does it work for the Planner?
Once Travelers have completed the TASK, Planners will see PENDING REVIEW on any Task that requires review. They will then have the option to decline or accept.
Click to MANAGE TASKS & CUSTOM FORMS
Find the TASK that says PENDING REVIEW and click RESPONSES

Click CLEAR RESPONSE to decline the TASK or click UPDATE
CAUTION: Travelers will not get an email if you clear the response, but they will get TASK REMINDERS and can see that it is no longer completed.
---
Need more help?
Reach out to the YouLi Support Team via the chat box at the bottom of your screen or submit a Support Ticket request. If you need more advanced support, schedule a 1:1 Consulting session with one of our experts, and we will walk through Traveler flow options & best practices.