IT'S OFFICIAL: We've renamed "Travel Page" to Trip Page™️, so you'll see the new terminology throughout YouLi.
What is a Trip Page™️?
We're so glad you asked, it's what you've been building when you edit your Trips. Now we've written up a more complete description.
We think Trip Pages are pretty special, so that's why we're trade marking it.
Be sure to tell us what you think by leaving a review on Capterra. (and earn a $10 gift card!)
Trip Owner vs. Main Contact
We've introduced a new concept called Main Contact. This applies to Trips and Quotes.
Previously, all trips JUST had a Trip Owner (noted in the upper right of the Trip). And that is who all the emails came from and where all trip notifications went too.
But we realized that in bigger teams sometimes, the Trip Owner is NOT necessarily the Main Contact. So now, the Trip Owner can go to Trip Users to change the main contact.
Team Alias for Shop and Trip Links

We've renamed the ACCOUNT ALIAS to TEAM ALIAS because when you're in a Team, it is set by your Team Owner and as a Team Member, you can't change it! Learn more.
Google Analytics
Do you like analytics? Wait, wait, don't run in away! Haha, j/k.
We know Google Analytics is intimidating, but for those of you who like having your web traffic in one place, you can now see basic visitor data for your Trip Pages in your Google Analytics account.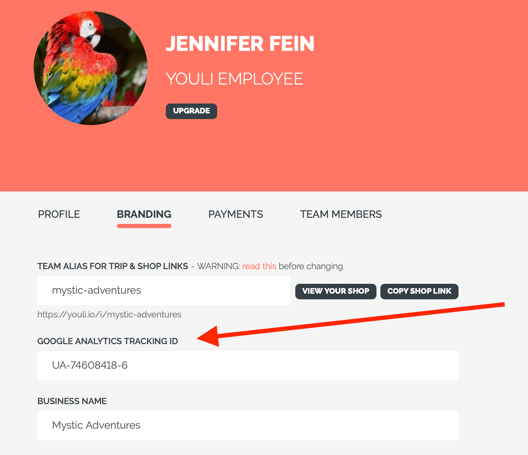 Team Admin
Enterprise customers can now enable Team Members to act as Admins, with the same permissions to control payment gateway, branding and teams as the Team Owner. Contact your account manager to enable.
Bug Fixes & Enhancements
You'll now be warned if you are deleting a person who has responded to tasks. This is handy if you are trying to delete a duplicate registration, so you delete the correct one!
Trip Pages are better at letting you have multiple tabs open at once (this is for you Ben), still not a great idea, but now you'll get more of the experience you'd expect.
Passport Task

We merged First Name/Last Name into a Full Name field. It just makes more sense!
Validity Date is now Expiry Date

We've added more help regarding currency in the Planner view
We've linked to the Travel Guide video for Travelers from the footer of the Trip Page
You can now paste in commas and currency symbols when you're finalizing your trip price
Team Members can now set the Extra Registration on trips (if enabled for your account)
You'll now see in the Activity Feed when one Traveler switches to another in their Invitation Group, so you know who is actually making the changes.
Where to configure Payment reminders is now more clear in the platform.
Fixed a bug with US dates being entered into Tasks
Fixed a bug where travelers could enter an empty date and create an error for Planners.
Fixed bug with Share Trip Link on Dashboard that did not work after searching.
Clarified the Activity Feed records:

When changing a trip from Set Departure dates to Brochure approximate dates and back
When a Task requires the Planner to Review. One for the Traveler submitting for review and one for when it is reviewed.
---
Need more help?
Reach out to the YouLi Support Team via the chat box at the bottom of your screen or submit a Support Ticket request. If you need more advanced support, schedule a 1:1 Consulting session with one of our experts, and we will walk through Traveler flow options & best practices.