In order to make your trip more affordable for your travelers, you have the ability to provide a payment plan with installments. For each installment, YouLi sends (optional) automated reminders, ensuring that your travelers stay on top of their payments.
HOW TO SET UP PAYMENT INSTALLMENTS
1. CHOOSE BOOKINGS MODE
Access this option for a trip by clicking UPDATE TRIP > PRICING or by clicking the price in the header.
2. SET PAYMENT INSTALLMENTS & DUE DATES
You can provide an installment plan for your travelers (only one installment plan per trip, NOT per traveler). This can be as simple as:
Deposit (add by clicking the green button)
Balance Due (always there)

FIXED OR PERCENTAGE
When you create the deposit, you'll be prompted to choose whether it is fixed or a percentage.
After you've added the deposit, you can continue to add as many as 6 installments spread out over 6 months. Just keep clicking "add payment installment" to add an additional installment.

Click on the pencil icon (to the right of the installment), to set when they are due and whether automated email reminders are sent, in the popup.
Fill in all of the information and be sure to click UPDATE, to save.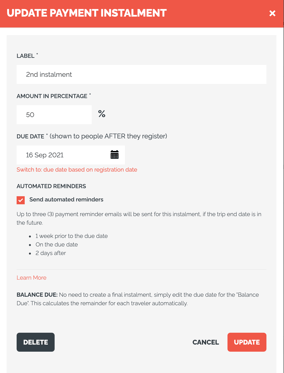 SPECIFIC OR RELATIVE DUE DATES
Due dates are displayed to travelers in the emails and within the Trip Page.
They can either be:
Set Date - Example: April 30, 2022 (this will be the same for all travelers)
Relative to Registration Date - Example: 15 days after registration (dynamic per traveler, based on when they register for your trip)
Use the toggle (see image below) under the input box to switch between the two.
IMPORTANT: Once selected, you'll have to delete the entire installment to change to the other option (i.e. percentage > fixed), so choose wisely.
Additionally, if a payment is made on an installment, you will not be able to make changes to it & you will need to contact YouLi Support via the HELP box.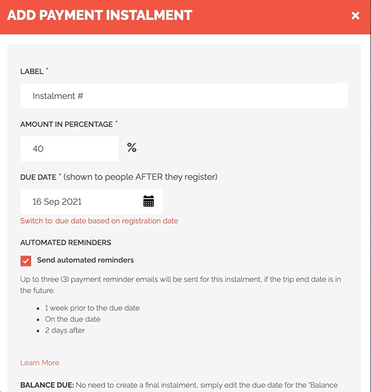 3. ENABLE / DISABLE AUTOMATED REMINDERS
By default, trips only have one installment: "Balance Due" and no due date is set, so no automated payment reminders will be sent.
To enable automated reminders you will first need to add a deposit.

After filling in the information, be sure to check the box to send automated reminders.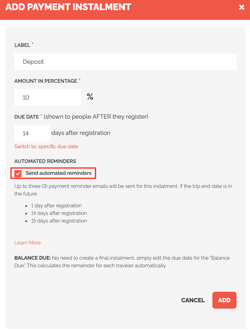 When a traveler registers for a trip with a deposit reminder set, YouLi sends up to 3 reminders on your behalf.
BUT WHAT IF MY TRAVELER DECIDES THEY DON'T WANT TO GO ON THE TRIP? WILL THEY STILL BE REMINDED TO PAY?
Sometimes people register for trips and then decide they don't want to go. The payment reminder email will give them the option to "Pay Now" or "Decline".
If they choose to decline, you will see this status reflected under MANAGE PEOPLE and they will no longer be emailed automated reminders to pay (OR complete tasks).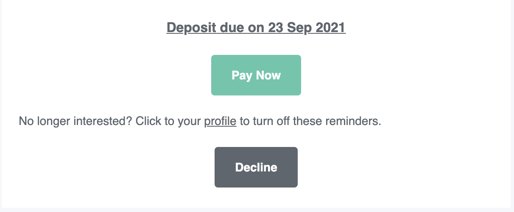 HOW TO: MAKE A CHANGE TO AN INSTALLMENT SOMEONE HAS ALREADY MADE A PAYMENT ON
Delete the payment on that installment - Note: If it is for a credit card payment, please open a support ticket, so that we can delete the payment for you.
Delete the installment
Create the new installment with the updates they want
Add a manual payment

or

credit to that NEW installment, for that same traveler
OTHER NOTES
You can still change the due date after selection.
We collapse all installments of the amounts which are due within 7 days (or past due).
This is meant as a convenience so that the traveler doesn't have to pay the deposit and then immediately need to pay the remainder.
No email requesting payment will be sent to a traveler who has completed their deposit or payment. An automatic email

will only be sent to the travelers who still need to pay.

Automated reminders for payments are only sent if the Trip has set departure dates (not estimated dates) AND the installment has the automated reminders option enabled.
Learn more about Automated Reminders and Confirmations

that you can utilize in YouLi.